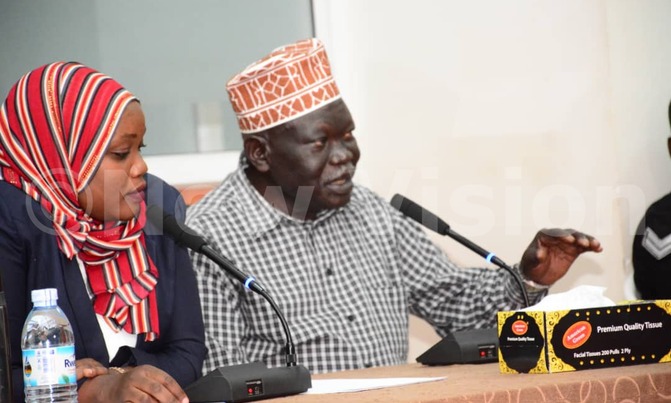 Gen. Gowon accuses his wife of trying to grab his land in Kawempe, Kampala.
Gen. Yusuf Gowon registered a complaint with the land commission about one of his four wives trying to grab his property in Kawempe.
Appearing before the commission in Kmapala on Thursday morning, Gowon, who came with his four wives, accused Harriet Batanda of trying to grab his land.
Batanda (right) and her daughter at the commission offices
Gowon served in former president Idi Amin and Milton Obote's regime.

Who is Yusuf Gowon
Yusuf Gowon, one of Idi Amin's blue-eyed boys. He played Amin's games, spying for him on who the possible 'enemy' was. In turn, Amin made sure Gowon got privileges.
Privileges such as quick promotions, free rides, accommodation and even taking a free cup of tea with the high and mighty of the time. In fact, Gowon was the most trusted "snake" on the dictator's high command.
In 2001, Gowon was arrested in connection with the 1972 murder of Erifazi Laki, who was the Ssaza chief of Rwampara in Mbarara district. Gowon was a major at Mbarara army battalion. Laki was killed for protecting Museveni, then a guerilla leader.

Gowon thought Ali, who was now serving as Uganda's minister of internal affairs, was behind his arrest. He claimed that on the night he was arrested, Ali celebrated.


Gowon claims Ali personally visited the prison just to enjoy the moment of seeing him behind bars.

However, Ali denied that the visit ever occurred and says he read about the arrest in the media. "I did not even know he was arrested," he notes.

For the two years Gowon was in prison, he constantly said he had no problem with Museveni's government.


"The only problems for me are with the former Amin workers inside Museveni's government," he said referring to Ali.

Gowon was later released after no evidence was found linking him to Laki's murder.