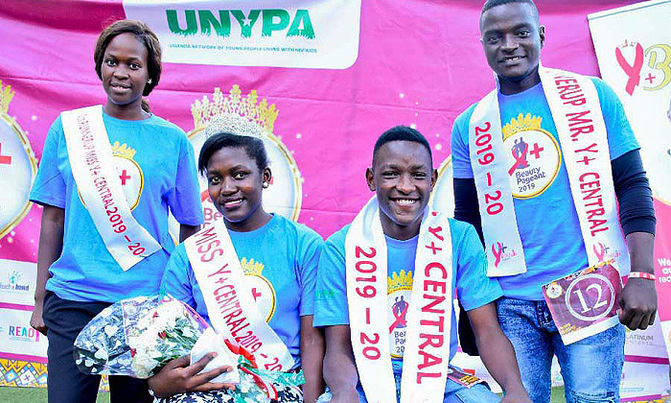 This year's Miss and Mr. Y+ (young HIV positive) Beauty Pageant kicked off in earnest.
Y+ BEAUTY PAGEANT

KAMPALA - After finding the Miss and Mr. Y+ Central for 2019/20, the search is on for the representatives of the other regions.

Last weekend, the auditions for the central region contest attracted some 60 hopefuls - all HIV positive.

They were from different health facilities, including Mildmay, Uganda Cares, Mulji and Reach out Mbuya.

In the end, it was 20-year-old Nairah Zawedde and Timothy Kabogoza, 19, who took the crowns.

They will represent central region in the finals. First runners-up were Ruth Akulu and Joseph Kakande.

Zawedde is in her first year at Kyambogo University, pursuing Bachelor of Arts degree in social sciences. Kabogoza is a trained tailor and as well as a musician.

The huge applause that met their pronouncement as winners of the regional competition was a sign that the judges had made an unquestionable choice.


This year's Miss and Mr. Y+ (young HIV positive) Beauty Pageant kicked off in earnest with the central region at Reach Out Mbuya-Banda site.

The eastern, western and northern regions are also representated. The competition is comprised of youths of ages 16 to 25.

They idea behind this is to fight stigma and discrimination among young people living and affected with HIV and AIDS.

Zawedde and her co-winner were judged to have excelled in the question-and-answer session, coupled with their stage performance.

Zawedde was so excited after being declared winner that she collapsed in clear elation. Kabogoza shed tears of joy.


Why take part?

Zawedde decided to take part in the pageant to de-stigmatize the community about HIV/AIDS, having personally been a victim of stigma and discrimination.

As a social worker, she wants to fight for the rights of young people who are going it rough.

"I am going to use all means, including social media, visiting schools and institutions and corporate organizations, to sensitize people about HIV, and tell those who are negative to protect themselves and the positive ones to continue living positively by adhering to their medication," she said.

Kabogoza was born with HIV. His mother told him his status when he was 10. He undertook a six-month tailoring course after dropping out of school in Senior Three due to lack of school fees.

He believes he can use his latest victory to transform lives, especially of the young people living with HIV, by showing them that they can be stigma-free. He also plans to use music for advocacy at the grassroots to champion the fight against the scourge.

Zaitun Nabaterega, who was the lead judge, said the competition was stiff and congratulated the victors.


Most importantly, though, she explained that they were not necessarily looking at the outer beauty. Instead, they judged contestants on intelligence, confidence, eloquence, knowledge and vision.

This is the sixth edition of the Y+ beauty contest themed Peers Making it Happen, organized by the Uganda Network of Young People Living with HIV/AIDS (UNYPA).

Mary Rio Babirye, the program office at UNYPA quoted UNAIDS new statistics showing that 575 adolescent and young women between 15 to 25 years in Uganda have become a vulnerable group, who are getting infected much more than others.

"And these are not girls born with HIV, but newly infected every week. When they clock 15 years they become vulnerable to getting HIV. There are 300,000 people living with HIV without even knowing," she said.

She hailed the young people living with HIV for coming out from the covers in order to give a positive face to HIV, fight stigma and help those scared to stand up for themselves.

"They are real fighters," she said.