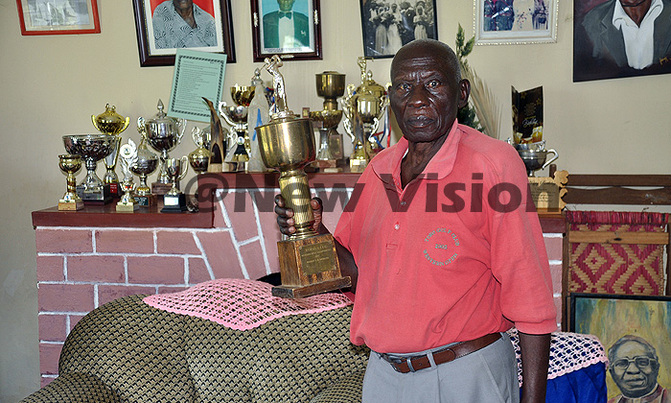 During his youth, he played and won many tournaments around East Africa.
GOLF

At 95 years of age, legendary golfer Emmanuel Basaliza is the only golfer of his generation still involved in the sport. During his youth, he played and won many tournaments around East Africa. In Uganda, his major win was the then famous Western Open that attracted golfers from Arua, Jinja, Mbale, Kampala, Entebbe in 1975 which he defended in 1976, beating Sadi Onito on both occasions. Onito would later become the undisputed number one golfer in Uganda, winning the Uganda Open 12 times. In 2016, Michael Nsubuga interviewed Basaliza at his home in Kiburara village,Kabarole, Fort Portal district. These are excerpts:
___________________________


Which schools did you go to?

I went to St. Peters Virika Primary School, then to St. Leo's Secondary School before joining St. Joseph College Nyamitanga and finally St. Mary's Kisubi.

When did you start playing golf and at which course?

Immediately after Uganda got Independence; I think in 1963. I was a serving officer. I was working in the Veterinary department. But first of all I was born near the golf course at Bukwali Village one mile away from the Toro course in Fort Portal. I would watch the whites play the game as I grazed my father's goats, as I grew up; so I picked interest. But the Africans were not allowed to play; it was a game for the whites. However, after independence things changed and that is how I started playing after returning from the US in 1964. I had been sent to study a Dairy Science and Technology course at the University of New Hampshire.

So as a black how did you join the sport?

I simply got access after Independence, with some other Asians who were also not allowed to mix before Independence.

What was the composition of golfers then?

It was a game for the whites. No African was allowed access to the club, and they couldn't afford to own clubs.

Were you a caddie at some point?

No. I was at school and my father was a chief and a tax collector for the township. Africans had no access at all.

How easy was it hitting that ball for the first time?

It was easy; you just place the ball, swing and hit it no matter where it went. It is common sense; what man has done another can do.


What was your first handicap?

Handicap 28

And what has been your lowest handicap ever?

Handicap 7 in 1976

When did you start winning?

In 1974

Almost after 10 years?

Yes, I was an assistant veterinary officer moving a lot and working across the country until that time when I had plenty of time to train.

Were you involved in other sports before?

Yes. I was; I competed in Athletics, football, tennis at school. I was born a sportsman.

Have you ever hit a hole in one?

I have made two; one in 1975 and the other one I think in 1976. I was playing with the likes of Muhamood, Patel, Mayanja, Phillip Kalyegira, Dan Oka, Alex Opendi… but most of them died.

Your sweetest victory ever?

I won the Western Open in 1975. I defended it in 1976. This was a famous tournament that attracted golfers from Arua, Jinja, Mbale, Kampala, Entebbe. Sadi Onito (RIP) was the runner up on both occasions but after that he took over and became unbeatable for so many years. He became the best golfer in East Africa and became a pro I remember golfers like John Bunyenyezi, Juma Jaffer, Didan Bitabareho and many others were regular; but I won many other tournaments like; Rex, Kilembe Open and many more as you can see the trophies. I also won in Arusha but didn't win anything in Kenya.

How often do you train nowadays?

Every time is practice for me; I have a green near my house. Everywhere I move with a golf club, whether on the farm or in the garden. I walk with a club all the time (it's a like a walking stick for me) and often make a swing even without the ball. I have this mini course in-front of my house, from where I practice my putting and chipping.

Do you think golf helps one to stay fit?

Oh..YES. Too much and it keeps your mind stay focused.

Any advice to young golfers?

I have started teaching some of my grandchildren; 3 are playing. One of my sons was playing but stopped. But I encourage young people to start playing the game to keep fit, stay health and disciplined above all.

No..no..no! (Almost protesting) I can't stop playing.

___________________________


Honours

Captains prize 1974

Western Open 1975

Western Open 1976

Mukwano trophy 1991

Chairman's prize 2001

Oldest golfer @ Seniors Open

2 Hole-in-Ones 1974 & 1975

___________________________

Beat meal: Matooke/Kalo & Beans, ground nuts and now days Fish is my favourite.

Best drink: I used to enjoy beer and Whiskey but these days I enjoy Redbull

Best music: I'm now more interested in news

Dream destination: Royal & Ancient club of St. Andrews in Scotland.