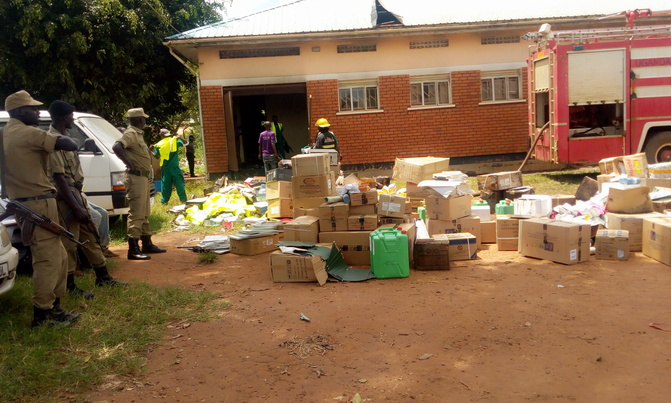 Police Firefighters arrived at the scene almost thirty minutes later and managed to save a few cartons of valuable documents, drugs and condoms.
IGANGA-Drugs worth millions of shillings were destroyed after a fire broke out at Iganga district medical stores on Tuesday.
The fire that started at around 12.30 pm later spread to the offices forcing employees to flee for their dear lives.
A cloud of thick smoke engulfed the district headquarters forcing employees in other departments to abandon their work in order to flee to safety almost 10 kilometres away.
The fire spread to the wooden ceiling and later to other offices neighbouring the stores.
Police Firefighters arrived at the scene almost thirty minutes later and managed to save a few cartons of valuable documents, drugs, and condoms.
The district police commander Iganga, Davis Willy Ndawula said preliminary investigations indicate that the fire was a result of an electrical short circuit.
Ndawula said investigations are underway to establish the extent of the damage and exact cause of the fire outbreak.
The Resident District Commissioner, Iganga, Eva Kwesiga said 1,598 cartons of coartem drugs, injectables and pain killers had been delivered by the national medical stores on Monday for supply to 10 health centers across the district.
Kwesiga said the drugs were to be delivered to the respective health centers after receiving complaints from the in charges that they had run out of stock.
"It's a big blow because patients will not be able to get drugs for the treatment of their ailments, "she said
She ruled out any possibility of foul play amongst staff with the intention of destroying evidence after the theft of the drugs.
"What we have established is that this was an accident and I can't imagine any syndicate by some of our staff, "she said. Kwesiga said vaccine against Rubella was spared during the fire outbreak and the programme to immunise children would go on as scheduled.
The district health officer Iganga, Dr. David Muwanguzi, when contacted, declined to comment about the incident.
"Please I just request you leave me alone because am disturbed, "he said
The district medical stores are located just a few meters from the main Iganga district headquarters.
Work at Iganga district headquarters was halted for over four hours as volunteers and fire brigade tried to put out the fire while others had to take away valuable documents and cartons of drugs to a safe place nearby.
The LC5 chairman Iganga, Patrick Kayemba, has urged Police to speed up investigations and establish the exact cause as to why there was a fire outbreak that caused loss of drugs worth millions of shillings.
"We really want to know what could have caused the fire outbreak, "he said
Former Member of Parliament Kigulu South Milton Muwuma said over 20,000 people are likely to be affected as a result of the destruction of drugs.