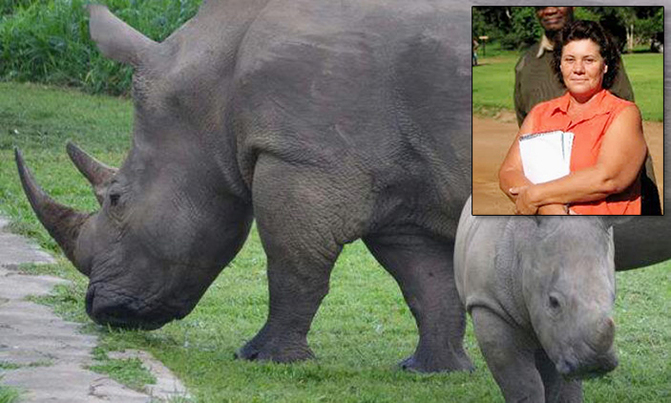 The development comes at the time when Rhino Fund Uganda's lawyers withdrew their case at the Civil Division of the High Court in Kampala
The executive director of Rhino Fund Uganda (RFU) Angella Genade aka Angie Genade has lost a bid to block termination of her contract by Capt. Charles Joy Roy.
This after the Land Division of the High Court registrar, Flavia Nabakooza Kalungi on Monday declined to issue an injunction to Genade barring Roy, the man at the centre of the reintroduction of rhinos to Uganda, from terminating her contract.
"I cannot issue an injunction before the other party replies. I, therefore, dismiss the application," she ruled.
The development comes at the time when RFU's lawyers led by Henry Kirunda withdrew the same case at the Civil Division of the High Court in Kampala.
Roy's lawyer, Richard Omongole consented to the withdrawal but wanted the court to condemn Genade to costs in legal fees and workload carried out in preparation of the case.
Subsequently, Judge Lydia Mugambe accepted the withdrawal and made no orders as to costs, amidst protest from the lawyers. She reasoned that the withdrawal was timely.
"We shall appeal against the decision of the lady justice because we injected a lot in the case. RFU cannot go court free like that," Omongole vowed.
Agreement
Court documents indicate that in 2012, Roy gave a concession agreement to D&D International, a company owned by Genade, to operate a lodge at the ranch (Amuka Lodge) and they were supposed to pay 10% of gross income and 10% from the restaurant to him.
They were also required to pay another 10% for accommodation and 10% from the restaurant as a contribution to the welfare of the rhinos.
However, Roy's lawyers said that D&D never paid any money to them and proceeded to create another company, Amuka Limited, to run the activities of the lodge.
This prompted Roy to terminate the concession agreement with RFU and D&D in November 2017.
The betrayal
Roy's lawyer, Omongole revealed that Genade has since reneged on the promises and this forms the crux of the current standoff.
According to Omongole, D&D International has paid no money to Roy. He also accuses Genade of signing an illegal agreement with RFU to dodge payment of 10% to RFU creating a conflict of interest.
Following fruitless attempts to recover their own share of the rhino money, Roy's family learnt Genade had allegedly made inquiries with the Nakasongola district land board with the aim of taking over the sanctuary land.
Genade ran to the Commercial Court's arbitration department and filed injunctions stopping Roy from terminating her contract.
Thereafter, she immediately put a caveat on the 16,000 acres of land using her company secretary, a one Kamahoro and denied Roy and his family from accessing the land, thereby denying them the right to upgrade their lodge and ranch
According to Omongole, Genade placed the caveat and attempted to convert her tenancy into a lease, which is a fraudulent act.
President intervenes
Recently, Roy and his family trading as Zziwa Rhino Sanctuary petitioned President Yoweri Museveni to urgently intervene after a South African national they partnered with made attempts to grab their land of about 16,000 acres located in Nakasongola.
According to sources, the President pronounced that Roy could not lose his land because it is listed as private property.
He then advised that parties find an amicable solution to the problem aimed at maintaining investor confidence as well as leaving room for any eventual agreement in future but Roy rejected.
In a letter dated February 7, 2019, Roy told President Museveni that Genade had peddled lies and tarnished his image, claiming he wanted to evict the rhinos from his own farm and RFU has nowhere to take them.
Roy is best remembered as a conservationist who reintroduced rhinos in Uganda after they had been wiped out by poachers.
Introduction of Rhinos
According to court documents, Yvonne Vierkaik of RFU in 2012 approached Roy and persuaded him to reintroduce rhinos in Uganda and have them housed at his ranch in Nakasongola.
Subsequently, Roy bought another ranch at Kiryana in Masindi and moved over 7000 animals he had at Nakitooma Ranch in Nakasongola.
Subsequently, Roy built an electric perimeter fence around the entire sanctuary land using proceeds from an international fundraising drive that he spearheaded alongside his daughter Wendy Roy and Yvonne.
Part of the fundraising activities included a boat rowing event from Munyonyo to Mwanza whose entire proceeds were given to RFU to translocation and care of the initial four rhinos from Kenya and another two from the USA.
Roy also constructed all the houses at the sanctuary, drilled boreholes, water dips among other projects at the rhino sanctuary.