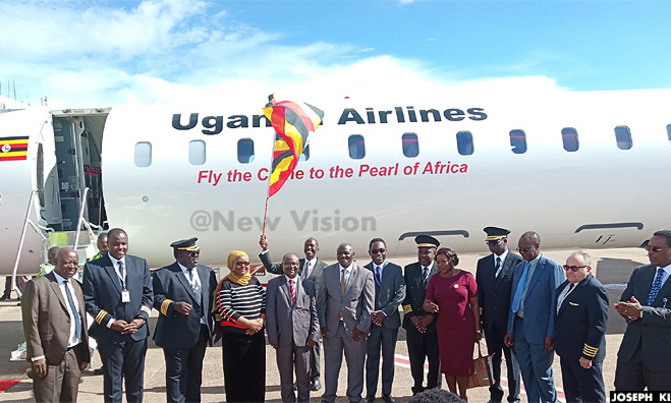 President Museveni says getting to where the new-look Uganda Airlines has reached today has been a "long journey of hard work, commitment and success".
AVIATION INDUSTRY


By Joseph Kizza
@joekizza

_____________________________


ENTEBBE - The national flagship carrier, Uganda Airlines, has buffed up its regional fleet with two new planes following the successful delivery of the Bombardier CRJ900 aircraft to the country from Canada on Monday.


It brings the number up to four planes, the first two having arrived in April this year. In the months to come, the airline will spread out its operational tentacles to the international landscape with the addition of two Airbuses.

The much larger, long-haul jets are expected late next year and at the beginning of 2021.

Before the arrival of the third and fouth Bombardier planes, the airline has been limited to nearer destinations - Nairobi (Kenya), Bujumbura (Burundi), Dar es Salaam and Kilimanjaro (Tanzania), Juba (South Sudan) and Mogadishu (Somalia).

But now, the carrier will widen its route network to reach many other destinations in central and southern Africa, according to the airlines' chief executive Cornwel Muleya.

Metropolises including Kinshasa (DR Congo), Asmara (Eritrea), Addis Ababa (Ethiopia), Lusaka (Zambia) and Harare (Zimbabwe) are targetted.

It is understood that Uganda Airlines was the first African nation to fly Bombardier's CRJ900 aircraft, fitted with new Atmosphere cabin.

A function was held at Entebbe International Airport to receive the new planes.

Minister of state for works Gen. Katumba Wamala represented President Yoweri Museveni as the chief guest, whom he thanked for "his vision, unflinching support and strategic guidance to Uganda Airlines".


On top of hailing the various stakeholders in the aviation business, Wamala thanked also the public for showing "keen interest and love" to the airline and the pilots for returning to serve their nation. In the same spirit, he urged the public to "stop being negative" and instead "have some nationalism" towards their national airline.

"We should love our country."

The minister pointed out that building a new airline and running it successfully is "not an easy task" and therefore urged the hierarchy of the carrier to "remain committed to the task".

"Today we have reached an important milestone on the airline's regional fleet programme.

"As we celebrate this achievement, we also look forward to the next step in the airline's fleet acquisition plan, which is December 2020 and January 2021, when we expect to receive the two A330-800neo aircraft to be used on long-haul operations," he added.


'Planes fit to fly'

Meanwhile, in his message delivered by Wamala, President Museveni said getting to where the new-look carrier has reached today has been a "long journey of hard work, commitment and success".

"We have to work together to support our airline. The planes were successfully tested and rendered fit to fly in the skies," he said.

Uganda Airlines CEO Muleya said the planes have come "equipped with more luggage space, wider seats and ambient lighting".

He is overseeing an airline operating both cargo and passenger services, with scheduled and non-scheduled flights within the East African region and near-international markerts.

On Monday, the two new aircraft kissed the Entebbe tarmac within minutes of each other on a sweltering afternoon, before taxiing for the ceremonial water salute.

Captains Charles Karabarinde, Emmanuel Mutebi, Steven Ariong and Kenneth Fisher, together with the few staff on board, then stepped off the two planes for the official welcoming.

After the ribbon-cutting ceremony and greeting of the aircraft crew, Wamala and other officials (Uganda Airlines, Uganda Civil Aviation Authority and gov't) boarded the planes for inspection.

Both birds were confirmed to be new and "ready to go".


'World-class airline'

The carrier kicked off commercial operations at the end of August. The planes have 76 passenger seats, with 12 for business class and 64 for economy.

Godfrey Ahabwe Pereza, who chairs the airline's board, voiced their committment to seeing Uganda Airlines thrive.

"Our growth and success as an airline facilitate the growth and success of our country through the promotion of our tourism industry and building relationships between Uganda and other countries," he said.

Pereza added that Uganda Airlines is a "world-class airline", which will "exceed customer expectations" and that "we are committed to seeing it excel in its operations".



____________________________


Uganda Airlines is currently running a two-month-long promotional campaign with subsidised fares.

If you are a traveller, you can book and purchase your Uganda Airlines ticket at their offices in Kampala at Victoria University House, Victoria Mall in Entebbe town and at Entebbe International Airport.

You can also do so via their website.