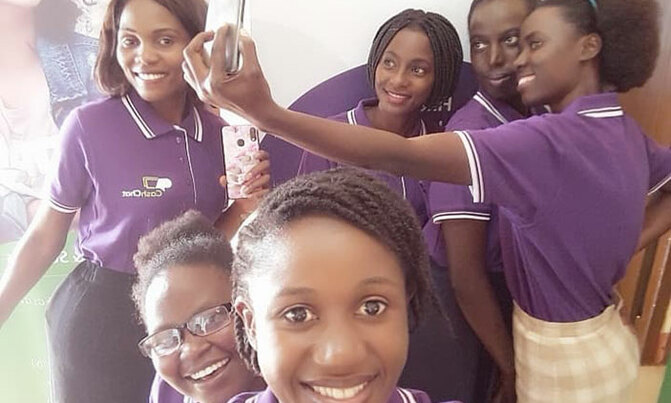 Accordingly, Ugandans have launched CashChat-a digital and social network applications with financial technology embedded in.
INNOVATION
Africa, according to Nii Quaynor, a scientist who has played a key role in the introduction and development of the internet throughout the continent also known as the "father of the Internet" on the continent has reached a penetration that has broken the barrier of 15 %.
However, not many Africans have not developed the ability to produce enough software, applications, and tools to give economies the dividends they sorely need.
Accordingly, Ugandans have launched CashChat-a digital and social network applications with financial technology embedded in. The application which works like Whatsapp also allows users to chat and at the same time do financial transactions.
Uganda has been ranked among the top three countries with advanced technological and innovation capabilities in Africa, according to a study conducted by Martin Prosperity Institute of the US.
Globally, Uganda is among the 82 world nations which have advanced technology and innovation capabilities. The rest of the African countries were not ranked for lack of data to measure the relative standing on technology, innovation, human capital and other measures of economic competitiveness.
The 28-year -old Asher Namanya, founder of the App, says Cash Chat does more than social media. "It has a wallet in the chat, money transfers, wallet to wallet, airtime top-up, withdraws to mobile, bill payments, member savings, sponsored Ads-to all users, instant chats one on one and group participants of up to 1000 Members among others", Namanya said.
"Our vision is to connect the world through financial technology and we are on a mission to change lives through financial technology", Namanya stated.
''The Idea is that we can't keep chatting only, we need to do more than that on Social Media, and Cash Chat gives you a privilege to access different services and still remain in the Chat.''
Namanya says the App makes chatting on social media more valuable and productive than never before. "We are going Cashless in Africa, and so Cash Chat gives that advantage to access all services in one stopover without moving away from where you are as social media users and consumers.''
Financial Technology in the App
Cash chat is powered by two companies of which am also the CEO, PesaMoni and Bold Casher. PesaMoni is an internet based application that allows people to make money transfers all over the world. It's also an integration of money transfers between telecommunications and banking sector.
On the other hand, Bold Cashers Namanya says it is a Payment Service Provider, Financial Technology, Electronic Marketing Company, that connects everyone who is bold in life to change their current lives for better. Bold Cashers Supports M-Pesa, MTN Uganda, Airtel Uganda and Bank Visa/Master Card deposits and subscribing for an account will only cost you shs75000 and this is a one-time subscription for a lifetime.
In cash Chat Customers can access mobile money services at discounts, PesaMoni services at discounts in form of payments. You get instant Withdraws to PesaMoni and Mobile Money and also access Bold cashers in the Chat.
So while on the platform, he added Users can send and receive money while they social network using the back end of the application.
Unlike the current social networks like WhatsApp, Facebook, twitter and Instagram among others, CashChat is here to close the digital gap in the social network and finance. It will combine both finance and social network features to improve user experience.
Our product is inspired by social life where people can do financial transactions while they interact on the same platform. I know this innovation is the first of its Kind in the continent. And we aspire to change the world through it.
According to Namanya, the future of CashChat is to be a multinational corporation with a focus on improving people's lives using finance and social network.
The application already has about 100,000 subscribers which is a great indicator of the impact the platform is likely to cause in the world. Interested people can download the application on Google play store at a free cost.
''Cash chart hopes to empower lots of innovations in our country Uganda majorly through advertising them because advertising provisions are available on the platform.''
Cyber Security
''I know many people will be concerned with security issues, how their information will be secure, but I would love to assure them that Cashchat is extremely safe.''
Cashchat is supported by PesaMoni and Bold Cashers which are financial technology companies with strong security measures. The companies use rubi & rails, the best and most advanced technology on its systems to connect banks, businesses, and mobile to the last consumer while securing users' data.
Most importantly, the companies are certified under NITA-U and ''we have the greatest certification on PCI SSC (Payment Card Industry Security Standards Council), a technology that ensures users security and safety of data worldwide.
We appreciate technology and we want to connect Uganda-Africa to the world and also champion a cashless economy,'' Asher stated.
''I believe this innovation will greatly market and sell Uganda to other countries as it's a unique one both here and in the world at large and of course great employment opportunities will be created as the world is now shifting to the internet. Statistics show that half of the world's population is now on the internet, ''he confirmed.
Additionally, because we do international trade, the services will be brought nearer to the nationals. We hope to construct a hub later alone that teaches people about technology, Asher affirmed.
Cash Chat helps users communicate with each other using their Mobile Numbers by downloading from the google play store.
Cash Chat helps businesses, companies, banks, telecoms, small businesses to advertise on public status by targeting all countries, Cash chat gives users to earn 20% of the Ads brought by the users which is paid via Bank and Mobile Money.
"Cash Chat encourages people to use social media constructively. It goes beyond normal chatting to introduce investment and networking options. It is a multi-national online 'chama' (saving scheme),'' Namanya says
This is the time to make the future bright for Africa with technology, we want make use of technology with constructive intentions to help our people benefit from social media platform unlike in other social media where they chat and use the service and give money to the owners and yet remain with financial problems. Cash Chat has come to make social media useful with Mobile Money. Its talk, chat and earn.
"Companies can pay via Visa and Master cards to upload their desired Ads, Mobile Money and they can as well go into contract to advertise for a longer period."