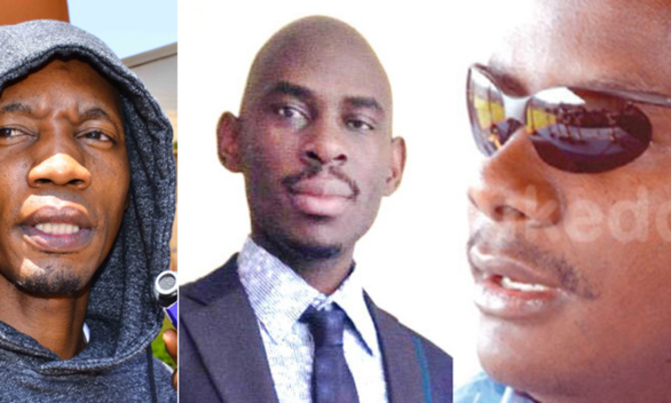 Brian Kirumira says he inherited riches from his late Italian stepdad Claudia. Claudio was a businessman dealing in real estate. He would buy old houses, renovate them and re-sell them.
MONEY CELEBS UGANDA

Michael Ezra Mulyoowa (46) aka Michael Ezra
In the past, the name Michael Ezra has been associated with flamboyance, wealth, generosity, sports and most notably, mystery.
Michael Ezra
His generous financial handouts to hangers-on, journalists, commentators, and most especially the sports fraternity (failed pledges notwithstanding) earned Ezra a demigod status. Many however would beg to differ in the existence of such a status. At one time, the Bank of Uganda had to impose limits on Ezra, over his constant injection of foreign currencies into the Ugandan economy.

While many believe the recent happenings are a true representative of the nature of a man who has intrigued many for 11 years and would end if he pays his debts; others believe that Ezra's troubles are far from over since they have underlined implication. The New Vision of 20th, October 2010 reported Ezra had escaped in a police car chase.

The embattled city tycoon narrowly escaped arrest after he eluded security in Kololo, an upscale Kampala suburb. The tycoon was wanted for issuing fake cheques. But Wiki begs to differ. Ezra is described as one of the wealthiest Africans.

He is said to be the owner of Sunspace International, a holding company registered in Seychelles, and a founding patron of the Ezra Track Team Board, a sports philanthropic financing and talent search agency.

Meddie Ssentogo
The socialite was said to be the former lover of Shanita Namuyimba aka Bad black (another renowned city socialite). Meddie Ssentongo and his estranged girlfriends were the king and queen of showbiz back in the day.
Meddie Ssentongo
Bad black allegedly stole $ 4 million from a British National David Greehal which she is said to have shared with Meddie Ssentongo which later led to the imprisonment of both. Meddie Ssentongo was later released in 2014 after he completed his one-year and eight-month sentence.

Brian Kirumira aka Bryan White
He is the founder/C.E.O of the Bryan White Foundation. Many people have come out to talk about his style of dishing out money to revelers in Kampala.
Brian White

Brian Kirumira says he inherited riches from his late Italian stepdad Claudia. Claudio was a businessman dealing in real estate. He would buy old houses, renovate them and re-sell them.
White
The self-styled tycoon is not prone to problems regardless of being a money bag as he was arrested in December 2017 for allegedly shooting and injuring his neighbor, Victor Bitwire, a businessman in Kampala.

Brian Kirumira ended up celebrating the 2017 Christmas in Luzira Prison. We can as well list some of the good things that Brian Kirumira through his Bryan White Foundation has done. On 02nd May 2008, he donated to expectant mothers household items like basins, soap, sugar, milk, and sh15m.

Sulaiman Kabangala Mbuga
City tycoon Sulaiman Kabangala is a definition of a rich young man. In 2016, Mbuga married the love of his life in multi-billion functions (both Introduction and Wedding). Before the young tycoon had been rumored to be dating a local musician by the names of Leila Kayondo. After some time, the two love birds fell out.

And Mbuga married her. The news surrounding their wealth is that he and his wife Angela Vivienne Chebet are cheats.


In 2018, the couple was charged with a fraudulent tractor of money amounting to 53m Kronor (sh23b) from a company account, which was allegedly being run by Chebet and her then a 71-year old boyfriend, Sten Heinsoo, a Swedish national.

During his business trip to Dubai, United Arab Emirates (UAE), Mbuga was detained at Awiir Central jail. He was later extradited from the UAE to Sweden after spending one year in detention without trial.

The Stockholm resident judge, Michaela Sten, presided over the case and gave his ruling on Friday stating that he did not find enough evidence linking the businessman to the fraud.


Nasser Nduhukire aka Don Nasser
The young city socialite Nasser Nduhukire aka Don Nasser is known to splashing money to revelers in Kampala. His source of income is unknown.

On 3rd December 2018, 'Don' Nduhukire was charged with a case of obtaining money by false pretence before being remanded to Kigo prison.

Nasser Nduhukire faced charges of obtaining money by false pretence, allegedly having conned Johnny Hill a 56-year old American national of US$700,000 (over Sh 2bn) in a gold scam. He was later granted bail

Shanita Namuyimba aka Bad Black
She was known for splashing money on the streets of Kampala. The list of people who were feasting on Black's money included Musicians, Bodaboda riders, fellow socialites among others. On 26th March 2012, Black faced fraud and embezzlement crimes appearing before Anti-Corruption Court judge Catherine Bamugemereire.
David Greenhalgh, her former boyfriend, and company co-director, the first prosecution witness, told Court last month that Bad Black failed to account for the company's money.
Greenhalgh said they opened up a company in September 2010 to deal in real estate business and wired U$2m from the United Kingdom to facilitate the business.

Jack Pemba
Businessman and socialite Jack Pemba is known to have it all regardless of no visual source of income. On 4th February 2017, Jack Pemba celebrated his birthday by throwing a lavish party at Speke resort Munyonyo that was attended by several people including Koffi Olomide.

But as fate would have it, on 5th April 2017, the socialite and his partner Sheba Kassami, were dragged to the High Court for failure to pay sh75.9m for air tickets they procured on credit from a travel company.

Nasser Ntege Sebaggala
He is a businessman and politician who was Mayor of Kampala from 2006 to 2011. He was an independent presidential candidate in the 2006 general election before dropping out and joining the Kampala mayoral race.
When people start talking about personalities who are wealthy, Nasser Ntege Sebaggala is the first on the list. His source of wealth is said to be in electronics and clothes store on Kampala Road, the main thoroughfare in Kampala.

It is believed that his business interests grew overtime before he began his political career by running for the position of Mayor of Kampala. However, New Vision reports that on 13th June 1998, the Kampala Mayor of two months was arrested by the US Federal authorities over possession of fake dollars and he was tried over the crime. He was later released on bail.

Sebaggala served as the Kampala Mayor for two terms and later on, he was appointed the Presidential Advisor on 30th June 2016.