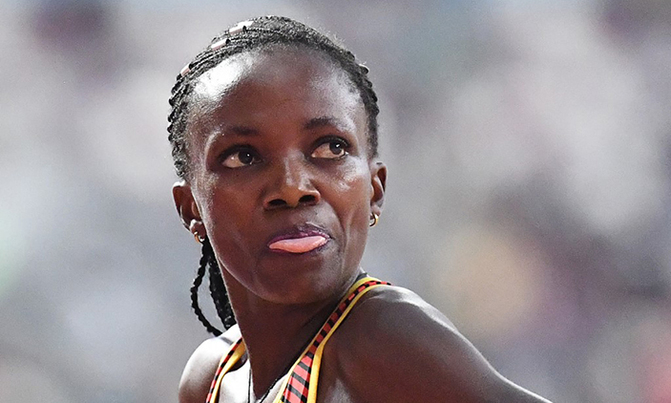 In the marathon, Uganda brings strength in depth in Stephen Kiprotich and Solomon Mutai
World Athletics Championships
8:55 pm: Women's 1500m Final
11:59 pm: Men's Marathon
Uganda takes to two finals confident of winning at least a medal. Winnie Nanyondo will be the first Ugandan in action in the 1500 meters before Stephen Kiprotich, Fred Musobo and Solomon Mutai battle in the marathon.
Nanyondo is fired up after her training partner Halimah Nakaayi striking gold in the women's 800m on Monday.
Her only worry will be the long-striding Ethiopian-Dutch star Sifan Hassan. Hassan is enjoying superb middle and long-distance form and on Monday decimated a strong field to take 10,000m gold.
Nanyondo on Thursday easily qualified for today's final after finishing sixth, the same night Ronald Musagala also finished sixth to advance to the semi-finals where he was eliminated on Friday evening after posting the 16th fastest time.
In the marathon, Uganda brings strength in depth in Kiprotich and Mutai. Kiprotich distinguished himself amongst the marathon elite by winning Olympic gold in 2012 in London.
Kiprotich then proved that London was no fluke by again winning gold at the 2013 Moscow World Championships. Mutai also brings strong credentials having won bronze at the 2015 championship and silver at the Commonwealth Games.
Fred Musobo might be new in the 42-kilometre event but he proved in April that he can cause an upset.
He finished third in the Daegu International marathon in an impressive 2:06.56 seconds.
Weather test
But there is more than just running to this year's marathon. These are the world championships' first midnight marathons.
By this time the temperatures would have dropped to 30C, which by most countries standards is also very hot.
Is it, therefore, surprising that almost half of the competitors in the women's race did not finish?
Two years ago in London, the men's gold was won in 2:08:27 by Kenya's 24-year-old Geoffrey Kirui, who had won the Boston title earlier in the year in what was only his third marathon, and who is back to defend his title.
Two years before that, Eritrean teenager Ghirmay Ghebrelassie claimed gold in Beijing in 2:12:27. This was much slower than Kiprotich's 2:09:51 in Moscow.
The two titles before that went-at Berlin in 2009 and Daegu in 2011- to Kenya's Abel Kirui in respective times of 2:06:54, the championship record, and 2:07:38.
Tough battle
Kiprotich and Eritrea's 37-year old, five-time world half marathon champion Zersenay Tadese are the most experienced in the field.
The other men to watch are of course those with this season's fastest times. Mosinet Geremew tops the entry list with his Ethiopian record of 2:02:55, set as he followed home Kenya's Olympic champion and world record-holder Eliud Kipchoge as he won the London marathon.
Geremew's teammate Mule Washun was one place behind in London in a personal best of 2:05:16 that places him third in this season's list also.
These are clear favourites, along with, you would have to say, their 29-year-old teammate Lelisa Desisa, who, although his personal best is 2:04:45, has proven class, having earned world bronze in Moscow six years ago and having also won last year's New York marathon.
But those could end up being mere statistics as the hot temperatures could spring some surprises.