Court orders residents to vacate the businessman's land in one month after compensation of the four squatters who were originally found on the land.
COURT

KAMPALA - The long-awaited judgment in the Lusanja land matter was delivered Friday, with High Court judge Tadeo Asiimwe ruling that businessmen Medard Kiconco is the rightful owner of the land.

Court ordered residents to vacate the businessman's land in one month after compensation of the four squatters who were originally found on the land.

Court also ordered residents to vacate the land within 30 days.

The 3.89-acre piece of land is part of the 85 acres that the late Paul Katabazi Bitarabeho bought in 1978 from the late Namasole Bagalaayeze Lunkuse, the mother of fallen Buganda King Mwanga.

Bitarabeho's descendants are said to have sold part of the land to Kiconco, who later evicted some of the tenants from it.

Kiconco maintains he bought the land comprised on block 206, plot 671 at Mpererwe in Kampala in 2016 while the residents say their land is on block 198, Folio 13 in Wakiso district.

The court resolved that the land in dispute falls under Sekanyonyi, Mpererwe in Kampala as Kiconco says he thought it borders the village of Lusanja.

The court held that even if it was found that their bibanja fell under Lusanja, they bought from a wrong person, a one Crispa Bitarabeho, who had no letters of administration to act on the deceased's estate.

"The defendants are even confused on where their land is located," Asiimwe said.

The verdict was followed by dramatic episodes outside the courtroom, during which one of the residents collapsed after the judgment was delivered.

It was not immediately clear what the actual cause of his blacking out was.


Kiconco says that by the time he bought the land from Bitarabeho's descendants in 2013, there were only 17 squatters, whom he says he compensated.

They are Patrick Opedo, Harriet Nabuso, Samuel Muyanja, Agnes Namukasa, Madinah Nansereko, Christopher Mbogo, Christine Kayesu, John Ntale, Fred Kanyike, Sam Serunjobi, Mary Nankabirwa, John Kilabira, Kenneth Kizito, Bashir Kalema, Martin Ntale, Kabuye Ssekitoleko and Scovia Nyanzi.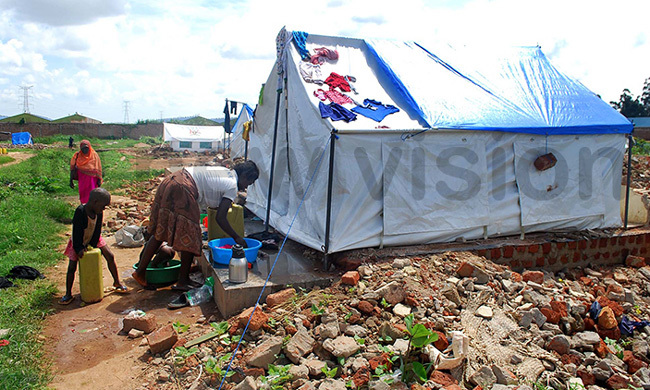 In March this year, this resident of Lusanja whose home was demolished did laundry in front of a makeshift tent her family shared with another family. (Credit: Lawrence Mulondo)
On January 12, 2017, Kiconco filed a suit at Nabweru Chief Magistrate's Court, seeking orders for abetment of a nuisance, demolition order, delivery of vacant possession and award of damages plus costs of the suit.

The former Chief Magistrate Esther Rebecca Nasambu heard the matter experte (without the defendants filing a defence).

Later that year in October, Nasambu delivered judgment with orders declaring the defendants as trespassers, demolition of structures and sh20m in damages plus costs of the case.

It is upon this ruling that Kiconco went to the High Court's execution and bailiff's division and secured a demolition order from deputy registrar Baker Rwatooro on August 23, 2018.


President Kaguta Museveni visits residents of Lusanja in Wakiso district whose houses were demolished.

The President says that Govt will refund the victims of the demolition once it is clearly established that the eviction was illegally carried out. #VisionUpdates

— New Vision UGANDA (@newvisionwire) October 16, 2018

The eviction attracted mixed reactions from many Ugandans, including President Yoweri Museveni, who visited the land with Justice Catherine Bamugemereire, the chairperson of the commission of land inquiry, on October 16, 2018, and halted further eviction and demolition of houses.

This prompted the Principal Judge, Yorokamu Bamwine, to direct the Land Division of the High Court head, John Eudes Keitirima to hear the case afresh.

On December 14 last year, Keitirima ruled that the residents were wrongfully evicted from the Lusanja land because the trial magistrate had no powers to handle the case.

However, he advised any aggrieved party to institute a substantive case before a right court for trial.

Subsequently, Kiconco filed a case at the Land Division Court, accusing the squatters of trespass and State Minister for Lands Persis Namuganza, and State Minister for Primary Education Rose Mary Sseninde for inciting people to stay on his land.

Lusanja people are being represented by Erias Lukwago, Abdallah Kiwanuka and Luiyimbaazi Nalukoola while Rashid Babu is Kiconco's lawyer.



ALSO RELATED TO THIS STORY

Probe on Lusanja continues, State House official tells court

Lusanja land row: Court summons land administrator

Lusanja Evictions: Court declines to halt construction

Lusanja victims not yet cleared to resettle on land - Judiciary