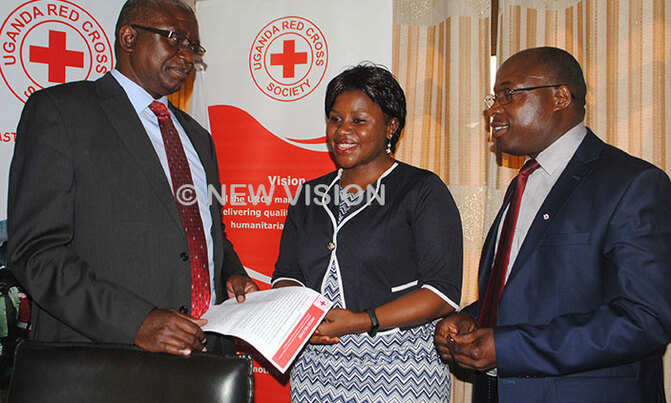 The plan requires sh1.6b that will be used to set up an emergency stock to cover about 1,000 households considered to be severely at risk and most vulnerable when disaster strikes.
DISASTER RESPONSE
Over the years, Uganda has been hit by adverse weather effects such as landslides and floods due to heavy rains and the response has always been after the disaster has happened.
It's upon this background that the Uganda Red Cross Society (URCS) has developed a four-month emergency preparedness and response plan to respond and mitigate impacts of adverse weather events.
The plan requires sh1.6b that will be used to set up an emergency stock to cover about 1,000 households considered to be severely at risk and most vulnerable when disaster strikes.
Speaking at a press conference held at the URCS offices in Rubaga, Robert Kwesiga, this morning explained that the funds will go a long way in minimizing loss of life and property in case of disaster.
However, he noted that the URCS does not have the money but appealed to the public, government and its partners to donate towards the cause.
"Let Ugandans be there for Ugandans," he said.
The funds will be used to procure and distribute essential household items for affected communities, increase their access to sustainable safe water supply, scale-up institutional and community capacity to respond to health epidemics such as cholera.
It will be used to increase awareness on cholera prevention measures and strengthen operational capacity in planning and reporting for effective service delivery to the target beneficiaries.
"This will help us save lives, save property and promote the human dignity of our people who are likely to be affected whether directly or indirectly during this period when we are having these heavy rains," he said.
He noted that due to the challenges of un-anticipated weather changes, Uganda needs to take on preparedness as opposed to struggling when disaster strikes.
"We cannot wait for major disasters like what usually happens to Bududa. The time is now for us to act," he remarked.
The for in-kind support, Ugandans are required to deliver them to any Red Cross office within their reach for financial support, they can deposit it on the organization's account, Uganda Redcross Finance Core at Stanbic bank, Account number 9030008610559. Payments can also be made through mobile money using redcross as a merchant code.
The plan will cover 19 districts at high risk of disaster due to adverse weather conditions such as drought, flooding, and landslides.
These include Bududa, Kyegegwa, Bulambuli, Butaleja, Manafwa, Bundibugyo, Kisoro, Kasese, Amuru, Nakapiripirit, Otuke, Namayingo, Nebbi, Hoima, Namisindwa, Mbale, Sironko, Isingiro and Busia.
Of this, Busia, Isingiro, Kyegegwa, Kisoro, Kasese, Namayingo, Nebbi, Hoima, Bulambuli, Bududa and Bundibugyo are at risk of cholera outbreaks.
So far the ministry of health has confirmed cholera outbreaks in four districts of Busia, Bududa, Kyegegwa (Kyaka II refugee settlement) and Isingiro (Nakivale refugee settlement).
Dr. Halid Kirunda, the URCS board chair called on Ugandans in these districts to be on the alert and report any occurrence for a quick response, especially during this rainy period.
He said those in risky locations should immediately move to safer places until when the rains are over.
Irene Nakasiita, the communications, and public relations officer advised Ugandans in those districts to seek refuge in the homes of their relatives who are in safer places and also stock food so that in case of flooding, drought or landslides, they are not hit by hunger.