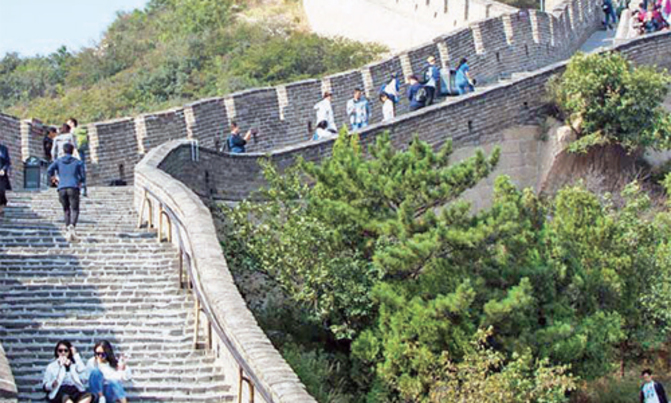 How China's economy developed
By Martin Kitubi

China is a true success story of great leaders. Hit by several setback, leaders did not give up.
From lagging behind Japan 70 years ago, China has grown to become the second largest economy in the world under different leaders since 1949.
Mao Zedong (1949-1976)
You cannot talk about China without Mao Zedong, the greatest Chinese revolutionary leader of the 20th century. Up-to-date, in Uganda, Mao Zedong's legacy and history has been taught over the years in secondary schools.
It is said everything that China has achieved today is as a result of a journey that started 70 years ago, under the stewardship of Zedong. Described as one of the most important leaders of China, Zedong was the founding father of the current People's Republic of China.
Zedong came at a time when the Chinese economy was critically "ill". In 1949, China suffered from warfare both internally and externally, mainly with Japan. A number of its factories and mines which were huge contributors to the economy were either damaged or closed.
Just like other wars, transportation, communication and power lines were destroyed. The infrastructure had deteriorated since the country could hardly afford to maintain it.
During the war, it is reported that more than a half of the machinery in northeastern China, which were big industrial bases, were dismantled. The equipment were shipped to then Soviet Union, now Russia, leaving the Chinese impoverished. Key sectors such as health and education crumbled.
The country's great brains (experts) fled for greener pastures. According to Oxford University, agriculture was disrupted and food production was 30% below its pre-war peak. This, coupled with the inflation at the time, meant Chinese needed a great statesman to revive its economy.
Zedong's government moved quickly to repair transportation and communication links and revive the flow of economic activity. Different publications including the Chinese Economy: Transition and Growth from 1949 to present say as part of the revival, the different institutions were nationalised and the remaining privately owned were gradually controlled by the government. CLICK HERE FOR MORE ON THIS STORY
Why you must visit China this year
By Jacky Achan
There is a popular saying in Asia that goes, "better to see something once than to hear about it a thousand times."
Stories have been told about China in newspapers, on television, in books; you can nearly feel you know China inside-out, when in reality you have not set foot there.
So, what will it take to visit China, the world's largest country by population? Perhaps, the answer lies in another great saying, "Travel is never a matter of money, but of courage", coined by Paulo Coelho, a Brazilian novelist best known for his novel, The Alchemist.
If you can combine money and courage this year, the best experience awaits you as you get to tour and discover China. Here is why;
The Great Wall of China
The Great Wall was inscribed as a World Heritage site by the United Nations Educational, Scientific and Cultural Organisation (UNESCO) in December 1987. But also in 2007, more than 100 million people voted to declare the New Seven Wonders of the World of which the Great Wall of China was in the list of the winners representing a global heritage.
The Great Wall of China is a chain of multiple walls spanning about 6,438km (4,000 miles), but the official length is indicated as about 21,197km or 13,171 miles, making it the world's longest man-made structure.
Built between the 5th BC and 16th century, the Great Wall of China is a stone-and-earth fortification created to protect the borders of the Chinese Empire from invading Mongols an ethnic group native to Mongolia and to China's Inner Mongolia Autonomous Region.
More than 2,300 years old, The Great Wall of China is a cultural representation of the early Chinese society. It attracts many tourists who get to admire traditional Chinese architecture at its best. Adrian Bwanika, a journalist who has navigated this wall, describes it as the best experience of his life.
"I managed to go up to the top and received a medal; we were only 10 out of 40 who got to the top." For Bwanika it was great seeing such a landmark conserved for many years. Impressive too is that the local Chinese tourists come in large numbers. CLICK HERE FOR MORE ON THIS STORY
Uganda-China relations blossom to new levels
By Geoffrey Mutegeki
China-Uganda relations are as old as Uganda. The relations date back to 1962 when Uganda got its independence from the British.
China was among the first countries that started co-operating with the new nation called Uganda.
Even before the relations were formalised, China had contributed a lot to Africa's decolonisation — Uganda inclusive — and has continued to do the same. Since independence, a lot of projects like roads, airport, power dams and industries have been constructed with the help of China.
Entebbe expressway was built using $350m (over sh1.2trillion) from Exim Bank of China. Uganda's biggest sports facility, Mandela National Stadium Namboole, was constructed with the help of China. The sh40,000-capacity stadium was built using a sh30b soft loan from China in 1996.
Cordial relations
The Chinese ambassador to Uganda, Zheng Zhuqiang, says the Uganda-China relations are at their best in history. "Our bilateral relations have been elevated to a new level of comprehensive co-operative relationship," Zhuqiang says.
The co-operation does not only end at government level but has since trickled down to various organisations such as Vision Group, which has a strong partnership with the Chinese Embassy in Uganda.
Vision Group's first partnership with the Chinese Embassy in Uganda started with the publication of New Era, an in-depth monthly pull-out focusing on China-Uganda ties. CLICK HERE FOR MORE ON THIS STORY
RELATED STORY
CLICK HERE FOR A PICTORIAL SHOWING UGANDA-CHINA RELATIONS
China's 70-year economic journey
By Mubarak Mugabo in Beijing, China
The People's Republic of China (PRC) was born 70 years ago today. Over these years under the Communist Party of China (CPC) , the Chinese economy has continued to grow rapidly.
These achievements have enabled China become the world's second largest economy that is assisting developing countries grow with it.
Through this economic transformation, China has managed to roll out global platforms such as the Belt and Road Initiative which has helped many developing countries, especially in Africa, improve their infrastructure.
Part of this progress is visible in countries such as Uganda where hydropower dams such as Karuma and Isimba, industrial parks, the Standard Gauge Railway and other mega infrastructure projects have taken shape under this framework.
China has also contributed troops to peacekeeping missions in Mali and Somalia, thus scooping numerous awards from the UN and the African Union.
Energy, infrastructure
At the founding of PRC in 1949, the country had been ravaged by years of war and the financial sector raised funds to support quick recovery and rebuilding of the economy. China facilitated the improvement in agriculture, industrial equipment and infrastructure.
With over five million megawatts, China has the highest power generation capacity in the world. This was key to the growth and development of other sectors. According to the national bureau of statistics, the mileage of railway services is raking in top positions across the world.
"The mileage of railways in service reached 132,000km, the mileage of high-speed railways reached 30,00km ranking second and first in the world respectively," Ning Jizhe, the commissioner of National Bureau of Statistics of China, said in a report.
This connectivity system reduced the cost of doing business in mainland China. It takes a few hours, for instance, connecting the capital, Beijing, to all the financial cities of China such as Shanghai, Guanzhou, Xi'an, Zhejiang and Changsha. CLICK HERE FOR MORE ON THIS STORY
ADVERTS
CHINA HUANGPAI FOOD MACHINES (U) LTD
CHINA INTERNATIONAL WATER AND ELECTRIC CORP.