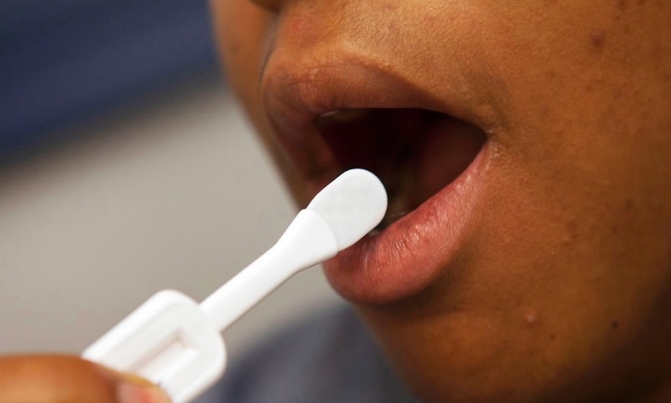 It is only three months to 2020 when Uganda is expected to bring the HIV/ AIDS epidemic under control. The country also expects to end the disease as a public health threat by 2030.
HIV KITS ORAL
You no longer need to prick your finger or draw blood from your body to test for HIV. Uganda has endorsed a new self-test kit that will enable one test for HIV anywhere outside a health facility.
All you need to do is press the flat pad of a test stick/device firmly against your gum. Thereafter, you will move the test stick along the lower and upper gums once. Then, you will place the test device in a tube and wait for 20 minutes. The gums are rich in antibodies produced by people living with HIV.
The gums of people living with HIV, according to health experts, are rich in antibodies produced by the virus. Antibodies are proteins made by one's body to attack foreign substances such as viruses and bacteria.
The HIV antibodies are not available in saliva and it is not required for the test, the acting director-general of health services, Dr. Henry Mwebesa, said. This was during an event to endorse the tool at Hotel Protea in Kampala yesterday.
If red lines appear on the test stick, there are high chances you are HIV-positive; whether the second line is faint or not. If only one red line appears, it means you are HIV-negative.
The kit is known as OraQuick. If the test indicates positive results, you are advised to visit a health facility for a confirmatory test before you can be enrolled in antiretroviral therapy (ARVs).
The test should be performed 15 minutes before eating or 20 minutes before using mouth cleaning products. The results should not be read 40 minutes after the test has been performed because they would be invalid. An estimated 1.3 million Ugandans are living with HIV/AIDS. Of these, 1.2 million people are said to be on ARVs.
The health ministry permanent secretary, Dr. Diana Atwine, said she is optimistic the new device will encourage an estimated 100,000 or more HIV-positive Ugandans, who have never tested, to know their serostatus.
Information from the ministry shows that the number of clients seeking HIV-testing services at health facilities is still the lowest among men and adolescents. The HIV prevalence rate is 6.2%, down from 7.3% in 2011.
It is only three months to 2020 when Uganda is expected to bring the HIV/ AIDS epidemic under control. The country also expects to end the disease as a public health threat by 2030.
Social harm ruled out Atwine said the new kit is the only self-test device recommended by the World Health Organisation (WHO). The kit, according to the health ministry, was assessed by WHO on the possibility of its HIV positive results triggering social harm on patients and accuracy, among others, and it passed the test.
That notwithstanding, Atwine said the providers of the device should provide clients with telephone numbers of healthcare professionals they can get in touch with in case they establish they are HIV-positive.
This, she said, will prevent possibilities of the results triggering social harm such as cases of suicide. Mwebesa said the kits currently sold to clients that rely on blood samples for self-tests are fake and contrary to the national HIV testing algorithm. Any HIV test that involves blood samples, he added, should be performed in a health facility by medical personnel.
The OraQuick device is manufactured by a US company, OraSure. Human Diagnostics Uganda Ltd is the local representative of the manufacturer. Cost A single device, meant for one person, costs between sh23,000 and sh25,000 in various pharmacies. However, it is free in public health facilities.
The accuracy of OraQuick device is estimated at 99.6%. The ministry said the devices have been introduced in health facilities in 79 districts, and they will be made available in other local governments soon.
Related story