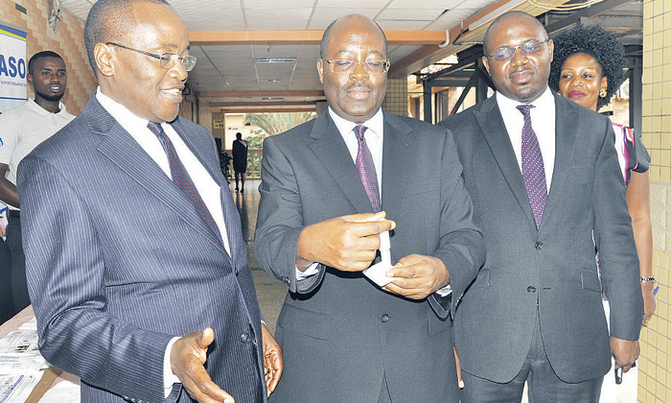 According to Prof. Anthony Mbonye, the director-general of health services at the Ministry of Health, the new self-test kit is an essential component in the fight against HIV/ AIDS.
HIV/AIDS
In Buliisa district, where one of the pilot projects for the new oral fluid HIV self-test kit was conducted, a fistfight ensued after a husband was abruptly woken up by a brush-like flat pad massaging his gums.

Unknown to him, his wife, who had acquired the HIV oral self-testing kit from researchers working with The Aids Support Organisation (TASO), had hatched a plot to stealthily establish his HIV\AIDS status. But the plot was cut short.

The OraQuick HIV test pad was broken and to calm the situation, the wife had to explain the new technology to the jittery husband. It is such scenarios, including the cost of the kit and limited counselling services during the unsupervised HIV self-test settings, which have caused quite a stir as Government finalises plans to roll out the OraQuick HIV self-test kit, which costs $10 (about sh35,000).

Yet in other areas such as Entebbe, Nakaseke, Kampala and Mpigi, where the new kit was piloted, the self-test has been praised as a breakthrough that might revolutionalise the HIV testing in the country, especially by bringing the elusive men on board.

According to Prof. Rhoda Wanyenze, a programme director at the Ministry of Health, who led the pilot research, the new oral fluid self-test kit requires a person to press a flat pad firmly against his/her gum and swab it along the upper and lower gum once; then put the flat pad in a tube and wait for 20 minutes.

When the red line comes to letter C, it means you are negative, while the red line moving to letter T implies being HIV-positive. The test kit can only be used once. "Do not eat and drink for 15 minutes before taking the test," she said.

The kit was unveiled yesterday during a self- test dissemination meeting at Hotel Africana in Kampala yesterday. Wanyenze said a number of studies have been conducted on HIV self-testing, emphasising that in neighbouring Kenya, the oral fluid self-test has registered enormous results ever since it was rolled out four years ago.
"It will act as a screen test. If the result is positive, we encourage such people to conduct another confirmatory test," Wanyenze added, revealing that the Government is already drafting mechanisms that will ensure proper sensitisation of the general public about its use.

During the pilot field research, Wanyenze added that the teams never registered accuracy issues.

Cost too high
Wanyenze, however, expressed worry about the cost of the kit. "The kit is expensive, but the cost might be negotiated down as the number of people self-testing grows. We expect the cost to come down," she said.

Explaining the high cost, Dr. Joseph Matovu, who conducted the OraQuick self-testing research among male partners of pregnant women in central Uganda, said the sh35,000 includes shipping costs and taxation.

"That money involves shipping of the equipment, packaging and taxation. That is why it is that high, but we hope it will be negotiated to the price which an ordinary Ugandan can afford," he said.

Anna Heard from the International Initiative for Impact Evaluation said the Bill and Melinda Gates Foundation has already initiated talks with the manufacturers of the new self- test kit to reduce the cost of the product so that people in Sub-Sahara Africa can access it cheaply.

Confidential test
According to Prof. Anthony Mbonye, the director-general of health services at the Ministry of Health, the new self-test kit is an essential component in the fight against HIV/ AIDS.

"Testing is, therefore, an essential step to ending the epidemic. One million individuals have been identified and enrolled in chronic care. What is left is to identify the remaining HIV infected individuals."

The Government, Mbonye said, has expanded HIV testing facilities from 400 to 5,000. The move, he explained, is meant to gear the country towards the goal of ending AIDS by 2030. With the OraQuick HIV self-test kit, Mbonye said confidentiality and privacy issues will be made easy since it is done in the comfort of someone's house as opposed to the testing of blood that requires one to access a medical facility.

It is estimated that 40% of new HIV infections in Uganda come from stable relationships. But some experts argue that extensive counselling services must be offered to people before the kits are distributed to them.

According to Dr Daniel Kibuuka Musoke from the International Research Consortium, although the kit is a discreet and convenient way of testing, there is likely to be the problem of linking the person who individually tests and finds himself positive to medical care.

"Linkage to care is the monster in the room," he said. To some experts such as Dr Masitula Nanfuka from TASO, there is also a strong belief among the people that the kit results are not accurate. "Some still believe that the blood test is more accurate," she said.

Fewer men test for HIV
An estimated 1.4 million people are living with HIV. The coverage of HIV testing is still below the 90% target. Only 74% of people living with HIV know their status, while 16% of men in the country have tested for HIV.

According to health minister Dr Jane Ruth Aceng, engagement of men in HIV prevention and treatment programmes remains one of the biggest challenges.

Last month, Aceng revealed that in 2016 alone, 14,348 men died of AIDS compared to 9,600 women. While launching his personal commitment to ending HIV/AIDS last month, President Yoweri Museveni called on men to test voluntarily.

"I do not want to have other ideas where we shall come and grab you (men). If you test positive, take these drugs. It is not something to discuss. It must be done," he said.

The new kit, according to Judith Alyek, the chairperson of the parliamentary committee on HIV/AIDs, will endear men to the habit of testing.

"This self-test kit is an initiative that will encourage men's involvement by bringing the service nearer. However, it requires a lot of courage, honesty, discipline and commitment," she said. Dr Joshua Musinguzi, the AIDS Control Programme manager in the health ministry, said a technical working group will study the research findings and release implementation strategies.

The test kit costs $10 (about sh35, 000) and was piloted in Entebbe, Nakaseke, Kampala and Mpigi districts