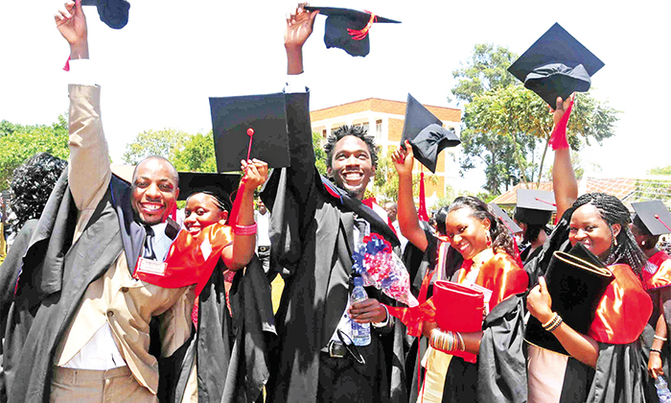 Nkumba University has always kept good ties with Buganda kingdom and this has continuously been reflected in the fruitful engagements between the two parties.
Today, all roads lead to the Nkumba University grounds along Entebbe Road to celebrate the institution's 25-year-old journey, one arrayed with great milestones. Prof. Wilson Muyinda Mande, the vice-chancellor, says they expect over 10,000 people, including the chief guest, President Yoweri Museveni, dignitaries, alumni and well-wishers.
"It will be a memorable day, the peak of the silver jubilee week that started on September 21," he says. During the week, students from different schools of the university participated in various sports activities, a fashion show, alumni activities and skits. In addition, cultural engagements, a conference to disseminate new knowledge, as well as a public lecture by renowned academicians were also organised. Muyinda says the university has evidently grown over the last 25 years.
It has contributed enormously in terms of human resource, hence the theme of the Silver Jubilee celebrations: 25 Years of Academic and Professional Service. "We are grateful to all who have stood by us over the years, especially those who began the predecessor institutions that eventually evolved into the university," he says. The university has come from far Since its inception in 1952, Muyinda says, Nkumba is the only institution in Uganda that has evolved from a humble background.
It has transformed itself several times from a kindergarten, to primary school, junior secondary, college of commerce and advanced studies and fi nally into a university in 1994. "The university's origin stems from a community infant school way back in 1952. This was a vision and an initiative of Ssalongo Erisa Kintu, a businessman," he recollects. On July 29, 1951, Ssalongo Kintu shared the idea with his two friends; Charles Kisitu Ffulu, the former parish chief of Nkumba village and Zefania Mpanga, a civil servant.
The two welcomed the idea and the three agreed to become trustees. Prominent among those invited to join them were late Nelson Edmund Nkalubo Ssebugwawo and Prince Besueri K. L. Mulondo. The infant school was started on February 6, 1952. This gradually grew into a primary, junior secondary and then vocational secondary School in 1969. In 1974, it became an advanced level commercial school.
In 1980, the trustees agreed to transform the school into Nkumba College of Commerce and Advanced Studies (NCCAS) for wider curriculum. In 1994, they transformed NCCAS into a university, hence the birth of Nkumba University, which was inaugurated in June 1994 as a nondenominational, community private and not-for-profit institution. It was chartered by the Government of Uganda in 2006.