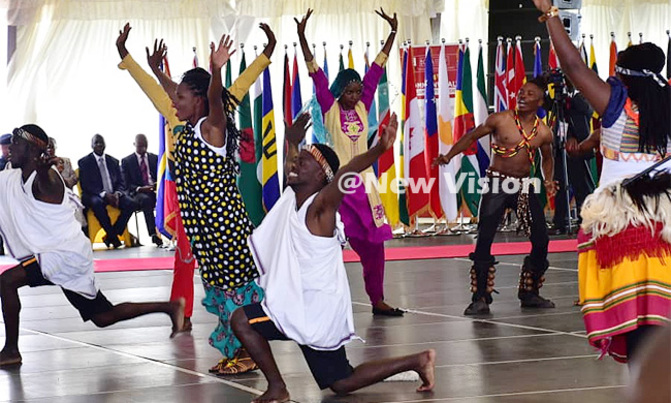 A kaleidoscope of colours in the form of cultural outfits, blended with rich musical performances and an addictive, ubiquitous feel-good aura offer the perfect setting for the opening of the Commonwealth conference.
64TH COMMONWEALTH PARLIAMENTARY CONFERENCE

📷 The official opening of the 64th Commonwealth Parliamentary Conference was offered a perfect setting: a kaleidoscope of colours in the form of cultural outfits, blended with vibrant performances and an addictive, ubiquitous feel-good aura.

By Joseph Kizza
@joekizza

__________________________

There is little doubt where most of local attention has been directed this week. No prizes for guessing. In fact, Thursday cast an even broader spotlight on an already hyped up event - the 64th edition of the Commonwealth Parliamentary Conference - and for good reason. The week-long event, which got under way on Sunday, was officially opened by President Yoweri Museveni on its fifth day at an elaborate function at Munyonyo Commonwealth Resort in Uganda's capital Kampala.

In the last couple of days, hundreds of foreign delegates have been waking up to rays of glorious Ugandan morning sunshine filtering through their hotel room blinds, as a country with the long-held epithet of 'Pearl of Africa' continued to host them.

On the fifth, sixth or seventh day (depending on when they jetted in) of their stay in Uganda, many of the delegates stuck to an orthodox dress code by slapping on agbadas, saris, kurtas and sulus for the official opening of the conference.

The local parliamentarians and guests went for the gomesi, kanzu (tunic), mushanana and nakatukok while others kept their formal wear pretty much, uhm, straight-forward.

Thankfully, organisers of the event found themselves in the good books of the weather gods. A splash of early morning warmth willed on by a gentle breeze wafting from the nearby Munyonyo Beach struck a perfect meteorological equilibrium for an event of such magnitude.



The delegates were shuttled from their respective hotels to Munyonyo for the big one. Many of them flew into the country through Entebbe International Airport on Sunday ahead of a week packed with meetings and excursions.

Munyonyo was bubbling with an extensive range of cultures, well illustrated by what the delegates wore.

A kaleidoscope of every colour imaginable did well to splash a veil of optical vibrancy over the event.

It was fashion taste at its best. Our photojournalist pitched camp at a vantage point where the delegates sauntered past to freeze their sense of style with only a click of his optical gadget 📸

On a sweltering morning, what better way to shield your eyes from the great luminary's rays - and at the same time enhancing your style - than by slapping on sunglasses!

A nifty addition, for sure :)

The hues on display ranged from every corner of the colour panel.

You could say the picture immediately below enjoyed a generous array of blue hues!

A perfect day to have a perfect reason to put on show your pearly whites. A hearty picture, this one!

Truly united in happiness :)

Some marched to the venue in business-like fashion, armed with iPads and smartphones, as well as with the determination of a thoroughbred. Way to go!

A hotbed of cultures . . .

. . . including a dollop of Pacifician wardrobe taste.

Plus a sprinkle of South Asian culture . . .

The Horn of Africa was very much represented . . .

From the look of things, blue was an ubiquitous colour choice for many a delegate.

Uganda is hosting the Commonwealth Parliamentary Conference for a second time, having only previously done so in 1967 - five years into life after independence.

Hosting an event of such enormity requires an equally large synchronized team to ensure everything goes on smoothly. From security to logistics and media, it has been so far so good.

At this point of the week-long conference, Rotten Tomatoes would give the hosts a rating of 80% were it a film.

The ushers did well to guide the delegates to the meeting point.

Some came in twos, others in threes and others in larger groups.

But most importantly, they were all coming together as one, in one place, united in the Commonwealth spirit.

In their transit to the venue, many pressed their brake pedals as they approached our camera-wielding journalist, affording to briefly strike a pose, before carrying on.

Those who found the rather short walk to the venue to be a traipse relished a ride on a cart.


_________________________________


Meanwhile, the delegates were thrilled by the lively performances upon arrival at the venue.

Some flashed the thumbs-up sign in conspicuous approval of what was on show. They liked what they experienced.



You could tell the vibrant performances were tempting for many of the guests.

Some froze the dynamism in the air for later optical consumption . . .

It was about hugs and kisses, smiles and selfies.

A warm welcome for the delegates.


Tempting, right?

By the way, you can join in on the thrill . . .

Oh yes! Now that's more like it!

This is what the Pearl of Africa is all about - BEAUTY!

Can't miss out on such a selfie moment. You just cannot! 📱


OK THEN, LET ME ALLOW YOU TO ENJOY THE REST OF THE PICTURES UNINTERRUPTED . . .




ALSO RELATED TO THIS ARTICLE

Museveni opens 64th CPC, calls for cooperation

President Museveni's CPC address in full

Sightseeing CPC delegates soak in Ugandan culture

CPC delegates tour Lubiri Palace, Bulange

Rhoda Kalema: Widow of 1967 CPC chair hails Kadaga