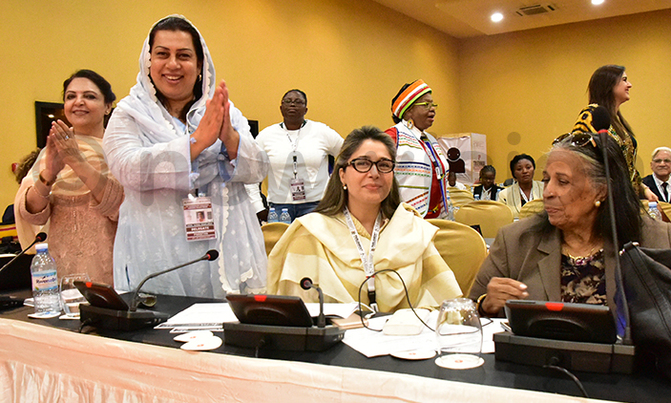 Khan Shandana vowed to work together with the Commonwealth Women to uplift the economic lives of the poor women
The Commonwealth Women Parliamentarians (CWP) on Tuesday elected Khan Shandana, a delegate from the National Assembly of Pakistan as the new chairperson.
Shandana defeated Tara Rivers, a legislator from the Legislative Assembly of the Cayman Islands to take on the prestigious position.
A lawyer by profession, Shandana takes over the mantle from Dr Noraini Binti Ahmad from Malaysian who took over the chair in 2016.
In her speech, Shandana vowed to work together with the Commonwealth Women to uplift the economic lives of the poor women.
"As we women, we need to champion the economic development of our women. It is our responsibility to ensure that they are also economically empowered. Otherwise, if they remain behind, we would not have done our job," she said to applause from the delegates.
As the first girl to go to school in her native village in Pakistan, Shandana noted that if it was not for the mother, many women would not have gone to school in that village.
"Look out for them. They are many," she said.
Who is Shandana?
A qualified legal professional with extensive knowledge and experience in international trade and economic law advocacy, Shandana has been one of the leading legislators in her country with over five bills to her name within six years.
Majority of the bills are on human rights and economic empowerment of women. She also sits on several boards and is a good trade negotiator.
She is also an activist who has worked on economic rehabilitation of abandoned post-incarceration females and provided opportunities for their families to develop.
She has also authored a number of articles on matters including the creation of Pakistan's strategic framework, the industrial vacuum and has trained women on various aspects of international trade policy and development.
Niki Rattle, the speaker of the Cook Islands, was elected new Chairperson CPA, small branches. She defeated Juan Watterson the Speaker House of Keys, Isle of Man with 22 votes against 13.
Rattle was nominated by Lord Fakafanua, the speaker of the legislative assembly, CPA Tonga Branch. Her nomination was seconded by Burch, MLA, the speaker of the legislative assembly, Australia Capital Territory.
She was appointed Cook Island Speaker and CPA branch president in 2012 and reappointed in 2014 and 2018. She is an extremely active parliamentarian and former CPA executive committee representative for the pacific.
Rattle, a registered nurse was the first specific chairperson of the international conference of the Red Cross, Red Crescent. A colourful dresser, Rattle is highly regarded internationally for her skills of conciliation, strategic leadership and advocacy.
Speaking shortly after her election, Rattle pledged to push for women and climate issues within in the Commonwealth.
"Climate change is an international concern of everybody, this is a forum that those who are not able to access, can use to reach out to bigger members, there are bigger members who are able to help, identifying what those needs are," she said.
On women issues, Rattle said she would pay particular attention to women elevation, to occupy key positions at the national level.
She also decried the lower representation of women at parliamentary level, she said needs to be addressed.
"There should be balanced leadership between women and men, most of the parliaments are male-dominated there should be change," Rattle noted.