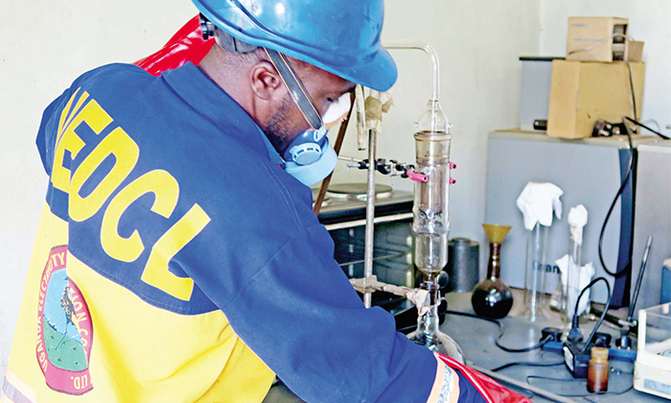 "We have been able to recruit operation and maintenance staff, works tools for all the service territories as one of the strategies
An employee of UEDCL currying out tests inside the company's pole treatment plant laboratory at Lugogo in Kampala
Uganda Electricity Distribution Company Limited (UEDCL) was formed in 2001 by the electricity act of 1999 following the split of the Uganda Electricity Board (UEB). UEDCL's mandate is to own all the electricity distribution networks below 33kv across the country.
As part of the Government of Uganda's foreign direct investment strategy to attract private capital investment, the main grid was concessioned to Umeme Ltd in 2005 for 20 years.
With effect from 2005 to-date the UEDCL mandate and operation license changed to:
(a) Monitor Umeme's adherence to the terms of the concession mainly in regard to improving the performance of the distribution network.
(b) Distribute electricity outside Umeme Ltd operational footprint mainly in the rural and far to reach areas having been connected to the main grid under the power extension programme by the Government.
(c) Maintain, operate, and manage the electric pole treatment plant at Lugogo in Central Kampala.