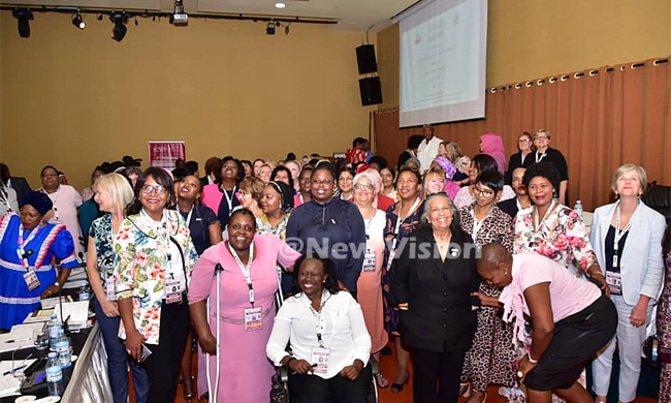 During the main event of the day, women Parliamentarians expressed their desire to have senior MPs mentor young ones in order to focus on areas of their competency.
COMMONWEALTH CONFERENCE


KAMPALA - The 64th Commonwealth Parliamentary Conference got under way in Kampala with a series of engagements. Day One of the week-long event had many of the delegates settle in after flying into the country. Day Two (Monday) was when the main activities kicked off at Munyonyo Commonwealth Resort in Kampala.

Here is a selection of pictures from what transpired.

________________________


It is the second time that Uganda is hosting the conference, having previously done so in 1967, five years after gaining independence.

Over 50 Commonwealth nations are being represented in Kampala.

Delegates started streaming into the country as early as Friday.

Various activities have been lined up for the week-long event, which will be wrapped up on Sunday (September 29).

The conference kicked off proper on Monday with various workshops discussing issues of common interest to the delegates.

The day was not short of interactions among the guests.

While some chatted over a cup of tea or coffee . . .

Others mused over what was on their phones.

The main event of the day was the 16th Triennal Commonwealth Women Parliamentarians (CWP) Conference.

Founded in 1989, the CWP conference provides opportunities for women legislators to discuss ways on how to increase women representation in parliament and work towards mainstreaming of the gender considerations in all Commonwealth Parliamentary Association activities.

The focus of this particular meeting is on various issues that affect women, including women's involvement in leadership.

The conference on women parliamentarians is running for two days - Monday and Tuesday. On Monday, delegates discussed such issues as promotion of women in leadership positions and senior portfolio.

Day one of this meeting registered a full house.

Women Parliamentarians want senior MPs to mentor young ones in order to focus on areas of their competency. They say that new MPs tend to be involved in many issues that they hardly focus on, hence their delivery is under-par.

Guests were treated to an entertaining opening of the conference.

There was also a lively traditional performance by St. Elizabeth Girls' School from Serere district.


"You cannot underscore the role of mentorship. When we entered Parliament there was no one to ask for mentorship. I propose that Commonwealth regions should give us a database for each generation of MPs such that we know where support is needed," said Speaker Rebecca Kadaga.


There was as much activity inside the meeting rooms as there was outside . . .

A whole load of colourful items were put out on display in the exhibition area.

The Kaleidoscope of colours on show provided a perfect sneak peak of the diversity that the Pearl of Africa has on offer.

You would be spoilt for choice - but then, there is something for everyone.


ALSO RELATED TO THIS ARTICLE

Commonwealth Parliamentary Conference kicks off

64th CPC: A look at the week ahead

Museveni to CPC delegates: Welcome to Uganda

Commonwealth Parliamentary Conference: Delegates jet in