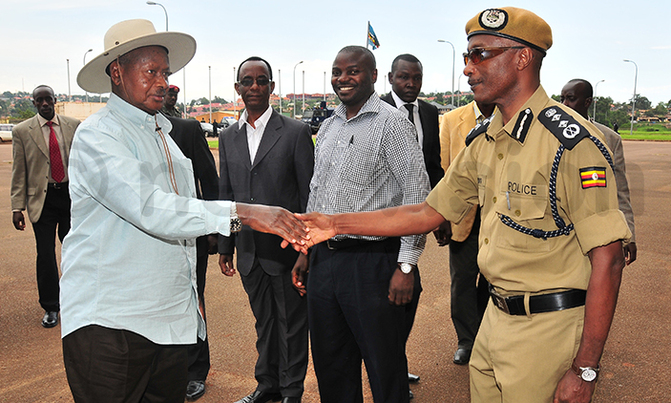 "Excitement among some elements of the Opposition shows the poor quality of their spectacles when it comes to issues of Africa"
President Yoweri Museveni has spoken out on the US sanctions against former Inspector General of Police, Kale Kayihura, saying that the excitement by the opposition over the sanctions is "misplaced".
"Before I comment on the action of the USA government in the matter of Kale, I should, first of all, say that, that excitement among some elements of the Opposition shows the poor quality of their spectacles when it comes to issues of Africa and Uganda," Museveni said in a letter to Ugandans, especially the Bazzukulu.
"Why do they think that going to the USA or, indeed, any non-African country is so important that if you are not allowed there, it will amount to a painful punishment? I know of no country that is more beautiful than Uganda on Earth Planet. It is actually a sacrifice for me to visit any non-African country on account of bad weather, strange foods etc," he added.
The President says that any mistake that the former IGP committed will be dealt with in Uganda.
Museveni also said that Uganda shall never hand any citizen to the International Criminal Court (ICC).
"For Kale or other Ugandans who are suspected to have made mistakes, they will always be handled in Uganda. That is why we shall never hand any Ugandan to, for instance, the Court in The Hague - the ICC," he said.
Museveni added: "Kale is already facing whatever mistakes he is suspected to have committed in our courts. What value addition is, then, therefrom external actors?"
Last week, the United States sanctioned the former Inspector General of Police, Gen. Kale Kayihura, over "serious human rights abuse" and "corruption".

It issued the sanctions through the Department of the Treasury's Office of Foreign Assets Control.

According to the statement, Kayihura was sanctioned "for having been a leader or official of an entity that has engaged in or whose members have engaged in serious human rights abuse against Ugandan citizens, as well as for his involvement in corruption".

"This action complements the Department of State's concurrent implementation of a visa ban for Kayihura under section 7031(c) of the Fiscal Year 2019 Department of State, Foreign Operations, and Related Programs Appropriations Act (P .L. 116-6) due to Kayihura's involvement in gross violations of human rights," the statement says.

"We are targeting Uganda's former Police Inspector General Kale Kayihura for using corruption and bribery to strengthen his political position, as units under his command committed serious human rights abuses," said Sigal Mandelker, Treasury Under Secretary for Terrorism and Financial Intelligence.

"The US government is committed to leveraging our human rights and corruption authorities to target, disrupt, and counter those who engage in abuse and corruption around the world."

"As a result of today's action, all property and interests in property of Kayihura, and of any entities that are owned, directly or indirectly, 50 percent or more by him alone or with other designated persons, that are in the United States or in the possession or control of U.S. persons, are blocked and must be reported to OFAC.

"OFAC's regulations generally prohibit all transactions by U.S. persons or within (or transiting) the United States that involve any property or interests in property of designated or otherwise blocked persons."
In his response, Kayihura protested the sanctions.