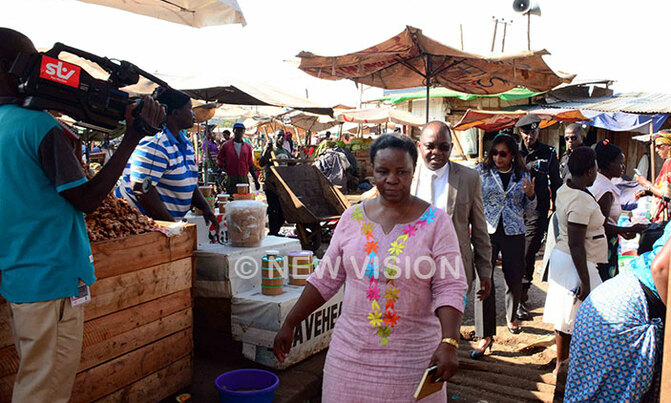 The women said they were facing big inconveniences sharing the few toilet facilities with men who seem not to understand women issues.
SANITATION HYGIENE
KALERWE-Women small entrepreneurs in Kalerwe market in the outskirts of Kampala city have appealed to the UN Women-the United Nations Entity for Gender Equality and the Empowerment of Women to construct for them toilet facilities.
The women said they were facing big inconveniences sharing the few toilet facilities with men who seem not to understand women issues.
"Sometimes when you are in your menstrual cycle you need more time in the toilet but men here instead come and shout from outside and bang the door asking why you have delayed inside because they do not care about our issues," said one of the women leaders in Bivamuntuuyo Section in Kalerwe Market.
They were giving out their testimonies on how they have benefited from UN Women sponsored programmes but also airing out their grievances and demands during the visit of the United Nations Assistant Secretary-General for Resource Management, Sustainability and Partnerships, Anita Bhatia.
Bhatia is also the Deputy Executive Director of UN Women, an entity for Gender Equality and the Empowerment of Women.
The UN Women, in partnership with Kampala Capital City Authority, has been working on a project, 'Access to Markets by Women Vendors' through which it provides safe spaces for women entrepreneurs and provides economic empowerment for working females intended to transform them from being informal small-scale vendors to formal viable and sustainable big entrepreneurs.
The womenfolk, majority of who are mothers who turn up with their babies in the market said they did not have a convenient place to rest their children while working.
"Some of our colleagues place babies almost in the mud because they have to attend to customers," one of the leaders stated.
In other submissions, the entrepreneurs asked the police to beef up security in some points away from the main roads, saying some of them who return home late in the night and those who rise up early normally fall victims to pickpockets who waylay them in unguarded dark places.
They asked the patrols to extend to inner spots instead of concentrating on highways.
They asked civil organizations working with UN Women to invite men to attend these seminars, saying although women have been sensitised, it were their husbands who continued to abuse their rights, which they said was a big inconvenience in the smooth running of their businesses.
"Some women report to work when they are nursing injuries and bruises inflicted on them by their husbands, whether someone has been trained in customer care, she cannot enforce when she has been battered at home," she said.
Bhatia assured the women that the UN Women was committed to continue supporting them in their ventures and hoped that working in partnership with KCCA and the Institute for Social Transformation (IST) would continue to ensure they achieve their dreams.
Bhatia, on a five-day visit to Uganda also toured the market and interacted with women selling foodstuffs on their stalls.