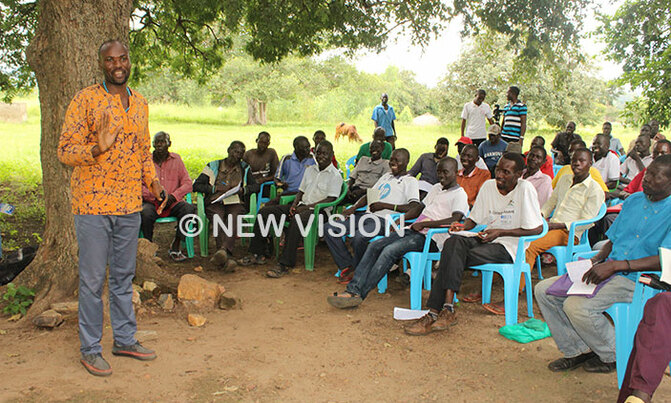 Teenage pregnancy rate in Uganda stands at 24% according to UNICEF.
ARUA-Members of the Uganda Parliamentarians Forum on Food Security, Population and Development are in Arua district on a fact-finding mission on how to end teenage pregnancy in the district.
Led by the Lugazi Municipality MP, Muwonge Ssozi, the team is visiting communities and local leaders in the sub-counties of Aii-vu, Katrini, Omugo, and Biafili.
The said sub-counties have the highest rate of teenage pregnancy in the district estimated at 40%.
Lugazi Municipality MP Muwonge Ssozi addressing pupils of St Paull II Primary School
"We are here to find ways of ending this curse that is destroying the dreams of the girl child and curtailing the development of our country," Ssozi said.
The MPs together with the United Nations Population Fund (UNFPA) will also raise awareness on teenage pregnancies.
Teenage pregnancy rate in Uganda stands at 24% according to UNICEF.
Kasambya County MP, Gaffa Mbwatekamwa revealed that it is high time Ugandans joined hands to end teenage pregnancy.
"We need to implement the laws, police needs to get to work and arrest these people who are making the girls pregnant. Even parents who connive with men to marry off their children need to be arrested," Gaffa said.
He encouraged parents to educate their children especially girls to benefit more.
"You let your girl get married because of a goat? No, this should stop. Educate the girls and in future, after their education, they will buy you the goats you need," Gaffa said.
The areas with the highest teenage pregnancy rates in Arua are also among the poorest areas in the district where majority of the people derive their livelihood from tobacco growing and doing odd jobs.
Poverty has been cited as one of the main drivers of teenage pregnancy in the area according to the Aii-Vu Sub County LC3 chairperson James Afadrayo.
"Parents attitude towards fighting teenage pregnancy is still negative. They are the ones who hide the pregnant teens and negotiate to be paid by the culprits. They only report to Police when culprits fail to pay them," Afadrayo says.
It should also be known that adolescents having babies continues a cycle of poverty and exposes both mother and child to greater health risks.
"We cannot run away from this challenge. Even when you visit the main hospital you can see the problem is big. Many young girls are getting pregnant which is very negative impact," says Sulaiman Ondua, the Arua district speaker.
Ondua highlighted some of the factors that are fuelling teenage pregnancy as alcohol, drug abuse, poverty, lack of parental guidance among others.
"Police and local leaders need to be strict on drugs and alcohol let us start arresting people selling drugs to young people. Even the young people should also be arrested," Ondua says.
He also reveals that it is common to find young girls straying at night in urban centers in Arua doing nothing.
"Parents are negligent, how do you let young girls move at night without your consent. Even the community seems not bothered yet we are putting our future in danger," says Kapchorwa district Woman MP Rukiya Kulany Chekamondo.
Nathan Bakomeza, a programs coordinator with UNFPA says the teenage pregnancy rate is very high in the majority of the sub-counties standing at 40%.
"Teenage pregnancy has become a nuisance in the society. Because of it many young girls have lost their dreams and also died. Many have also dropped out of schools, consequently," Bakomeza says.
Teenage pregnancy and child marriage contribute rapidly to the robust population of this country.
At St Paul II Oriajin Primary School, Peter Acir the headteacher says 15 girls have dropped out of his school in the last three years due to teenage pregnancy.
"As a school, we try to do follow up but we fail because we don't have the capacity. Some of the girls get married far away from the school and we don't get to know," Acir says.
In spite of this big challenge, the district was allocated a paltry sh8m for reproductive health programs.
In 2018, police recoded 3,635 cases of violence and out of these 2,130 were child and teenage pregnancy representing 59%.
This year out of 503 cases reported between January and May this year, 275 are child and teenage pregnancy cases according to statistics from the Community Development Officer.
"This issue is a time bomb that the government is not paying attention to, we want these issues to be streamlined in the ongoing development agenda," Musa Wamala, the coordinator of Uganda Parliamentarians Forum on Food Security, Population and Development said.