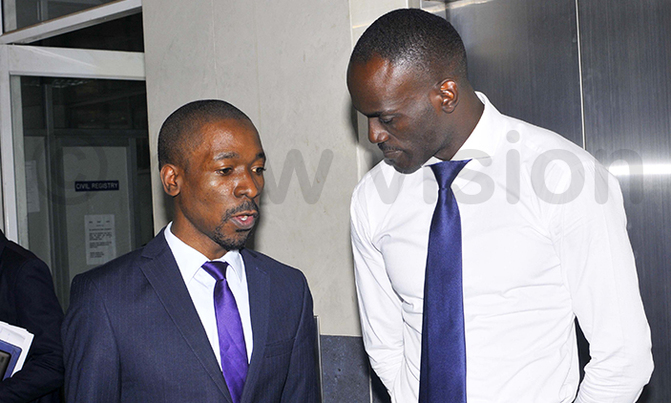 Paul Kasulu is seeking an order halting the scheduled interviews that are designed to be a preserve of only the permanent employees in KCCA
Kampala Capital City Authority (KCCA) lawyer, Rita Mutuwa has told court that human resource officer, Paul Kasulu, is not a qualified employee to apply for promotional jobs in public service.
Kasulu dragged the authority together with the Attorney General (AG), to the civil division of the High Court, seeking to halt interviews for jobs.
"Kasulu does not enjoy the same rights as KCCA's permanent staff who applied, were interviewed and subsequently appointed to the Public Service by the Public Service Commission," Mutuwa said.
She told the court that Kasulu chose not to apply for a job in 2012 following the advert for jobs in Public Service Commission in the media and has never been appointed to the Public Service.
Mutuwa also submitted that Kasulu's application for temporal injunction and main cause from which the present application for the interim order arises are premised on an illegality.
"Your worship I pray the application be dismissed with costs to authority," she requested.
Government's lawyer Hillary Ebila argued that the advert the applicant seeks to stop in the interim is for the promotion of civil servants working with KCCA and that Kasulu does not qualify to be promoted in Public Service.
"I pray the application be dismissed because it has no cause of action and this is a matter of contract law not a human right issue," he submitted.
Kasulu's lawyer Isaac Ssemakadde stated that there is a serious threat of loss of employment and a right of hearing of the substantive application, which will be heard on Oct 22, 2019, before Judge Lydia Mugambe.
"We invite this court to grant the interim halting the intended interviews in pursuant to the internal advert, pending the conclusion of the case and costs of the suit be provided for," he requested.
Last month, close to 700 KCCA workers were in panic after the authority advertised their jobs, which they have held for between five to eight years.
The staffs were hired immediately after Jennifer Musisi took over as KCCA executive director.
However, it has emerged that besides the 693 who were hired on a contract basis, several other people who successfully passed interviews for various jobs were never recruited.
Instead, Musisi filled their positions with staff she came with from Uganda Revenue Authority where she was the commissioner legal affairs.
In other positions, she recruited staff whom she head-hunted. According to the affected staff, Musisi informed them that KCCA could not afford to recruit them on a permanent basis due to lack of funds.
The developments come at a time when President Yoweri Museveni has declared that Musisi should come and answer some queries over things that did not go well during her reign at KCCA.
Musisi resigned in October 2018 before her contract could end in 2020.
Kasulu sued the Authority alongside the Attorney General in the Civil Division of the High Court in Kampala on Thursday. AG is the principal legal advisor of Government.
He is seeking an order against Government and KCCA, halting the scheduled interviews that are designed to be a preserve of only the permanent employees in KCCA, in total exclusive of the temporary staff.
Kasulu says he has been an employee of KCCA since 2015 to date working as a qualified human resource officer under local contracts, renewable after every four months.
Kasulu claims he was employed by KCCA as a corporate body, which has the capacity to legally hire and fire.
Court documents indicate there are 693 temporary employees currently working at KCCA and 427 have permanent contracts, some of whom were temporarily handpicked without any known logical procedure.
"I am a very hard-working gentleman with a plethora of appraisals from KCCA attesting to my impeccable competence and diligence," he asserts.
Kasulu further asserts that the authority has on several occasions in meetings granted temporary employees a permanent contract.
He contends that the authority has been handpicking and promoting some temporary employees to permanent staff without subjecting them to competitive interviews.
Kasulu claims that Public Service Commission wants to take over payment and control of all employees in KCCA, in aspect that would ordinarily be lawful. However, the way it wants to carry out the process is illegal, unreasonable, and unconstitutional and a contravention of both logic and rationality.
"I know that Public Service Commission with clear guidance from KCCA advertised around 88 jobs currently occupied by temporary employees of the Authority, "he states.
Kasulu says as temporary employees, they criticized the move, as it was clearly discriminatory and unacceptable in a free and democratic society and an affront of the Constitution, denying them a chance to practice their trades or profession.
The applicant says he wrote to them in protest and the acting director of the authority Andrew Kitaka wrote back on June 28, 2019, confirming that it was only the permanent employees to vie for the advertised positions of the temporary staff.
Kasulu claims he will suffer irreparable injury that cannot be atoned by an award of damages if the interviews are held since no amount of money can be adequate recompense for aright violated.
"The balance of convenience leans in my favour since these are human right at stake and if violated, I will be much affected unlike the respondents, who will not be inconvenienced since the positions to be interviewed for, are already occupied by the temporary employees doing good work," he contends.