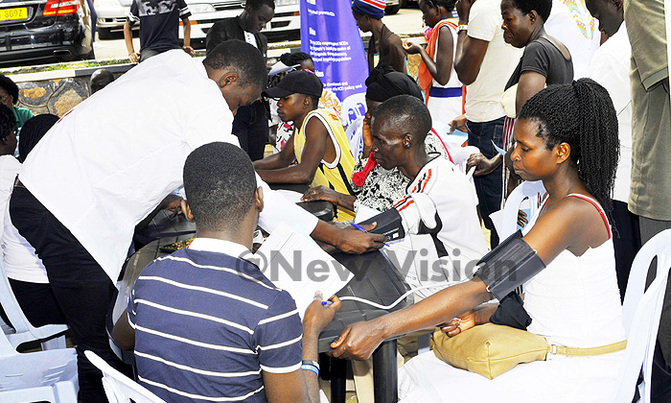 Between 27% and 32% of Ugandans live with high blood pressure, with many of the people unaware of the threat they carry every day, recent studies show.
HEALTH

KAMPALA - High blood pressure, a health condition previously known to exist among older persons, is on the rise among much younger Ugandans, health experts have warned.

Researcher Dr. Rose Nanyonga revealed this during a recent free health camp held for residents of Kansanga, a Kampala suburb.

"We are finding hypertension in people as young as 25, in early 30s and 40s, and then common among older persons," she said.

Between 27% and 32% of Ugandans live with high blood pressure, added Nanyonga, quoting recent studies and noting that many of the people are unaware of the threat they carry every day.

High blood pressure, also known as hypertension, is a condition in which the force of blood against the heart's artery walls is too high.

It is defined as a blood pressure above 140 over 90 and is considered severe if it is above 180 over 120. The condition often has no symptoms and can last for years or be life-long.

It can be treated or managed by a health professional. However, if left untreated, high blood pressure can lead to other severe health conditions such as heart disease, stroke and death.
According to Nanyonga (left), who is also the vice-chancellor of Clarke International University, simple lifestyle changes covering diet, physical exercise and regular check-ups can help reduce the risk of hypertension and other non-communicable diseases.

"Simple modifications in how people live can make a difference - minimising salt intake, active lifestyle and minimising weight gain," she said.

"A lot of our diet in Uganda involves a lot of starch, which the body converts into sugar. We also need to talk about portion control. Our bodies do not need that much meat."

Health experts earlier this year warned against obsessive consumption of raw salt due to its link to hypertension and four million deaths annually.

Health workers also encourage individuals to take blood pressure tests at every slightest opportunity since attacks are often unpredictable.

The health camp was organized by the Rotary Club of Muyenga Sunday Sunset, as part of the Rotary Family Health Day, an initiative held in six countries to promote healthy living.

Over 400 people turned up at Our Lady of Mt. Camel Catholic Church for free health services that included screening for heart disease, blood pressure, breast cancer and sickle cell disease.

Others services were immunisation, family planning, HIV & AIDS counseling and testing, malaria testing and treatment, blood donation and health education and testing for typhoid and syphilis.


RELATED: One in four Ugandan adults has hypertension, heart disease


The Rotary Family Health Days programme is implemented in six African countries: Uganda, Tanzania, Malawi, South Africa, Nigeria and Ghana.

Dalton Mpumwire, the president of the Rotary Club of Muyenga Sunday Sunset,said the organisation targetted underserved communities through the health camp.

"As Rotarians, we do not want to stop at fellowshipping and having fun; we want to make an impact in our respective communities so that our people can live healthy, productive lives," he said.

Eva Nakiryowa, a 40-year-old patient who visited the health camp seeking treatment for malaria and typhoid, said she was weighed down by the high cost of treatment at a private clinic.

"I have spent sh60,000 on treatment at a clinic and I hope that the doctors who are here can save me from further expenses for my next dose," she told New Vision.