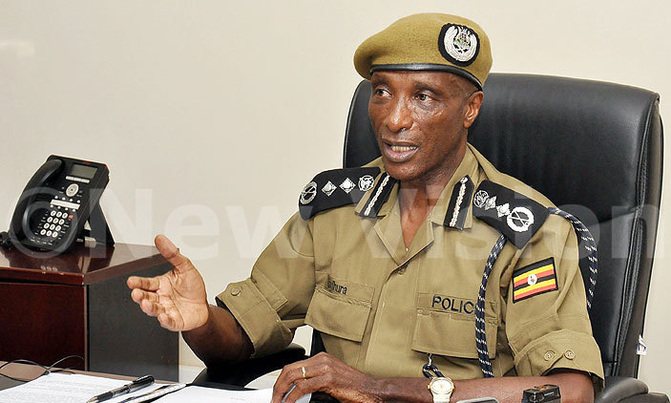 "We are targeting Uganda's former Police Inspector General Kale Kayihura for using corruption and bribery to strengthen his political position (...)"
SANCTIONS

The United States has sanctioned the former Inspector General of Police, Gen. Kale Kayihura, over "serious human rights abuse" and "corruption".

It issued the sanctions through the Department of the Treasury's Office of Foreign Assets Control.

Kayihura is being sanctioned "for having been a leader or official of an entity that has engaged in or whose members have engaged in serious human rights abuse against Ugandan citizens, as well as for his involvement in corruption".

"This action complements the Department of State's concurrent implementation of a visa ban for Kayihura under section 7031(c) of the Fiscal Year 2019 Department of State, Foreign Operations, and Related Programs Appropriations Act (P .L. 116-6) due to Kayihura's involvement in gross violations of human rights," the statement says.

"We are targeting Uganda's former Police Inspector General Kale Kayihura for using corruption and bribery to strengthen his political position, as units under his command committed serious human rights abuses," said Sigal Mandelker, Treasury Under Secretary for Terrorism and Financial Intelligence.

"The US government is committed to leveraging our human rights and corruption authorities to target, disrupt, and counter those who engage in abuse and corruption around the world."

"As a result of today's action, all property and interests in property of Kayihura, and of any entities that are owned, directly or indirectly, 50 percent or more by him alone or with other designated persons, that are in the United States or in the possession or control of U.S. persons, are blocked and must be reported to OFAC.

"OFAC's regulations generally prohibit all transactions by U.S. persons or within (or transiting) the United States that involve any property or interests in property of designated or otherwise blocked persons."

___________________________________


THE RISE AND FALL OF GEN. KAYIHURA


Gen. Kale Kayihura was until Sunday March 4, 2018 considered one of the most powerful people in the country. He was at the helm of the Uganda Police Force as Inspector General of Police (IGP).

However, his 12-year tenure ended when he was replaced by his deputy, John Martins Okoth Ochola.

Born Edward Kalekezi Kayihura Muhwezi, he is a lawyer, military officer and farmer who served as IGP from 2005.

He was born in Kisoro district on December 26, 1955 to renowned Pan-Africanist Johnson Komuluyange Kalekezi and Catherine Mukarwamo.

Orphaned at an early age

Kayihura's father, commonly known as John Kale, died in a plane crash on August 17, 1960 in Kiev, Ukraine, before Uganda attained her independence. Kayihura was thus orphaned at an early age. He started his primary education at Gasiza Primary School in Kisoro district.

He later joined Buhinga Primary School in Fort Portal in Kabarole district. After completing primary school, he was admitted to Mutolere Senior Secondary School in Kisoro and later joined St Mary's College, Kisubi in Wakiso district.

In 1976, he joined Makerere University to study law and, soon, the former altar boy became fascinated with Marxism. He completed his law degree in 1979 and enrolled for a bar course at the Law Development Centre and got a diploma in legal practice.

He later travelled to the UK where he did his master's in law at the University of London. He then joined the Pan African activists in London. He later joined the National Resistance Army (NRA) rebels led by Yoweri Museveni and did different military courses, including some in Libya.

After the NRA took power, he served in various capacities, including the Chief Political Commissar and military assistant to President Yoweri Museveni. He thus became the President's trusted aide, assigned to execute sensitive missions, until October 2005, when he was appointed Police chief, replacing Lt. Gen. Katumba Wamala.

Wamala is now the state minister for works. Of the 15 Inspectors General of Police that have served Uganda in the post-independence era since 1964, Kayihura's tenure, although marred by controversies, was arguably the most pronounced since 1986 when the NRM assumed power.

At the time of Gen. Katumba's departure, the Police was experiencing underfunding, which at some stage prompted Katumba to embark on public fundraising. Under Kayihura's tenure, the Police's budget increased to over sh500b from less than sh100b.


Challenges

Under Kayihura's reign, the Police became notorious for torture and use of teargas to break up riots. In this financial year, over sh44b was allocated to purchasing teargas. Teargas became a major tool of keeping demonstrators at bay, countrywide. He was accused of enlisting former criminals into the force, without any professional training.

Gen. Kayihura faced numerous challenges in his last days as Police chief, with the murder of scores of Muslim clerics, Assistant Inspector General of Police Andrew Felix Kaweesi as well as the kidnaps and the murder of women. The last straw was his open clash with then security minister, Lt. Gen. Henry Tumukunde, plus other security chiefs.

Who is ACP Jonathan Baroza?

A graduate of Makerere University, Baroza joined the Uganda Police Force in the early 2000s. He had previously worked for a beverage wholesale family business in Wandegeya, Kampala, until he joined the Police and passed out as a cadet Assistant Superintendent of Police.

This was the beginning of his journey to the top. A shrewd young man in his late 30s, Baroza served at many Police stations as the district/division Police commander in Kampala and upcountry, until he was appointed personal assistant to Kale Kayihura.

In his position as the IGP's aide, Baroza wielded a lot of power and he swiftly got promotions, until he became an Assistant Commissioner of Police (ACP), a rank he holds to date. Whereas not much is known about Baroza, owing to his discreet lifestyle, he is said to have accumulated a lot of wealth during his tenure as Kayihura's aide.

At the height of the murder of the former Police spokesperson, AIGP Felix Kaweesi, on March 17, last year, Baroza was dropped as the IGP's aide and was sent to Algeria as the Police attache, where he is said to have been the co-ordinator of the multibillion closed circuit television (CCTV) camera project that Uganda was negotiating with the Algerian government. This has been his posting to date.

Who is Lt. Col. Ndahura Atwooki?

Atwooki joined the National Resistance Army (NRA) around 1985 after the NRA took over power in 1986. One of Atwooki's most memorable assignments was when he worked under Maj. Kakooza Mutale in the Kalangala Action Plan as one of the senior operatives. KAP was later disbanded after it was accused of human rights violations.

W h e n President Y o w e r i Museveni appointed Gen. Kale Kayihura (then a colonel) to head the Anti-Stock Theft Unit (ASTU), which was fighting smuggling and cattle rustling in eastern Uganda, Atwooki is one of the officers Kayihura asked to work with.

Given their background in ASTU, when Kayihura was appointed the IGP in October 2005, he appointed the soft-spoken Atwooki as the head of crime intelligence in the Police. At the time of Atwooki's recall to the army, Kayihura had made his unit a directorate and Atwooki was an Assistant Inspector General of Police.

Atwooki was said to be one of Kayihura's blue-eyed boys who knew the goings-on regarding their boss' plans and operations before any other officers would get to know.

Muhangi

Herbert Muhangi Muhangi joined the force as an Assistant Superintendent of Police, in 2007. He then moved to the Criminal Investigations Directorate (CID), as a detective and was later deployed under the UN missions in both South Sudan and Somalia.

On his return, Muhangi was appointed deputy Flying Squad Unit (FSU) commandant in 2012. In 2014, Muhangi was appointed commandant FSU, until May 8 2018, when Okoth Ochola transferred Muhangi to head the department of man-power audit under the Human Resource Administration Directorate in the Police.


ALSO RELATED TO THIS STORY

Kayihura reports to army court over his bail

Evidence against Gen. Kale Kayihura falters