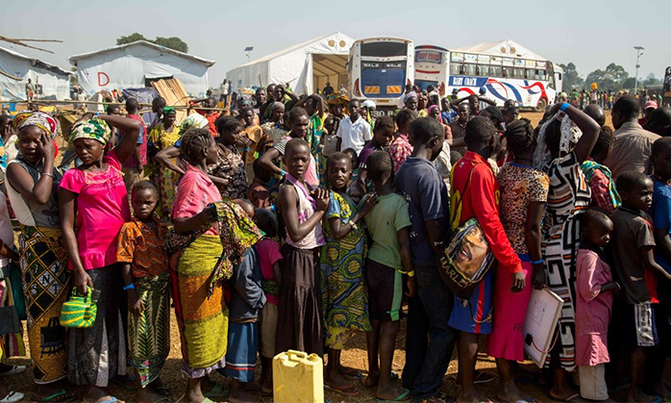 Out of the 1.3 million in the country, refugees account for 1,287,059 and asylum seekers 26,743
The asylum seeker and refugee population in the country has increased by about 48%, a report by the United Nations High Commission for Refugees (UNHCR), has revealed, indicating an increase in asylum seekers from Burundi, DRC and South Sudan.
According to Yonna Tukundane, the social media expert for UNCHR, by July, Uganda was host to 1,313,802 asylum seekers and refugees.
Out of the 1.3 million refugees in the country, Tukundane said refugees account for 1,287,059 and asylum seekers 26,743, which is on a high side, especially for people from Burundi.
On Wednesday, Musa Ecweru, the state minister for relief and disaster preparedness, confirmed the development, saying most of the asylum seekers, have torture scars and trauma effects.
"Most of the refugees and asylum seekers from DRC exhibit evidence of torture and trauma. Women have come to us with horrible stories of ill-treatment by uncivilised people. Some are victims of rape while others have narrated watching on as their loved ones are executed," he said.
Ecweru added that surveillance efforts have been mounted at border points between Uganda and DRC.
"Some of the new refugees and asylum seekers are from South Sudan. We hope that the implementation of the peace accord will help improve the situation since many South Sudanese are eager to return home," Ecweru added, underscoring that asylum applications will be handled by the relevant authorities.
Ecweru attributed the influx in refugee and asylum seekers in the country to unrest in DRC, especially in Beni and North Kivu, on top of the Ebola outbreak.
"Government maintains an open-door policy, but has also reached out to development partners for additional funding, including to the government of Japan during the recently concluded Tokyo International Conference of African Development," he added.
Today (Thursday), the UNHCR representative in Uganda, Joel Boutroue, is also expected to hold a press conference on the situation of refugees and asylum seekers in Uganda.
According to UNHCR, in July, 8,295 new refugee arrivals crossed to Uganda from the Democratic Republic of the Congo (6,490), South Sudan (944) and Burundi (861).
"This represents an overall decrease of 32 per cent compared to the previous month, with a lower rate of arrivals from the DRC (-25 percent) and South Sudan (-57 percent) and a higher rate of arrivals from Burundi (+121 per cent)," Tukundane said.
"The total number of new refugee arrivals since January 1, 2019, is 64,649, which represents 48 percent of the estimated refugee influx for 2019, as planned in the Uganda 2019-20 Refugee Response Plan (135,000)," he added.
Every year, UNHCR officials say, refugees walk over 2 billion km, to safety in various countries across the globe.