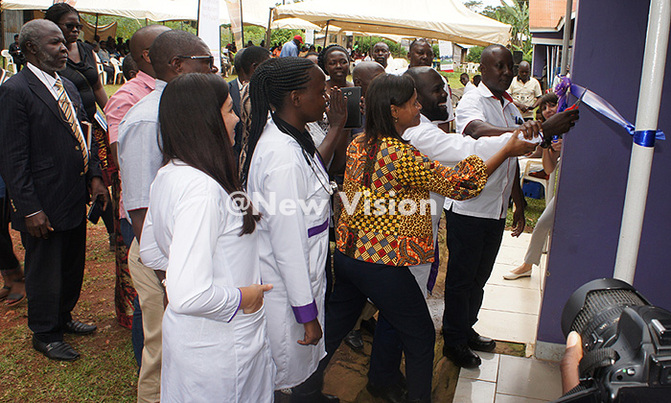 Kalangala district is comprised of 84 islands, of which 63 are inhabited.
SERVICE DELIVERY

KALANGALA - With less than 20 medical facilities in Kalangala district, there has reportedly been a rise in deaths as a result of health complications ranging from maternity-related issues to minor injuries.

This has been heavily attributed to low supply of power in the form of electricity, especially on islands located far away from the main island, Buggala.

Dr. James Suubi revealed this during the official opening of Eunice Health IV on Buggala.

Kalangala district is comprised of 84 islands, of which 63 are inhabited.

Resident Brian Ssemanda says that 10 of Kalangala's health centres are located on the main island. They include Kalangala HC IV, Mugoye HC III and Kasekulo HC II.

Health facilities on other islands include Lujjabwa HC II, Mazinga HC III and Bukasa HC IV.


Brenda Nambajjwe, the medical officer in charge of newly opened Eunice HC IV, attributed the low number of health centres on other islands to lack of electricity supply.

"Even if availed with proper medical equipment, several health centres in Kalangala district lack electricity to operate such equipment," she said.

"Recently a pregnant mother died while delivering because a CT scan in a certain health centre had earlier failed to detect that the pregnacy was of twins."

Nambajjwe said that non-functioning x-ray machines in some health centres are not helping the situation.

Hellen Nakimuli, a community development officer of Mazinga sub-county, said pregnant mothers often die on the way to Masaka or Entebbe to where they have been referred from the islands in case of complications before or during delivery.

John Opondo is the managing director of Kalangala Infrastructure Services, a company responsible for the generation and distribution of electricity in Kalangala district.

He said a public-private partnership between the company and Government only limits them to supplying electricity to only Buggala, the main island.

Even on Buggala island, people are fond of using electricity only for domestic purposes, he added.

"We produce 1.6 mega watts, which is sufficient for all residents on Buggala island. Much as there are currently many power connections, there is less consumption of such electricity, which brings about low returns against the high operational and maintenance costs."


While officiating at the opening of Eunice HC IV, Opondo said that through a programme dubbed Productive use of electricity, the number of household connections has increased from 3,400 to 3,800 in the past six months, accounting for increased power usage from 25% to 40%.

The said programme was launched by the Untied States Agency for International Development (USAID), under the Power Africa project.

Stephen Kizza, the chairperson of Kalangala town council, urged Government to extend the electricity supply programme to other islands as a way of improving the health standards of the island district.

Regina Mackenzie and Oscar Ankunda from USAID, and Kalangala RDC Dan Kikoola were among the officials that attended the commissioning of the new health centre.