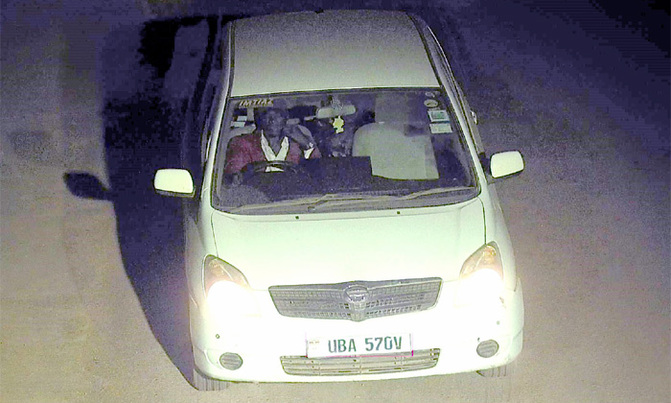 The images showing the suspect behind the wheels of the car have been retrieved from an Automatic Number Plate Recognition (ANPR) camera, Police say.
CRIME | SECURITY

KAMPALA - The Police and sister security agencies have released CCTV images which they say show what happened before and after the kidnapping of social worker Maria Nagirinya and her driver Ronald Kitayimbwa Wednesday last week.

"The images have been retrieved from an Automatic Number Plate Recognition (ANPR) camera and one can clearly see from these pictures that the assailant is wearing a white shirt, a reddish coat and a cap on his head," Police said on their website.

"He is of a dark skin complexion."

In the grainy images, the suspect, a man, is seen behind the wheels of the vehicle.

Police are now calling for the public's involvement.

"This is therefore to appeal to members of the public, and to any other person(s) who have useful information, leading to the arrest of this suspect in the pictures to contact the nearest Police station or call telephone numbers: 0714667793/ 0714668079/0714668105 or toll free 0800909990/0800121222.


Nagirinya, 28, was the project manager at Community Integrated Development Initiative, an NGO.

Kitayimbwa, who was 35, was a bodaboda rider, and is survived by a wife and five children, including a pair of four-month-old twins.

Nagirinya's car, a Toyota Spacio (UBA 570V), was found abandoned in Kitooro Zone in Nateete, Rubaga division Friday morning. It is the same car seen in the images released by Police on Wednesday

The victims are reported to have been abducted in Lungujja, a suburb in Kampala, and later driven off to Mukono, where they are believed to have been murdered.

On Friday, two days after their abduction, their bodies were found dumped in Nakitutulu village in Nama sub-county, along the Mukono-Kayunga Road.

The suspect seen in the CCTV images had reportedly thrice before been sighted by one of Nagirinya's relatives at their family gate.

On Thursday morning, the family reported a kidnap case at Busega Kibumbubiro Police Station under reference 04/29/08/2019.


Kampala Metropolitan Police Spokesperson, Patrick Onyango, confirmed they had opened up a case and also recorded statements.

Both the Chieftaincy of Military Intelligence and Internal Security Organisation had joined the hunt. Over 10 suspects have been arrested, including a boda boda rider, who police believe transported the killers to Lungujja Wednesday night.

Security sources said the bodaboda rider in Police custody was tracked down using security CCTV footage that revealed that Nagirinya's car was trailed to her gate in Lungujja. The rider reportedly left the scene immediately after dropping off the assailants.

Meanwhile, President Yoweri Museveni telephoned her father, Francis Anthony Lubowa, to condole with the bereaved family. He promised to pursue the culprits.

Nagirinya was laid to rest at her family's ancestral burial grounds in Kibuye, Kampala. Kitayimbwa was buried at their ancestral home in Kibinge village in Buwunga, Masaka district on Sunday.


ALSO RELATED TO THIS STORY

Police lines for reporting kidnap cases 'are active'

I have not eaten for three days, widower speaks out

Hundreds mourn murdered social worker Nagirinya

Police arrest suspect over slain social worker

Missing woman, driver killed