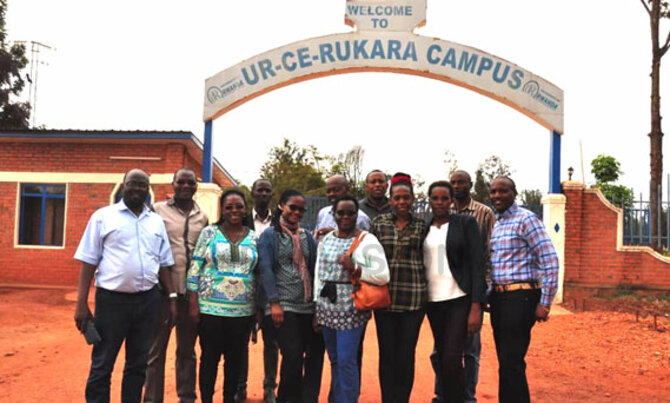 The project Enhancing Quality and Internationalization of Study Programmes through Mobile Transformative Pedagogy (EQIP) will last 5 years from 2019 -2023
EDUCATION EMPLOYMENT
Pearl Denise Agasha winner of the World Bank Africa 2019 Blog4Dev spent two years working in public relations firms where work was based mainly on digital marketing although she was never well prepared with the right skills from school and thus had to learn the hard way.
Agasha says the stakeholders involved in preparing the school curriculum and managing operations of educations systems in Africa need to revise the traditional systems to fit the digital economy otherwise many African graduates will be left behind as they will be ill-prepared, incompetent and unable to survive in this digital era.
We can no longer afford to focus solely on the theory and traditional ways of learning when the world has gone digital. We must embrace the new ways of teaching and the faster we do it the more prepared our African youth will be ready for the global digital employment market", she added.
Abigail Salome Inapat is a second-year student on the blended Master of Instructional Design and Technology (MIDT) at Makerere University and a graduate teacher by profession, working now as the E-Learning Administrator at the Institute of Open, Distance, and E-Learning (IODEL) within the College of Education and External Studies (CEES) at Makerere University.
She is passionate about the use of technologies for teaching and learning and tailoring the design of instruction to support student-centered learning approaches.
Her work responsibility Salome says involves training lecturers to use technologies like Learning Management Systems for teaching and learning and supporting students as they use the same technologies.
"I hope this project will benefit us as it is all aimed at creating better quality environments for teaching and learning for both students and staff within the university", she said.
Accordingly, The Norwegian Agency for International Cooperation and Quality Enhancement in Higher Education (DIKU) has provided funding to a consortium of Academic Institutions with the main goal of improving the quality of teaching and learning as a way of increasing the employability of graduates through student and staff mobility, internationalization of study programmes and promotion of transformative pedagogy.
The project Enhancing Quality and Internationalization of Study Programmes through Mobile Transformative Pedagogy (EQIP) will last 5 years from 2019 -2023. This project involves University of Agder (UiA) from Norway, University of Rwanda, Makerere University (College of education and external studies together and the College of Computing and Information Science), Uganda as Project partners.
Rehema Baguma, PhD a Senior Lecturer & Researcher at the School of Computing & Informatics Technology, College of Computing & Information Sciences, says the fields of education and training will focus on Information, multimedia design, computer and communication technology, Computer sciences, educational sciences, pedagogy and didactics
The University of Agder is the coordinating partner for this project with the key objective of Providing high quality education for future job markets", she added.
EQIP seeks to achieve its goals through; Producing regionally and globally competitive graduates with an international mindset, sustainable livelihood and consciousness about gender balance, inclusivity and mutual respect. The program aims at transforming curricula and educational methods for selected study programmes and courses at University of Agder (Norway), Makerere University (Uganda) and University of Rwanda in order to increase the employability of graduates.
EQIP will Increase faculty competences for developing and delivering flexible and engaging curricula relevant for the 21st Century global job market. This will be achieved through the co-creation of knowledge and internationalization of study programmes through a framework for mutual student mobility as students undertake selected courses, work placements, fieldwork and research within partner countries.
EQIP will furthermore promote and implement transformative pedagogy through mutual staff mobility for the creation and delivery of joint courses and co-supervision of students' projects so as to produce globally competitive graduates.
Key focus areas
Ms. Fiona Ssozi, one of the Project team members says EQIP intends to enhance the quality and internationalization of master study programmes through increased student mobility and transformative pedagogy.
The study programmes under consideration are those which can produce graduates with competences to transform the way educational programmes are delivered. "These include Master of Multimedia & Educational Technology (UiA), Master of Instructional Design and Technology, MIDT (Makerere), Master of Information Systems, MIS (Makerere), Master of Software Engineering (UR) and Master of Education in Curriculum and Instruction (UR)", she added.
Already, three Masters students from Makerere University are heading to the University of Agder for the first student exchange activity. Ms Abigal Inapat (MIDT), Mr Didas Matendo (MIS) and Mr Hezron Kirabo Rwanga (MIDT).
For Abigal, her role as an E-Learning Administrator involves training and developing E-Learning materials. When the project call was made to recruit students for the exchange programme, she saw an opportunity for experiential learning at the University of Agder (UiA), to see how UiA leverages on various multimedia for teaching and learning. This was a motivation for her to submit her application. She knew that this exchange activity would be an opportunity to learn from other experts and see what skills and knowledge she can bring back home to improve our teaching and learning functions.
The University of Agder (UiA) will also send up to 10 students to Uganda (Mak) and Rwanda (UR), in connection with Master thesis projects and work placements. Twenty-six (26) students from Mak and UR will participate in courses, project work and work placements in Norway.
The mutual student mobility will involve students in authentic learning using transformative pedagogy and state-of-the-art educational technology. Virtual/online mobility will support close academic collaboration among partners, to address local and global challenges.
Internship or work placements for the students on the exchange programme will expose students to more opportunities for learning since internships are increasingly seen as an experience that can contribute to the student's employability.
Abigail expects to improve on her knowledge and skills in research as she works on her research project at UiA. "I am hoping I work closely with my supervisor at UiA and at Makerere. I will also be bench-marking the tools, technologies and instructional methods used at UiA and how some of them could be relevant and implementable in our context", she adds.
Selection criteria
A call for studentship was made for three scholarships for masters students' mobility from Makerere to University of Agder. Only students on the two eligible Makerere programmes were to be considered.
The selection process involved assessing the students'' motivation and interests in joining the programme (a motivation letter clearly articulating why they deserved this scholarship and the anticipated benefits of taking up a course at the University of Agder), academic achievements so far (examination results, university admission letter, up-to-date CV, a copy of a Bachelor's degree transcript and a recommendation letter from an academic referee. The vetting of applicants was done both at Makerere University and at the University of Agder.
The selected students will spend 5 months (August - December 2019) in Norway and will be expected to study one course from their respective programs. The scholarship covers 1 return air ticket, accommodation, subsistence, visa fees, and travel insurance.
Higher education institutions are expected to equip learners with adequate competence for solving today's societal problems, be able to tackle issues that are not yet known, and create non-existing jobs for addressing challenges of the future world economies Fiona added.
"There is an increasing demand for a creative workforce, with high critical thinking capacity, problem-solving skills and collaborative working abilities. In this era of technology-enhanced teaching and learning, it is fundamentally important that the faculty can effectively apply transformative pedagogy to teach blended learning courses."
"The programme was designed as a hands-on collaborative activity, with emphasis on peer-learning and reification through the creation of new course modules for blended learning at University of Rwanda and Makerere University."