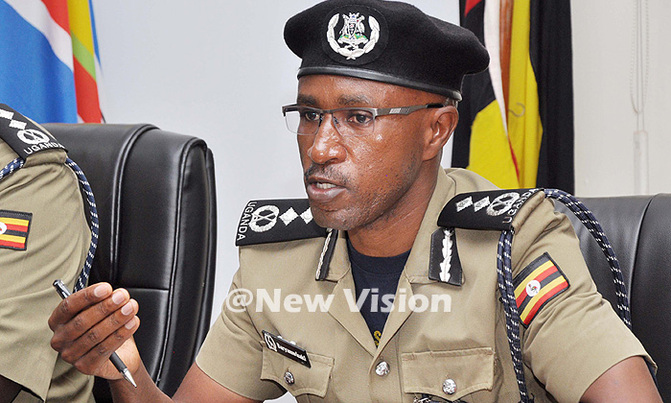 Police management is planning to install cameras at the reception counters of Police posts or stations to ramp up internal supervision.
SECURITY

KAMPALA - The Police have said their lines set aside for receiving calls on cases of kidnap are active, with a call to the members of public to report any suspicion of any crime.

AIGP Felix Baryamwisaki, Police's director of ICT, told reporters Monday that there are three toll-free lines for this: 0800199990, 0800199991 and 0800199992.

He said they are planning to install cameras at the reception desks of Police posts and stations to ramp up internal supervision. The move is aimed at recording officers as they serve people that have checked in to report cases.

During the weekly press conference at the Police headquarters in Naguru, chief political commissar AIGP Asan Kasingye said that "any complaint brought at a Police station must be brought to the counter".

He urged people to desist from reaching out to trackers and instead report their respective matters directly at the counter.

"Tracking services are supportive services to investigations. Yes, we have tracking services, but they do not reciprocate the normal processes of investigations," said Kasingye.


The address centred around the recent murders around the country, including the recent kidnapping and murder of social worker Maria Nagirinya and her driver Ronald Kitayimbwa.

It is understood that five people have since been arrested in connection with the incident.

According to Police, the suspects include a bodaboda rider who reportedly transported the killers to Lungujja, a city suburb, Wednesday night, where they abducted Nagirinya at around 11pm local time.

Johnson Monday Agaba from the homicide department at the Police headquarters said the five suspects are currently in Police custody.

Meanwhile, during the Monday press conference, it was revealed that the officers on duty at the station where the case of Nagirinya's kidnap was reported have been arrested over neglect of duty.

"As Police, we regret the deaths of Maria Nagirinya and Ronald Kitayimbwa," said Kasingye, adding that they have received news that some Police posts are not manned.


The Police management, Kasingye told reporters, have met to come up with ways of how to better manage incidents of crime across the country.

He said some Police officers in the field switch off their phones, warning them that, if implicated, they will face the law over neglect of duty.

Meanwhile, Police are conducting investigations into the latest murder. They are doing so jointly with the Chieftaincy of Military Intelligence and Internal Security Organisation, according to Police spokesperson Fred Enanga.

Security sources said the bodaboda rider in Police custody was tracked down using security CCTV footage that revealed that Nagirinya's car was trailed to her gate in Lungujja. The rider reportedly left the scene immediately after dropping off the assailants.


Nagirinya, 28, was the project manager at Community Integrated Development Initiative, an NGO. Kitayimbwa, 35, was a bodaboda rider, who is survived by a wife and five children, including a pair of four-month-old twins.

Nagirinya's car, a Toyota Spacio (UBA 570V), was found abandoned in Kitooro Zone in Nateete, Rubaga division Friday morning.

President Yoweri Museveni telephoned her father, Francis Anthony Lubowa, to condole with the bereaved family. He promised to pursue the culprits.

Nagirinya was laid to rest at her family's ancestral burial grounds in Kibuye, Kampala. Kitayimbwa was buried at their ancestral home in Kibinge village in Buwunga, Masaka district on Sunday.


ALSO RELATED TO THIS STORY

"I have not eaten for three days," widower speaks out

Hundreds mourn murdered social worker Nagirinya

Police arrest suspect over slain social worker

Missing woman, driver killed