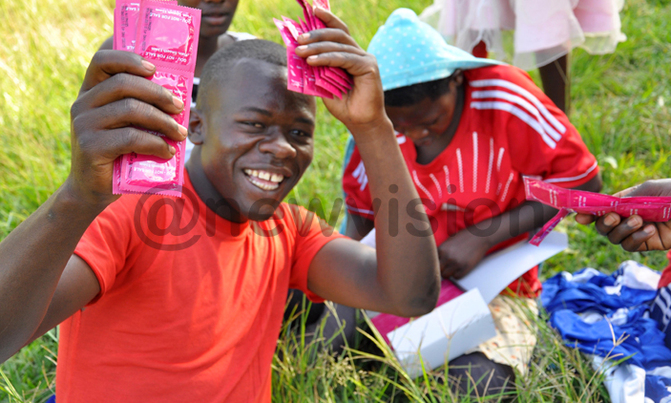 Rebecca Masaba, a deaf child mother, noted that the situation is worse among the disabled young people.
A young man excited after receiving condoms from health workers. File Photo
The Youth are living in fear of the stigma, discrimination meted on them by health workers whenever they visit health facilities to pick condoms.
"We youth love sex and because we love sex, we want to have it in a way that is safe and does not endanger our health. But when we go to a health facility to ask for condoms, we are met with tough questions like 'why do you have sex? Who told you to have it?" said Patrick Mwesigye, the Executive Director She decides Global.
Thunderous applause from the over 180 adolescents and Youth gathered in Kampala proved that the problem was widespread.
Mwesigye noted that the stigma in health facilities has seen many youths tow dangerous paths and ending up with unwanted pregnancies and HIV/AIDS.
"Being sexually active does not mean that we want to be fathers. We need to be able to visit clinics and hospitals without fear of discrimination and stigma," he said.
The Youth noted that the stigma is not only isolated to condom access but to all issues concerning their adolescent sexual and reproductive health and rights including all methods of family planning.
They said health workers tend to assume accusatory and condemning tones whenever they raise questions around sex and reproductive rights.
Rebecca Masaba, a deaf child mother, noted that the situation is worse among the disabled young people.
"Accessing family planning has been challenging for us the disabled. The medics treat us as nobodies whenever we seek adolescent services. The male health workers even harass us sexually," she said through a sign language interpreter.
Being deaf, she said health workers despise them and often deny them the services they seek, thus leaving them vulnerable to HIV/AIDS infection and early/unwanted pregnancies.
They were speaking at the International Conference on Population and Development (ICPD) Youth Satellite Event organised by UNFPA, Uganda Youth and Adolescents Health Forum (UYAHF), Action 4 Health Uganda, Right Here Right Now and Sexual and Reproductive Health Rights (SRHR) Alliance, among other youth and adolescent centered organisations.
The event was organised for the youth to formulate issues affecting them that will be presented during the commemoration of the 25 years of ICPD in Nairobi, Kenya.
The youth also demanded that the challenge of condom stock out in the country be addressed as soon as possible. Recently reports in the local media indicated that major distribution points in Gulu district had run out of stock
However, Dr. Placid Mihayo, the Assistant Commissioner Sexual Reproductive Health at the Ministry of Health, noted that the stock out is as a result of the slow testing process at the National Drug Authority (NDA).
He noted that they also have challenges with distribution, stating that places with the most need are rarely covered and that parents have raised concerns about the district condom dispensers.
The parents say that it's instead of the underage children who are picking the condoms.
He cautioned the youth against reckless lifestyles, noting that even with the existence of condoms, cases of teenage pregnancies and new infections are on an alarming rise.
"We are still getting an increase in new HIV infections among female youth and adolescents. Recently the Uganda AIDS Commission revealed to use that the infection rate is increasing. This means that you are not using condoms effectively," he said.
The HIV/AIDS fact sheet 2019 by Uganda AIDS Commission indicates that every week Uganda registers 1,000 new infections and this is highest among the females aged 15 to 49 years.
It also indicates that condom use among adults is still very low at 33.4%.
A national survey for the ICPD25 Uganda Youth Position paper indicates that the youth are still grappling with the inaccessibility of youth-friendly services and information on Sexual and Reproductive Health Rights.
Other challenges include unemployment, unwanted pregnancies, HIV/AIDS, sexual violence, poverty, and no parental guidance.
They want friendly victim support services for victims of sexual violence, information on SRHR, youth-friendly services, financial support for SRHR services and obligatory sex education whereby they want the government to pass the sexuality education framework in schools.