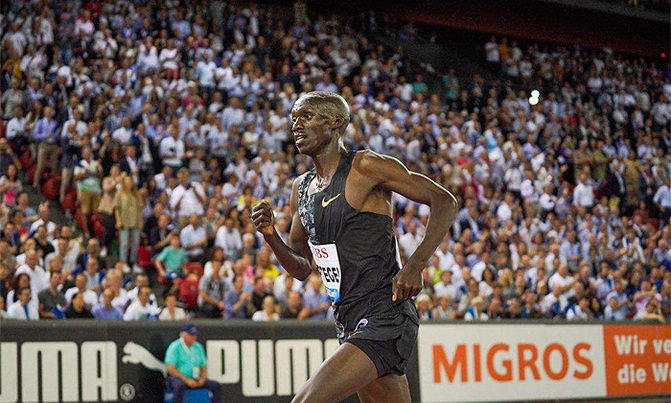 Joshua Cheptegei obliterates a stellar cast featuring three previous winners of the 5000m race to claim Uganda's first ever Diamond League trophy as well as bag sh185m in prize money.
IAAF DIAMOND LEAGUE FINAL 2019 - ZURICH

By Joseph Kizza
@joekizza

__________________________

Catch him if you can!

Many tried to, but all failed to stop Ugandan long-distance runner Joshua Cheptegei in his tracks Thursday night as the 22-year-old raced to a historic IAAF Diamond League 5000m triumph in the Swiss city of Zurich.

Before that race, no Ugandan had ever won the Diamond Trophy, which comes with a hefty $50,000 (sh185m) prize tag.

But in World Cross Country champion Cheptegei, Uganda boasts a gem when it comes to endurance running.

Hardly does he produce a no-show on the global stage - and this time round, watched by a 25,000-strong audience inside the Letzigrund, the Ugandan sensation put up a scintillating display against a cast of world-class racers.

This was the first final of this season's Diamond League, with 16 of the 32 trophies up for grabs. The second final will be held Friday next week in the Belgian capital Brussels

Once out on the track, Cheptegei knew he was in the company of a formidable Ethiopian contingent comprising the likes of last season's winner and record holder Selemon Barega, 2016 champion Hagos Gebrhiwet Berhe and 2015 winner Yomif Kejelcha Atomsa.


Across the 10 seasons of the Diamond League, the men's 5000m discipline has been dominated by the Ethiopians, with six of the honours taken by them. The scraps have been claimed by Kenya (two), Great Britain (one) and now a first for Uganda.

With that in mind, Thursday's race had the odds stacked up heavily against any runner outside of the Ethiopian juggernaut. Barega, Gebrhiwet and World Indoor Mile record holder Kejelcha were itching to claim their second individual 5000m Diamond Trophy - and of course the cash prize.

But Cheptegei, who relished a historic World Cross Country Championship gold in Denmark in March, had other ideas.

Right from the start, he kept within breathing distance of the two pacesetters of the night. In an interesting, tactical race, the Ethiopians elected to take the back seat from the word go, allowing the Ugandan to eventually peel away in the 12-and-a-half-lap race to claim victory.

By every lap chalked off, and with the field transformed into a file, double Commonwealth Games champion Cheptegei had sensed his chance to shine. The pacers dropped off to let him dictate proceedings at the front - and how bold he was to open up a 50m lead on the chasing pack!

On the back of his mind, he knew he would not be able to deal with the blistering finishing speed of the Ethiopians. So establishing a healthy gulf between him and rest early enough was the one sure way of beating them.


A brave run from @joshuacheptege1 is rewarded!

He sped off from the start in the men's 5000m and hung on for a great win in 12.57.41.

It's a PB but more importantly a Diamond Trophy for the Ugandan! 💎#ZurichDL 🇨🇭 #DLFinal pic.twitter.com/wE5pgEItLK

— IAAF Diamond League (@Diamond_League) August 29, 2019

At the bell, signalling the final lap, Cheptegei had a few seconds on the now advancing Barega and co.

With about 300 metres to go, the Ethiopians breathed fire, snipping Cheptegei's lead by every whip forward. On the bend, the Ugandan's lead had been halved, but he dug deep, drawing out every remaining dollop of energy from his reserves.

On the home straight, Gebrhiwet was chasing. Kenyan Nicholas Kimeli Kipkorir was right behind.

But it was Cheptegei's night. He kicked to cross the finish line ahead of Gebrhiwet, in a personal best time of 12:57.41. He was brave - and his bold running had paid off.

A first Diamond Trophy for the young athlete. And a first for Uganda.

Gebrhiwet came in second with a time of 12:58.15 while Kimeli was third with 12:59.05. Ethiopians Haile Telahum Bekele, Barega and Kejelcha followed - in that order.

__________________________

Men's 5000m Diamond League winners

2019 - Joshua Cheptegei (Uganda)🇺🇬

2018 - Selemon Barega (Ethiopia)🇪🇹

2017 - Mo Farah (Great Britain)🇬🇧

2016 - Hagos Gebrhiwet Berhe (Ethiopia)🇪🇹

2015 - Yomif Kejelcha Atomsa (Ethiopia)🇪🇹

2014 - Caleb Mwangangi Ndiku (Kenya)🇰🇪

2013 - Yenew Alamirew Getahun (Ethiopia)🇪🇹

2012 - Isiah Kiplangat Koech (Kenya)🇰🇪

2011 - Imane Merga Jida (Ethiopia)🇪🇹

2010 - Imane Merga Jida (Ethiopia)🇪🇹



ALSO RELATED TO THIS STORY

Cheptegei races to historic World Cross Country gold

Cheptegei seals second Commonwealth gold with 10,000m win

Uganda's Cheptegei wins gold at 2018 Commonwealth Games

Commonwealth Games: Uganda wins 10,000m gold and bronze