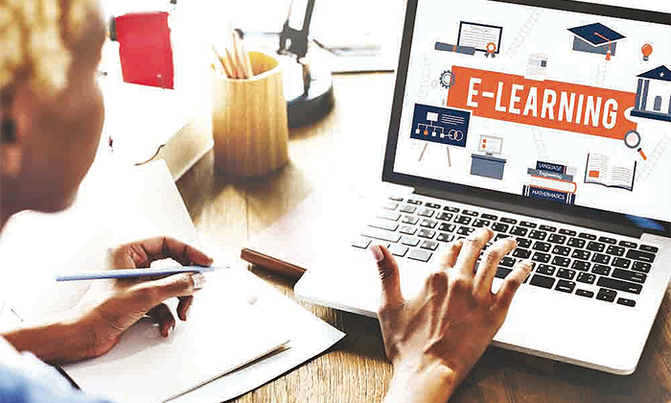 Resty Mwogeza, a distance learning expert, says e-learning is here to stay.
E-learning facilitates learning without having to organise a single venue for everyone
When Stella Nakayenga wanted to do a master's degree, lack of time was an issue. As an employee of a leading corporate company in Kampala, Nakayenga could not spare time for her studies despite having a regular eight-to-five job. "My job is quite demanding, I therefore, had to abandon a course, I had embarked on," she says.
Two years ago, Nakayenga learnt about an e-learning programme from a friend. That marked a turning point for her. "When I did a thorough search, I realised that many universities in Uganda where offering online programmes. My dream course was also available online. I immediately enroled and now I am comfortably working while studying," she says. Nakayenga is just one of many Ugandans who have embraced e-learning to upgrades their education. What is e-learning? E-Learning is the utilisation of electronic technologies to access educational curriculum outside a traditional classroom. In most cases, it refers to a course, programme or degree delivered completely or partly online.
"It is interactive and one can also communicate with their teachers, professors or other students in your class. Sometimes it is delivered live, where you can "electronically" raise your hand and interact in real time and sometimes it is a lecture that has been pre-recorded,'' says Abigail Salome Inapat, the E-learning administrator, at Makerere University's Institute of Open Distance and E-learning. According to Inapat, there is always a teacher or professor interacting/communicating with student and grading their participation, assignments and tests. Some courses are purely online while others are blended, in that 80% of the course content is delivered online while 20% is face to face.
Evolution of e-learning Long before the Internet was launched, distance courses were being offered to provide students with education on subjects or skills. "Distance education can be traced back to as early as the 18th century. Its evolution and progression over the last 300 years has been dependent on the innovations in communications technology of the time," says Dr Jessica Norah Aguti, an associate professor at Makerere University's Institute of Open, Distance and e-learning. According to Aguti, distance education has over the years been delivered through correspondence and the use of parcel post, to radio, then to television and finally to online education.
Distance education was common in the late 1800s, but its rapid growth began in the late 1990s with the advance of the online technical revolution. Why e-learning? According to Inapat, an online course is flexible. "I am doing an online master's programme, but I have never left my office. I am working at the same time studying and I believe that is where the potential for online education stands," Inapat says.
She says many students are working and do not have time, adding that it is from this work that they get the money to pay for the course. The course, therefore, enables them to work while attending to their learning tasks and activities online.