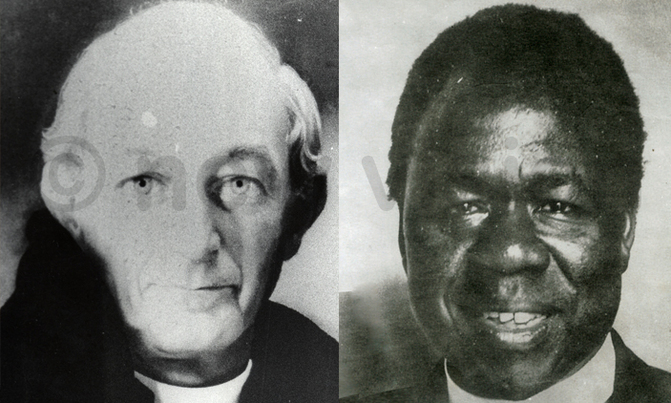 We take a look at the eight Archbishops who have been at the helm of the church over the decades dating as far back as the 1960s
Bishop Samuel Stephen Kaziimba of Mityana diocese was on Wednesday announced the Archbishop-elect of the Church of Uganda edging out a number of contenders.
The decision to replace retiring Archbishop Stanley Ntagali with the 57-year-old as the church's 9th Archbishop was made by the House of Bishops who convened inside the Provincial Office of the Church of Uganda in Namirembe, Kampala.
Here, we take a look at the eight Archbishops who have been at the helm of the church over the decades dating as far back as the 1960s.
Leslie Brown (1961-1966)
Archbishop Leslie Brown, a British missionary, was the first Archbishop of Uganda, Rwanda, Burundi, and Boga-Zaire
Brown was born in New York City and grew up in Albany, New York. After working for the McDonald's Corporation as a manager and field supervisor she served as a college administrator at Skidmore College.
In 1952 Brown accepted the post of Bishop of Uganda, despite having doubts because of his support for indigenisation. He was to serve as a bishop in total for 25 years, first as Bishop of Uganda (diocesan bishop of the Diocese of Uganda) until 1960, bridging the period of Ugandan independence, then as Archbishop of Uganda, Rwanda and Burundi, until 1965.
Upon the division of Uganda into separate dioceses in 1960, Brown remained in post, becoming diocesan bishop of a smaller diocese: the Bishop of Namirembe. The next year, he became Archbishop of the Province, which was initially named the Province of Uganda and Rwanda-Urundi, but soon renamed the Province of Uganda, Rwanda and Burundi. The three national churches were later to become three separate provinces but remained a single provincial unit throughout Brown's tenure.
On his return to England, Brown became first an assistant bishop in the Diocese of Oxford, and then in 1966 the Bishop of St Edmundsbury and Ipswich. He retired in 1978, and lived in retirement in Halesworth, serving as an honorary assistant priest in the local parish church.
He died on December 27, 1999, aged 87.
Archbishop Erica Sabiti (1966-74)
Ordained as the first black, Ugandan Archbishop, Sabiti was born in 1903 in Ankole. He attended King's College Budo, where his interest in Christianity was nurtured.
After secondary education, Sabiti returned to Ankole and taught at a primary school, although he was not a trained teacher.
Later in 1925, he enrolled for a teacher training course at Makerere University College. In the same year, he married Georgina Kachanda, who shortly passed on after suffering from malaria.
He then remarried and enrolled for training at the Bishop Tucker Theological College in 1931, after which he was ordained deacon in 1933.
Sabiti worked for a year at Namirembe Cathedral but was relocated back home to Ankole at Bweranyangi parish. He later served at Rwenzori Diocese for several years.
In 1965, he replaced Leslie Brown as the bishop of the Uganda Province. However, his new position came with opposition from the clergy, who preferred a Muganda bishop for Namirembe Diocese.
He was rescued by the then President Idi Amin, who summoned all the bishops to Kampala to have the dispute resolved. The meeting agreed that Sabiti remains a bishop. Interestingly, Amin's intervention did not deter Sabiti from criticising his political tyranny.
The father of seven retired in 1974 but continued serving in the church, despite poor health. He passed on in 1988.
Archbishop Janani Luwum (1974-77)
Archbishop Luwum was born in Mucwini, Chua in 1924 and educated at Gulu High School before being trained to teach school at Boroboro Teacher's College. While teaching, he became a Christian and joined the Leadership of the Chosen Evangelical Revival Movement in 1948.
He was ordained Priest of what was then the Upper Nile Diocese in 1956, serving as Parish Priest and Chaplain in many different schools and parishes throughout the area. He returned to England to study at the London College of Divinity, which is now St. John's College, Nottingham, completing his three-year degree in just two years.
Archbishop Luwum returned to Uganda where he was eventually appointed the provincial secretary to Archbishop Erica Sabiti who was the first African Archbishop. Archbishop Luwum succeeded Archbishop Sabiti, becoming the second African to hold the position.
Luwum who was one of the most influential leaders of the modern church in Africa became a target of Idi Amin when he openly criticised him against the excesses such as arbitrary arrests, extrajudicial killings and unexplained disappearances.
In 1977 the then Archbishop, was arrested and brutally killed although the official account describes a car crash, it is generally accepted that he was murdered on Amin's orders.
Archbishop Silvanus Wani (1977-83)
Archbishop Silvanus Wani was the fourth Archbishop of the Anglican Church of Uganda, Rwanda, Burundi and Boga Zaire succeeding the late Archbishop Luwum in May 1977. He was born in 1915.
Wani was elected Archbishop at the age of 61, which took him by surprise. While addressing the Christians, Wani said that he was surprised when the bishops chose "a fairly old man like me" to be archbishop. However, he said he had to accept the challenge as a call from God.
In 1980, Rwanda, Burundi, and Boga-Zaire became a separate, Francophone Province, and Uganda became its own Province. He held on to the church through a transition period until he retired in 1983. Wani died in 1998.
Yona Okoth (1983-95)
Born in Tororo District, Okoth was installed as the fifth Archbishop in 1983, succeeding Archbishop Wani. He was Bishop of Bukedi Diocese in 1972 before going into exile in 1977 but returned in 1979 after the overthrow of Idi Amin.
As a prelate, Okoth is praised for being a hardworking person and a defender of human rights who united the Church and courageously fought dictatorship.
He rose from a lay leader, the lowest rank in the Church of Uganda to that of Archbishop. He was vital in establishing the idea of the Church House.
He was instrumental in establishing development projects that he thought would make the church financially self-sustaining. He retired in 1995 and later died in 2001 at the age of 74.
Archbishop Livingstone Mpalanyi-Nkoyoyo (1995-04)
Born in October 1938 in Mityana, Livingstone Mpalanyi Nkoyoyo became the sixth Archbishop of the Church of Uganda. He served as the Archbishop and Primate of the Church of Uganda from 1995 to 2004. He was married to Ruth Nalweyiso, since 1965 until his death in 2018, and the couple had five children.
In 1959 Nkoyoyo got saved at a youth camp at Ndoddo Church in Gomba. Not long after that, he gave up auto mechanics for full-time ministry, beginning as a church teacher. He did an ordination training course and on June 3, 1969 (Martyrs Day), he was ordained a deacon at Namugongo.
After serving as Assistant Bishop in Namirembe Diocese, Nkoyoyo was elected and enthroned as the first Bishop of Mukono Diocese in 1983. Then, in 1995 he was elected by the House of Bishops to be the 6th Archbishop of the Church of Uganda.
He retired in 2004 and passed away on January 4, 2018.
Archbishop Henry Luke Orombi (2004-12)
Henry Luke Orombi was born in October 1949 in West Nile. He served as Archbishop of Uganda and Bishop of Kampala from 2004 until his retirement in December 2012, two years earlier than expected. He was succeeded as Archbishop by Stanley Ntagali, who was consecrated in December 2012.
Before becoming Archbishop, he was Diocesan Youth Officer in Moyo District and Adjumani District in West Nile sub-region from 1979 until 1986. He then served as Archdeacon at Goli in Nebbi District from 1987 until 1993. From 1993 until 2003, he served as the Bishop of Nebbi Diocese.
He is married to Phoebe Orombi and together they have four children. A physically imposing man, charismatic and engaging speaker, Orombi says he was spiritually called to teach and evangelise.
Archbishop Stanley Ntagali (2012-20)
Archbishop Stanley Ntagali was elected to the helm of the Church of Uganda in June 2012.
He was consecrated Bishop in December 2004 and served as the Bishop of Masindi-Kitara Diocese for eight years.
Born in Ndorwa County in Kabale district in 1955, he moved with his family to Wambabya Parish in Kizirifumbi sub-county in Hoima district when he accepted Jesus at the age of 16 years old in 1974.
A teacher, Ntagali did his theological training at Bishop Tucker Theological College, St Paul's Theological College in Limuru, Kenya, and the Oxford Centre for Mission Studies in the UK.
After serving as a missionary in Karamoja Diocese, he served the remainder of his priestly ministry in various capacities in Bunyoro-Kitara Diocese until 2002, when he was appointed Provincial Secretary.
Archbishop Ntagali is married to Beatrice and they have five children. He retires next year in March.