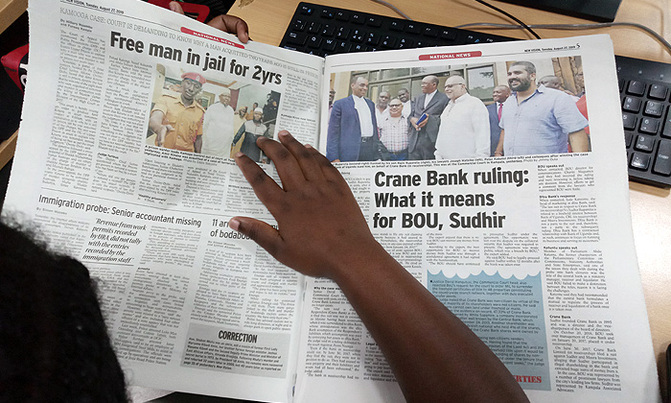 Sudhir Ruparelia could walk away with billions of shillings after he won the case against Bank of Uganda. This and more stories in today's edition.
AUGUST 27, 2019: NEWSPAPER SNEAK PEEK


Good morning everyone, briefly, here is what today's edition of the New Vision is offering you:


1. Sudhir could walk away with billions after he won the case against Bank of Uganda. Get the details of the case in New Vision. (Read online version here)

2. Over 40 courts lack state prosecutors. So, how do they handle cases? Get the answer in today's edition.

3. If you want electoral reforms, this is the time to bring them out. Find out when your MP will come to get your opinions.

4. The long-awaited maiden flight for the Uganda Airlines is finally here. Find out who is on the flight and to where.

5. A gang that had terrorized Masaka boda boda riders has been busted. We have the details.

6. The army has joined the immigration fraud investigations as some officials have gone missing. Get the full story.

7. Acquitted two years ago, a man remains in jail. Find out what happened.

8. Senior Police officer Bagirana has been dragged to court for refusing to leave office. But where is his replacement?

9. Why would an MP disrupt a youth day celebrations? Well, Hon. Nambeshe knows why. Full story in today's paper.

10. Boy who lost genitals in dog attack has got a lease of life. Find out who has stepped in to assist.

____________________________


ONLINE VERSION



If you prefer reading the paper off your gadget, we have got your covered. We have the e-paper HERE.


ALSO RELATED TO THIS STORY

Central Bank loses sh397b case against Sudhir

Kamoga hires new lawyer to battle life imprisonment