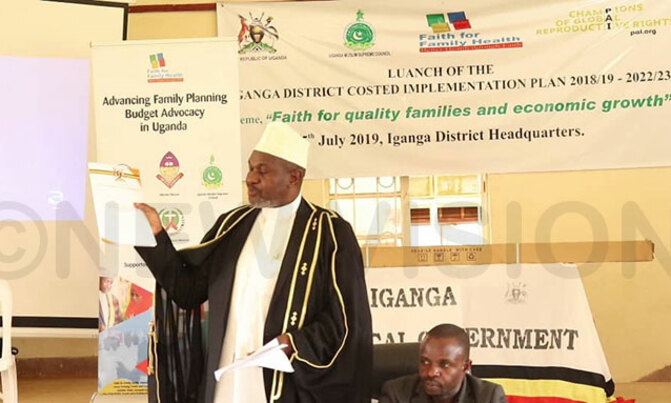 "The contraceptive prevalence of Iganga district is 35%, and the unmet need for family planning is 27%.
HEALTH
Religious leaders and activists for family planning have called for proper expenditure and accountability of the money given to health workers to secure family planning kits and to take care of the family planning service providers.
This appeal was made during the launch of Iganga district family planning costed implementation plan led by Uganda Muslim Supreme Council with financial and technical assistance from Population Action international and Faith for Family Health Initiative recently.
Rose Ann Baluka the assistant District Health Officer-Maternal Health Iganga district said with a population of 393,100 of people living in Iganga district, the teenage pregnancy rate alone stands at 27% which is very high compared to other districts. The national prevalence rate of teenage pregnancies is 24% according to the 2015 report compiled by UNICEF.
Baluka said due to many teenage pregnancies in the area, most girls have dropped out of school and others have opted for abortion in order to do away with unwanted pregnancies.
She said that one of the measures they have put in place to reduce teenage pregnancy, is thoroughly discussing the use of family planning; though its being accepted in the area is still very low. "
"The contraceptive prevalence of Iganga district is 35%, and the unmet need for family planning is 27%. Every woman living in the district is expected to have 6 or 7 children," Baluka said.
Baluka called for a collaborative effort to end teenage pregnancy in Iganga, adding that the district has come up with some strategic objectives to end the vice, and these include strengthening systems for service delivery, and increasing demand for family planning services through sensitizing the community members about the values of family planning among other strategies and
Faith For Family Health Initiative, approved and allocated sh110 million to Iganga district as a way of trying to bring Family planning for services to the people in the nearest communities possible.
Dr. Michael Bukenya Member of Parliament for Bukuya county and chair of the parliament health committee said that whereas government is trying to upgrade health center IIs to Health center IIIs at every sub county level, the community should also do something to keep a girl child in school.
"Challenges which affect them better and appreciated Iganga district for working with partners to develop a costed implementation plan and allocate dedicated resources to Family planning. "Issues of teenage pregnancy and keeping a girl a child in school should be handled by the district leaders themselves, and not ministry of health," said Dr. Bukenya.
His Eminence Muhammed Ali Waiswa, the second deputy mufti for Uganda Muslim supreme council said, different stake holders should come together to end teenage pregnancies in the area.
He added that people should accept the use of family planning so that they give birth to children they can best take care of.
However, Jackie Katana board member of Faith for Family Health initiative, cautioned the health officers to use the funds appropriately to ensure the funds allocated to family planning address the real needs of family planning as priotized in the District costed implementation plans.