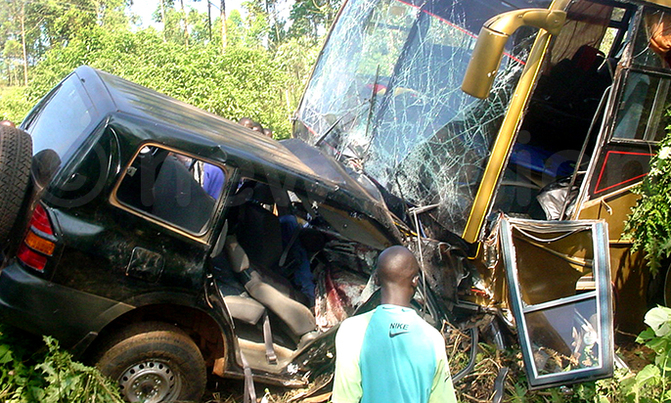 The calls follow a surge in the road accidents that have claimed dozens of lives in recent weeks
Bus operators under Uganda Transporters Association have asked the government to put in place tough measures including demanding certificates from driving schools before issuing permits.
The association's chairperson, Hannington Kiwanuka told the New Vision that road accidents are on the rise partly because of ill-trained drivers.
Kiwanuka noted that most drivers on the roads are only fit to drive on village farms.
"We urge the Ministry of Works to do more to force drivers to learn how to drive," he said. "How can we reduce road accidents when most drivers don't know the Highway Code? The roads which the trained drivers use are shared by fake drivers hence the rise in accidents."
The remarks follow a surge in the road accidents that have claimed dozens of lives in recent weeks. One of the latest accidents occurred last Sunday, involving a YY Coach and a commuter taxi at Busembatya along Tirinyi-Mbale road claiming 10 lives.
Kiwanuka said: "Everyone who applies for a new driving permit should be asked to present a certificate from an authorised driving school. If drivers from certain driving schools continuously, cause accidents, the owners should be put to question."
Apart from not knowing how to read road signs, other signs of fake drivers on the road according to Kiwanuka include braking suddenly, reversing back into the road, and using spotlights at night.
Kiwanuka also called on the traffic Police to crack a whip on bus companies that do not hire the required number of drivers observing that some drivers cause accidents out of fatigue.
"Whereas the law requires that each bus on the road should have two drivers, it's common to find only one driver in the bus moreover plying a long route," he noted.
Kiwanuka further challenged the Uganda National Roads Authority (UNRA) to change the road designs to ensure that roads are wide enough to accommodate two vehicles from the opposite sides and pedestrians.
He also asked UNRA to reduce on the number of sharp corners on the highways which he said sometimes turn into black spots.
But the Manager Media Relations at UNRA, Allan Ssempebwa told the New Vision that it's the reckless driving that is responsible for the increase in accidents and not bad road designs.
"Entebbe Expressway is a very good road but drivers are turning into a 'bad road' because they are driving recklessly," Ssempebwa said. "Some of these accidents happen when drivers are overtaking in sharp corners."
Relatedly, the Police have asked passengers using buses to speak out against reckless drivers. The spokesperson of the traffic directorate, ACP Charles Sebambulide told New Vision that passengers can help Police scale down bus accidents by speaking out against reckless drivers.
He also promised that Police will heighten its operations on the roads to enforce traffic rules. "We want to ensure that all the bus drivers have got budges and follow the route charts," he said.