"While Ssalango was lying silently on the hospital bed, I realised that it was me and my seven children," she recollects.
TWINS FESTIVAL 2019

WHEN: SUNDAY, AUGUST 25

WHERE: NAMBOOLE STADIUM

________________________________


KAMPALA - Nnalongo Allen Nakanjako, 36, a resident of Kabalanga in Makindye division in Kampala says she met her late husband Ssalongo James Kirabira in Nsambya, a Kampala suburb.

After two years of dating, she got pregnant and decided to run away from home in fear of her mother's wrath.

"I started a new life with Ssalongo who was residing in Ggaba. After nine months I gave birth to our firstborn," she says.

Nakanjako says life was not that hard because both of them were working, she washed people's clothes and Ssalongo was a boda boda rider.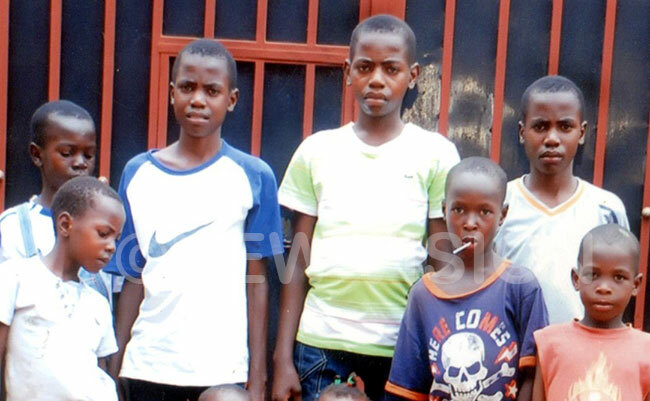 Nakanjako's twins with their friends


The first set of twins

After two years, she conceived again and at five months when she had gone for antenatal care, she found out that she was carrying twins.

"Our first set of twins was special because unlike their siblings, I gave birth to them at 11 months," she states.

Nakanjako adds that after waiting for two extra months, she finally held Carlos Kato and Geoffrey Wasswa in her arms.

"Ssalongo and I were very happy because God had blessed us with twins," she recalls.

In a space of two years, she gave birth to another baby followed by a fifth one who came after a year and a half.


Second set

After their fifth born, Nakanjako explains that God blessed them with a second set of twins, Kennedy Kato and Keron Wasswa.

"These twins came with a blessing, Ssalongo got promoted from being a motorcyclist to a pickup car driver which increased their income," she states.

Hard times

In 2013 when the twins were clocking two years, their father suddenly got ill and passed on.

"While Ssalango was lying silently on the hospital bed, I realised that it was me and my seven children," she recollects.

After putting Ssalongo to rest, Nakanjako explains that she shifted with the children to Muyonyo and rented a single room.


To earn a living, she did odd jobs like washing people's clothes and making women jewelry.

Despite working her fingers to the bones, Nakanjako says life was still so hard that she had to move back to her mother's house.

After four months, her mother suggested that they take the children in the village but Nakanjako refused.

"Life had pushed me on the rock, I wake up one day, left the children with my mother and stayed with my brother in Kabalangala," she recalls.

At Kabalanaga, they were staying in a small room, five of them and her being the only woman.

Every morning she woke up, moved around the village looking for work. At times she would go to work and on a bad day, she would go back home with nothing.

The situation became harder that her children dropped out of school and stayed home for two years.

Reuniting with her children

"My brother got a job out of the country and left the room in my custody. I picked my children and started staying with them," she explains.

Fortunately, she managed to send them back to school.

"The school management was patient with me when it came to paying school fees because there's no term I did not default," she recalls.


Breakthrough

As they say, there's always light at the end of the tunnel, Nakanjako explains that for the first time in a long time, life treated her fairly. Two of her children got half bursary whereas the three are also sponsored.

She adds that with faith, the other two will also get sponsors.

Currently, she earns a living through tailoring, thanks to her friend who offered to train her at no cost.

Nakanjako explains that if she gets her own sewing machine and acquires more skills, she might be able to provide a good life for her children.


CLICK HERE FOR MORE STORIES ON TWINS