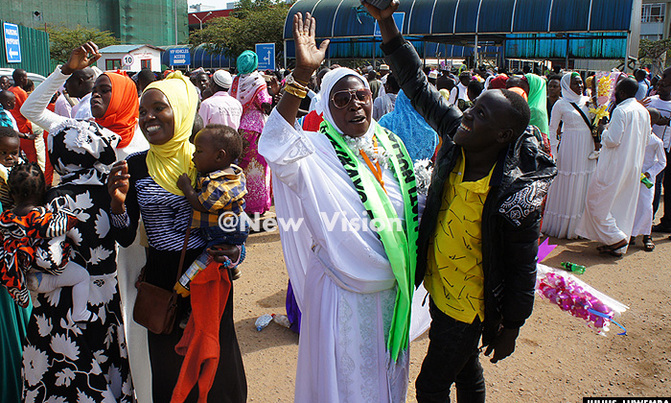 A mood of jubilation hangs over Entebbe Airport as anxious family and friends receive pilgrims back from the annual Islamic journey to Mecca.
RELIGION | PILGRIMAGE

ENTEBBE - Typically, family and friends often put together a celebration to welcome pilgrims home after completing the Hajj, an annual Islamic pilgrimage to Mecca in Saudi Arabia.

Such was the case when Ugandan Muslims returned from the journey on Wednesday, nearly a month after they were flagged off for the pilgrimage. Check out the mood at Entebbe International Airport as an air of expectation turned into that of jubilation when the pilgrims were reunited with their loved ones.

___________________________


The traffic on Airport Road in Entebbe was bumper to bumper.



Anxiety got the better of many people waiting to receive their loved ones.



Most Muslims leave Saudi Arabia within a week or two after the Hajj is over. What awaits them is celebration to congratulate them upon completing the journey.



At Entebbe Airport, hundreds of people waited patiently for their arrival.



It is expected that when the pilgrims return home from Hajj, they come back to start off on a clean state - spiritually refreshed and forgiven of their sins.



A mood of excitement hang heavily over the airport upon the arrival of the pilgrims.



No, it's not a wedding. They are, in a unique way, simply celebrating successful completion of the journey to and from Mecca.



Selfie moments as reunions were established at Entebbe.



Family and friends were delighted to see each other again.



The Prophet Muhammad once told his followers: "Whoever performs the Hajj for the pleasure of Allah, and utters no evil words and commits no evil deeds during it, shall return from it as free from sin as the day on which his mother gave birth to him."




Welcome back, good people!





ALSO RELATED TO THIS ARTICLE

Ugandan Muslims flagged off for pilgrimage to Mecca