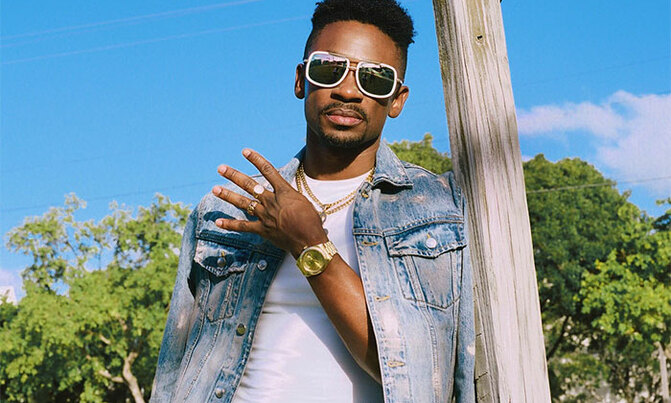 This will be his second time in Uganda and will be performing alongside compatriot D Major, alongside a host of local artistes
MUSIC

Chris Martin is a Jamaican reggae-dancehall fusion star set to headline The Bell Jamz All Star Tour Concert to be held on Friday at Lugogo Cricket Oval. For his songs like Cheater's Prayer (2017), I'm A Big deal (2017) and Paper Loving (2010) he has endeared himself to Ugandans. This will be his second time in Uganda and will be performing alongside compatriot D Major, alongside a host of local artistes. He had a chat with Steven Odeke on music and life.

Welcome back to Uganda, how does it feel that you are to perform again in the pearl of Africa?

It feels awesome to be getting a chance to perform in Uganda again. The pearl of Africa. I want this time around to be an even more awesome experience than the first time was, and I can see the love from the different social media networks and the mediums, so I know it will be a blast. You know what I mean?

Ugandans love their reggae. Did you feel their reggae vibe when you last performed here?

I know Ugandans love their reggae vibe and I definitely felt the vibe last time I was there. You know, I got the opportunity to touch a few clubs as well and touch the microphone and feel the love from the people. Even entering the venue was an awesome vibe. So, I know it will be crazy, so man. I am really looking forward to it.

You are close friends with Busy Signal; who has been here a couple of times; has he told you anything about this country?

Yes, I am very close friends with Busy Signal, but we have never really talked about Uganda. But, I have been there myself and I have witnessed the love and I have witnessed how much they are into reggae music and my music so (laughs) I am just looking forward to it, man. I am just looking forward to it.

What do you think Ugandans have in common with Jamaicans?

They love music, you know. Ugandans love music, they love to have a good time. There are beautiful women in Uganda, just as there are in Jamaica, you understand, and that's always a plus. We have a very unique kind of culture that we kinda share. Same love for music, respect for people, you know, respect for all living things, so that's what I would say we have in common.

You seem to have visited Africa quite a lot; is that where your biggest fan base is?

Yes, I do visit Africa a lot. Uhmm. I wouldn't say that it is where my biggest fan base is, but it is one of my stronger territories. You know, I have fan bases that are strong in many places and Africa is definitely one of them and this is a testimony - coming to Uganda. Yeah, man so it is definitely one of my biggest territories, one of my biggest fan bases.

Cheater's Prayers and I am A Big Deal were big songs in Uganda; did the songs have anything to do with your life?

Cheaters prayer and I am A Big Deal are big songs in Uganda. Ummmhmmm. They definitely have something to do with my life. To start with Cheater's Prayer, I am not a cheater, but I have heard about situations where, you know, people get in difficulties when they are in committed relationships. You know, they might not indulge or do the act but their mind wanders, especially when they see beautiful women. So, their wife could be very beautiful but they will see other women that are attractive as well. So you know, they might lust in their mind but they might not do it - actually go through with the act. So, that is where Cheaters Prayer came along. [He sings a line in the song] "Lord if you can stop me from cheating don't let me get caught" or Lord might stop you. It is just one of those things. You know what I mean. That song was coming from a true place, because people go through that every day and 'I Am A Big Deal' that is how I feel about myself. And therefore that I feel that way about myself, I feel like people should think about themselves in that way. And since people love my music and look up to me, I feel like I should be someone, somewhat of an inspiration to them. Let them understand that it's not about money or fame or vanity, it is about self-worth and how you believe in yourself and how you think of yourself. When you think of yourself as a big deal, that's how you will treat yourself, and treat others around you.

Who inspired you to do the kind of music you do?

Who inspired me to do the kind of music I do? Uhmmm, I am inspired by a lot of different people. I am an old soul so I grew up listening to all of the oldies. Like Sam Cook, Otis Redding, Marvin Gaye, Conway Twitty, Kenny Rogers. You know you name it. And Beres Hammond, Bob Marley, John Holt, Freddie McGregor. You know. Alton Ellis. My inspiration goes far, man. But the underground and the underlying factor to it is that all these people sing about are love songs. So you know, that is kind of my inspiration that is why I took the kind of music that I took to the fan bases, and I took to the masses. You know, it is all about love. If I am not singing about love, I'm singing about positivity. That is the message I chose to bring forth in my music. So, you know. People can understand. Music business is an art place. It is a marketplace, it is a factory, where people produce different things. People come to me for a specific vibe and a specific kind of message and I stay true to that. You can get other things from other places. So, you know, and I owe that all to the inspirations.

What should Ugandans expect from your show? Are you going to give them what they know or there will be some new tracks from you?

Uhmm. What should they expect from my show, yeah, definitely I will give them songs that they are going to love and respect me for. First and foremost, you know, we have a new album now so we will introduce some new music to them as well, it is only right. You understand? So, they will definitely get songs they know and love but there will be songs that they will have to maybe hear for the first time or if they probably know them, but they are new. Definitely.

What has music done to your life?

Music has changed my life. From when I started, in 2005, I won a competition here in Jamaica called 'Digital Rising Stars' and ever since I won that competition, I have just been working on me - Christopher Martin. I love to be in the studio. That is my workplace, that is my business place, that is my office. Before I got to this point where I am now in music, where I am known in almost every continent, it took a lot of hard work. Sleepless nights, and consistently working on my craft, and writing and recording, performing. And yeah, I am reaping the fruits of all that labour, you understand. It is a wonderful thing when you can go on stage and perform and change the lives of people. People hearing your voice or just seeing your face. It changes their mood and puts them in a better vibe. I live for that. And music did that for me, it changed my life. I grew up in a … I would not say I was super poor, but I was poor. But my parents ensured that I had a solid education and life is good now. I am able to take care of my family and my friends who I have to and help people I don't even know via charitable events so, it's a wonderful thing man.

You have travelled around the world; which of your shows stands out? And why?

Yes, I have travelled around the world and many shows stand out in my mind. Every time I am in Africa, it is a beautiful vibe. The love is just crazy. When I go to Japan, it is awesome because predominantly, they don't speak English, you know, so to hear thousands of Japanese people singing my songs word for word, it is humbling. There are many places man, there are stints in the Caribbean, when I go to Europe it is also a great vibe when you touch places you never thought you would be. Central America, South America. I can't really tell you about one place because everywhere stands out in my mind. I just feel like I have the greatest support system, greatest fan base. You know, and they show me love when they turn up at my shows, so, we give thanks for that.

Have you got an idea of collaborating with musicians in any country you perform for just to pick different music ideas? Like Uganda?

I always…I wouldn't say I have plans of collaborating; I am always open to working with new talent or establish talent in the countries that I visit. So, in Uganda, if time allows it, of course. If time allows it and I am able to, I would love to work on something. I am not saying it would happen in Uganda, but if the vibe is right and the time allows it - definitely. I am always open to making new music, music that will last. As long as it's not forced and we can get it done properly, I'm all about it.

Where do you pick your music ideas?

I am a concept-based kind of artist so I love to sing about situations and scenarios. So, you know, it could be about my friends, uhmm it could be about something that I went through and I felt like it's worth sharing. You know, but I love to pick topics that will impact the masses in a way that they can look at themselves and say, oh yeah this is real fox, you know what I mean. We don't want to do the fairytale thing. Like, jumping over the moon and swimming to the bottom of the ocean or climbing a mountain, you know? Nah. We want to sing about real-life situations, real-life happenings. And that's how I pick my music ideas. Things that will resonate well with the masses, change lives.

Away from the musician we know, who is Christopher Martin?

Who is Christopher Martin, Christopher Martin is a young man from Kingston, Jamaica who loves to run jokes, uhmm, and he's a very happy and jovial person. I love to play football - Manchester United is my favourite team. Real Madrid is also one of my favourite teams as well. Uhmmm, my favourite footballer right now is Christiano Ronaldo. Favourite footballer of all time would be between Ronaldinho or Ronaldo from Brazil. Yeah, just a lover of life and all things positive. That's who Christopher Martin is. 100%. You get to know me, you'll understand that.

For a Ugandan artiste with aspirations of getting globally known like you; what advice would give them?

For Ugandan artists who would like, you know, global recognition like myself, my advice to them is 'Be yourself', believe in yourself, and believe in the almighty. Work diligently and consistently on your craft every day. If this is what you really want, you have to love it. If you don't love it, you will get frustrated easily because you will do some work or a body of work that you think was amazing and should take you places and it doesn't. And if you don't love the music, you'll get frustrated, you know. So, you have to push through and just understand that it's a process and it takes time. You know. Uhmm, so just be yourself man. And love the music, everything else will come. All the financial gains and all the love and all the adoration. All of that will come after. But just be yourself and ensure that you treat music with the same amount of love and respect.