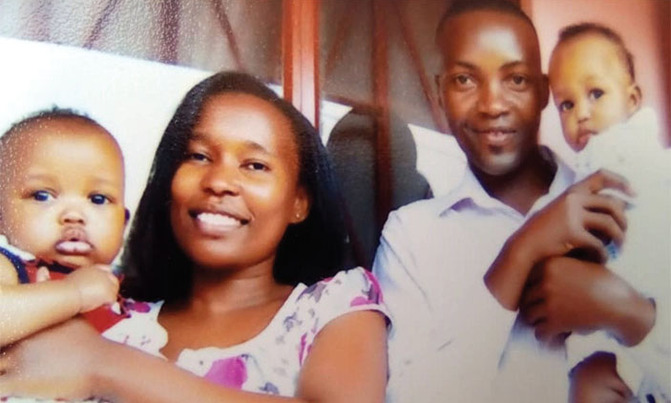 The twins' news hit me hard that I cried in fear."
Like it is said, the apple does not fall far from the tree. Nalongo Hellen Basiima, a resident of Naluvule in Wakiso district, says she has six uncles and aunts.

Four uncles gave birth to fraternal twins. She says her sister-in-law also gave birth to twins.

Basiima says she met her husband, Salongo Mathias Sentongo, when she was working in a restaurant at Makerere University. After two years of dating, they made their relationship official and this marked a new journey in their love life.

TWIN NEWS

Basiima says when she conceived in 2014, she started antenatal visits at two months. One day, when she was six months during the antenatal visits, out of curiosity she went for a scan to find out the sex of the baby.
Unfortunately, after the scan, the doctor told her that she had an abnormal pregnancy.

"I was scared on hearing the report I thought something was wrong with my baby," she recalls. She says the doctor made a second scan.
This time he told her that she was carrying two babies. "The second report relieved me but broke me down at the same time. The twins' news hit me hard that I cried in fear," she recollects.

"My focus was on having one baby, I had even started shopping," she says. "When I got home, my husband asked whether I had discovered the baby's sex but I did not tell him until after two days.
"He was excited about learning that we were having twins. My worry was how I would manage them. The scan showed that one baby was a girl but failed to identify the second one," she explains.

RECEIVING THE TWINS

Basiima says at six months, she looked as if she was due. At eight months, her legs, arms and low abdomen were swollen.
"The discomfort and pain were so much I went to Mulago Hospital and discovered that my blood pressure was high. I was admitted until it stabilised," she says.

Basiima adds that the doctor also told her she was to undergo C-section after stabilising her blood pressure. After two days at Mulago Hospital, Basiima went to Nsambya Hospital where she gave birth from.

"At 1:00 pm, I gave birth to Kato Martin Lule and Babirye Martha Nakaye, both weighing 2.5kg," she recalls.
Basiima says she spent a week in the hospital due to the pain in her lower abdomen. "Before the delivery, my lower abdomen was swollen and after the surgery, it took me a while to get back on my feet. I could barely stand or walk," she recollects.

RISING THE TWINS

Basiima says her sister-in-law helped her to look after the babies for a month. By the time her sister-in-law left, Basiima had mastered how to bath, dress and feed the twins.

Later, she got a house help who also left after six months. "There was a lot of work. I had to look after the children and do house chores," she says. Basiima says Salongo would step in at night and help her with the babies. Kato would cry a lot in the night.

"We tried in vain to get another household. I told my husband that I would look after the twins since I was not working then," she adds. Basiima says she stayed home and raised the twins until they made two-and-a-half years.

Currently, the twins are four years old and in the middle class at Wisdom Junior School, Naluvule. "The twins are so excited and cannot wait to attend this year's Kampala Twins' Festival, which will be their first.

Every time they see the advert on Bukedde TV they ask if I will take them. They are mostly interested in playing on the bouncing castle, face-painting and swimming," Basiima says.