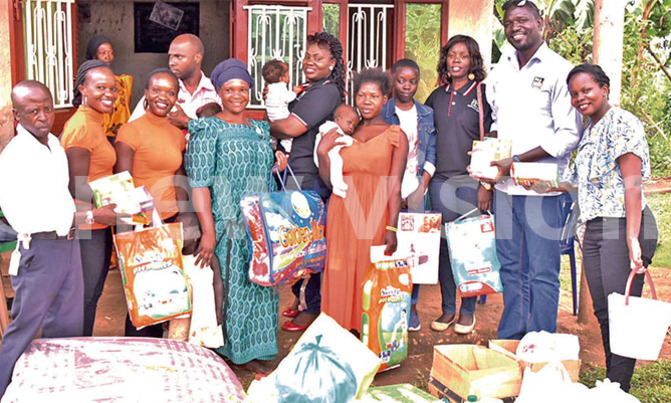 Parliament is one of the sponsors of this year's Kampala Twins Festival slated for next Sunday, August 25, at Namboole National Stadium.
If raising one child is a hurdle, how about triplets when a man abandons his responsibility?
This is what kept running through Nalongo Mercy Nalusiba's mind after reading an article on the plight of a 19-year-old-mother of triplets who had been abandoned by her lover.

The story of Jane Aduba was first published in the New Vision on Friday, August 9, as part of the Kampala Twins Festival Campaign this month.
Nalusiba, the principal assistant information officer in charge of the Hansard at Parliament, is one of the readers who was moved by Aduba's situation of raising the triplet boys named Joshua, Julius and Junior, as a single mother.

Together with Nalongos, Salongos and the entire twin community at Parliament, Nalusiba, a mother of twins, a girl and boy aged 10, mobilised their fellow staff members at Parliament to help Aduba.

"Citizens of Uganda are at the core of our work at Parliament. Engaging in this kind of corporate social responsibility, especially now during the twins month was an easy decision to make," Charles Bukuwa, the senior information officer at Parliament, said.

Parliament is one of the sponsors of this year's Kampala Twins Festival slated for next Sunday, August 25, at Namboole National Stadium.

Aduba was stranded after her lover, Rollin Otian, a Kenyan, switched off his phone on learning that she had given birth to her now four-month-old sons.
However, through the effort of the staff of Parliament, Aduba can see light at the end of the dark tunnel she has lived in for the last couple of months.

On Friday, the team from Parliament delivered an assortment of items collected by their colleagues to Aduba at home in Seeta-Nyiize village in Kangulumira sub-county, Kayunga district.
She is currently living with her maternal aunt, Rose Akech, who is hosting over 21 people in her incomplete one-bedroom house.

The donations included a mattress, beddings, baby clothes, boxes of milk, soap, sugar, pampers, linen and detergent.
While handing over their additional cash donation of sh500, 000, the team expressed concern about the appalling state the children were living in and called on other Good Samaritans to reach out to the young family.

"I hope other corporate entities will follow our example and reach out to them," Bukuwa said, adding that the staff of Parliament had pledged more support.
The team which delivered the donations included Nalongo Nalusiiba, Bukuwa, Salongo Kenneth Mukisa, Olive Eyotaru, Moses Mugoya and Idi Thembo.

Others were twins Brenda Nakato and Barbara Babirye as well as Vision Group staff. Mukisa, whose twin daughters are seven months old, was particularly thankful to his colleagues for understanding Aduba's plight.
Aduba and her aunt Akech, who could not hold back their tears of joy, thanked the staff of Parliament for their generosity.

"I feel so happy because I never thought my children would survive up to this stage. They are a blessing to me.
Though they were born premature, we have survived and now we have help," Aduba said. Akech said: "I thank Vision Group for highlighting our struggle because we have now received help."

Penlope Nankunda, the coordinator of the Kampala Twins Festival, appealed to Ugandans who will attend the festival next Sunday, to carry along a donation for families like Aduba's who need all the support they can get.
"Apart from merry-making and enjoying each other's company, we should also give back to our fellow twins, triplets, quadruplets and other multiples who may be facing a harder time than we are.
Let us make a difference in their lives this Twins festival," she said.