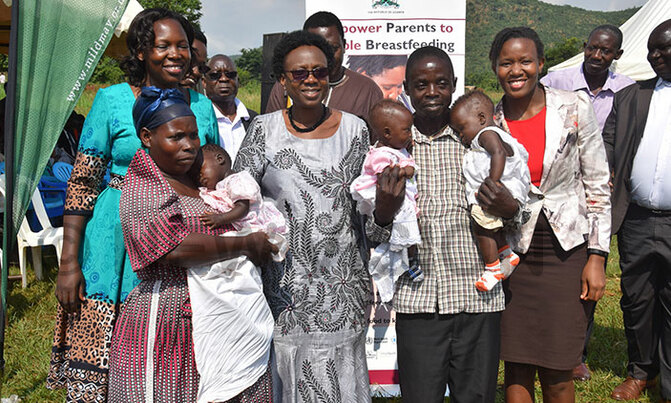 She challenged the private employers to emulate the good example set up by Parliament and also put in place breastfeeding corners
HEALTH NUTRITION BREASTFEEDING
KIBOGA - The minister for health Dr. Jane Ruth Aceng has asked parliament to prevail over private-sector employers to provide a conducive environment for working breastfeeding mothers in the country.
Aceng said that the failure by private institutions to provide such a conducive environment has denied many infants and young children their fundamental right to nutritional care especially breast milk which is the complete food they have to rely upon in early childhood.
Poor adherence to maternity leave and lack of it has also negatively affected women and men's perception to childcare and breastfeeding leading to many of them rely on pre-lacteal feeds thereby compromising the health and nutrition of their infants and young children.
"The government of Uganda is committed to providing conducive work environment by setting up breastfeeding corners at workplaces similar to those established by model institutions like Parliament and Uganda National Roads Authority (UNRA) and other workplaces that have provided these facilities," said Aceng.
She said that the private institutions have not honoured these provisions of the law to establish breastfeeding corners for the working mothers and applauded the speaker of Parliament Rebecca Kadaga for spearheading efforts to ensure that Uganda's Parliament is a baby-friendly workplace.
Aceng challenged the private employers to emulate the good example set up by parliament and also put in place breastfeeding corners to improve on the productivity of mothers and also promote good nutrition and a healthy population.
She said that despite the 60 days maternity leave provision in Uganda, the period is still below the internationally recommended maternity protection period of 120 days.
"Working together with the ministry of gender, labour and social development, we should advocate and strive towards extending this period to meet the international standard," said Aceng.
She said that in July President Yoweri Museveni launched the presidential initiative on healthy eating and lifestyle during the national day of physical activity that commemorated on July 14, 2019. Nutrition was among the key highlights in this year's budget speech and emphasized the promotion of a well-nourished population.
"I want to say that breast milk is a foundation for a healthy and well-nourished population," said Aceng.
This year's World Breastfeeding Week has been commemorated under the theme "Empower parents to enable breastfeeding" and the national function was held on Friday at Kibiga Primary School in Kiboga district.
The Kiboga constituency Member of Parliament, Dr. Keefa Kiwanuka said when breastfeeding is tampered with even development is stunted.
Kiwanuka said the World Health Organisation standards do not only consider health as a single item but rather in a holistic manner.
"As government promotes breastfeeding, there is need for government to ensure that household income improves, tackle the employment problem, increase on the education levels of the citizens, address the challenges the youths go through before attaining adulthood, lifestyle check, and environmental issues and the manner in which the public seek health services," said Kiwanuka.
"If these above challenges are addressed I'm sure the quality of the population will increase and the disease burden shall greatly reduce," said Kiwanuka.
He asked the health ministry to re-introduce the constituency health fund because it was very important in ensuring stakeholders meet and address the prevailing challenges at hand.
Gloria Ndagire from World Vision, the main funders of the breastfeeding week activities said that they are implementing integrated community-level outreaches working with over 145 health facilities across the country to ensure no baby dies because of lack of care.
"As World Vision, we want to ensure that all babies born do not die because of lack of care and both parents take up the responsibility of looking after the child jointly," said Ndagire.
Sarah Nabanja, the vice-chairperson Kibiga village in Kiboga district said that mothers suffer a lot in the upbringing of children because the men end at impregnating them and the rest is none on their business.
The Ministry of Health also recognised 18 in Bunyoro region for their implementation of the Baby-friendly Health facility initiative (BFHFI) that promote the proper upbringing of the children in a holistic manner.
Some of the facilities that were recognized are Hoima Regional Referral Hospital, Kigorobya Health Center IV, Buhimba Health Center III, Kikuube Health Center IV, Buseruka Health Center III among others.
The function was characterized by poems and songs packed with breastfeeding messages presented mostly by children from primary schools drawn from across the country such as Kabale, Iganda, Nebi, Kabarole, and Kiboga.
There were also exhibitions to showcase good nutritional feeding for both children and mothers.
Related stories
Non-breastfed children are 88 times more likely to die in 6 months!
Some breastfeeding advice worth ditching
Young mothers abandon breastfeeding for fear of sagging breasts - Opendi