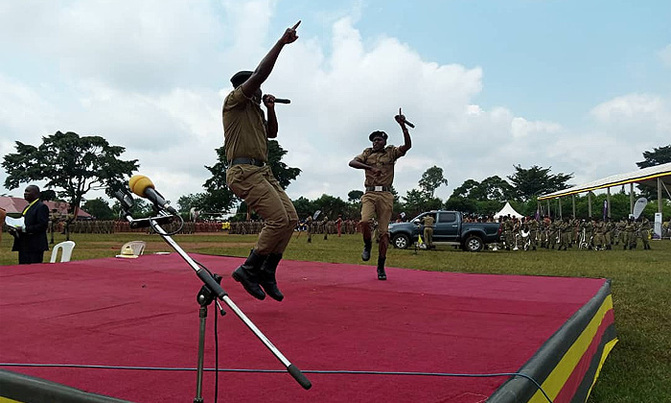 Away from the main event in Jinja, youth day celebrations also took place at various local government levels across the country.
INTERNATIONAL YOUTH DAY 2019


JINJA - Uganda Monday joined the rest of the world in celebrating International Youth Day 2019, with the national celebrations taking place in Jinja district at St. Gonza Gonzaga Primary School, Kagoma in Buwenge sub-county.

Vice President Edward Kiwanuka Ssekandi officiated at the function.

Marked every August 12, the day is celebrated in conformity with the UN General Assembly Resolution A/RES/54/20 of the 54th UN session adopted on December 17, 1999.

Minister of State for youth and children affairs Florence Nakiwala Kiyingi had earlier said the International Youth Day provides "an opportunity to all state parties to evaluate the various policies, programmes and strategic interventions aimed at empowering young people".

"Additionally, the day provides an excellent opportunity to take stock of what has been done and what remains undone in positioning the young people to play a critical role in the social economic and political transformation of the country."


Uganda has one of the youngest populations in the world.

The global theme for this year's celebrations was Transforming education. At national level, Uganda customized the themed to Transforming education for responsible citizenship and employment creation.


Happy International #YouthDay!

We believe that #Youth will shape the future of #education, because learning MUST be relevant and inclusive!

See how we enable youth to progress towards #TransformingEducation for all!

🔑📚 https://t.co/sHRohxaMMr pic.twitter.com/2mzutvFcru

— UNESCO (@UNESCO) August 12, 2019

According to Minister Kiyingi, the theme "enjoins us to focus on the importance of education in nurturing citizens that are productive and responsible for socio-economic transformation of their communities".

She said that a transformative education is a step in the right direction, arising from the belief that the quality of citizens is dependent on the quality of their education.

The call was to make education more inclusive and accessible for all youth.

"Inclusive and accessible education is crucial to achieving sustainable development and can play a role in the prevention of conflict," says the minister.

"Education is a development multiplier, as it plays a pivotal role in accelarating progress across all the 17 Sustainable Development Goals (SDGs)."




Meanwhile, away from the main event in Jinja, Youth Day celebrations also took place at various local government levels across Uganda.

In the buildup to Monday's commemmorations, various activities were held, including community dialogue, tree planting, community work, sports activities, and HIV testing and counselling.

Ordinarily, the National Youth Council Annual Conference takes place before the International Youth Day. This time round, however, due to Sunday's Eid Aduha celebrations, the conference has been pushed to Wednesday this week.