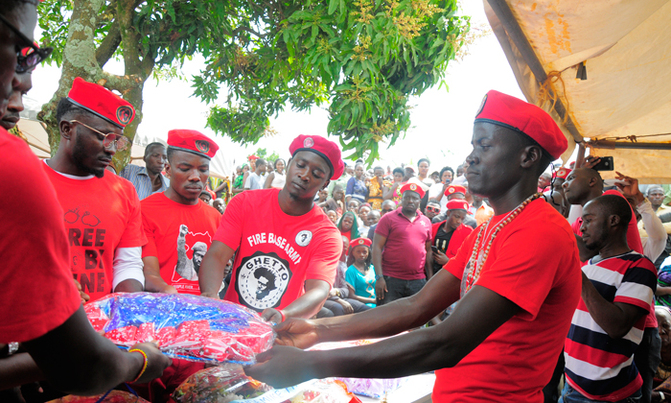 Mourners who included his fans filled Ziggy's parents' small compound along the Kashenshero road.
The body of city socialite/artiste Arinda Michael alias Ziggy Wine was yesterday laid to rest at his ancestral home in Kashenshero sub-county in Mitooma district.
Mourners who included his fans filled Ziggy's parents' small compound along the Kashenshero road. At the time of lowering the coffin into the grave, those handling the grave did not have the ropes to lower down the casket/coffin, but the deceased's fans jumped inside the grave to receive the coffin before the church could proceed with the burial.

Fans, especially from Kampala, donned red tops and red T-shirts took over the management of the function and even they directed the catering to dress in red colour.
From Bushenyi town-Ishaka town-Mitooma town to Kashenshero all police posts remained on standby while police were seen patrolling to prevent any demonstration and unauthorised rally by People Power leaders in the area.
At some point, the fans booed the government representatives and blocked them from making speeches.
According to a statement released by the Police, the deceased was involved in an accident in Kyebando along the northern bypass.

The Mitooma district deputy resident commissioner Williams Kasolo was forced to cut short his speech when he was heckled for trying to read the police's statement.
"We are all in pain for the death of this talented young man. If you don't want us to tell you how he died; you will tell us how he died," Kasolo charged.

Speaker after speaker described Arinda's death as unfortunate and big loss to the country. "We have lost as Mitooma district because he has been our good representative in the music industry," said the Mitooma district chairman Sylvester Tumukwatse.
He described Ziggy as a hardworking youth who had risen to a national celebrity through a struggle. "He had toiled to survive on his own," the district chairman said. The deceased's mother Frolence Katushabe died in 1996 while his father Willy Mwebesa died in 2001.

Tumukwatse, however, said: "Sometimes, some death is caused by the actions of our friends." He urged the youth to engage in government programmes, saying the government has allocated them (youth) money. "Let us not waste time, let us engage in income-generating projects," he advised.

The LC3 chairman Godfrey Tumuhimbise warned the youth saying: "There is a way we should behave and handle ourselves." "Youth; know where we are, where we have come from and where we are heading," adding: "Don't accept to be misdirected. The country is ours and it is here to stay."

Kyadondo East MP Robert Kyagulanyi aka Bobi Wine said: "Whether in NRM, DP, UPC, FDC, People power….. know that we are in the same boat." "We are one Uganda, one people and we should put our country first before ourselves," Bobi said. "Our responsibility is to make a better Uganda for both the current and future generations." He described the deceased as his close friend.

He castigated some singers saying: "Let us stand for what is right." Bobi Wine said they took Ziggy Wine to Mulago Hospital, but they could not handle him. Bobi was accompanied by Abed Bwanika and MP Francis Zaake.
Related stories