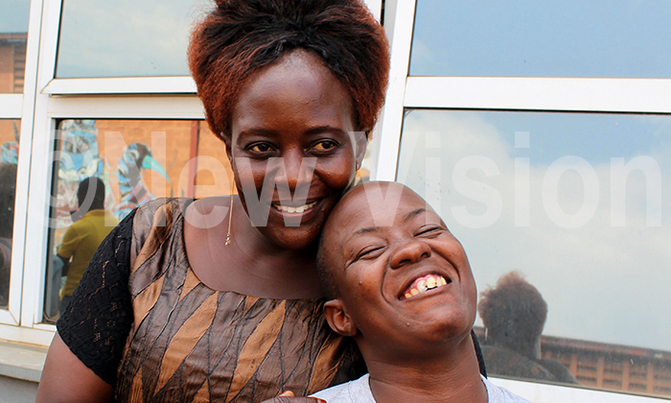 "We want a one-stop centre to have a specialized unit with all the required expertise to be able to handle all cases. We want the Government to understand the situation and support this cause. We cannot do it on our own because we do not have the financial muscle," he notes.
DOWN SYNDROME

KAMPALA - Safina Nakakande keeps a close eye on her 24-year-old son, Tamale to monitor his movements. On the face of it, he is a jolly young man who loves to mingle with other children however; on a closer look, I noticed something out of the ordinary about Tamale.

First appearances about his normality had deluded me. At length, I found out Tamale has Down Syndrome (DS) condition. But his conduct was quite different from other children who suffer from it.

Nakakande says she gave birth to Tamale when she was 21 years, but never realized, her son had the condition until around 2007.

"I remember he was the heaviest among my children with three and a half kilograms and very healthy. That is why I took long to notice his condition. I have three children and he is my second born," she narrates.

She also cites that Tamale used to shake his head while sleeping but never bothered; thinking it was normal for children. She says when they took him to school; he only used to write what he wanted from what they used to teach.
Understanding the problem

Though teachers used to raise concern over Tamale's habits, Nakakande paid a deaf ear.

"They advised me to take my son to a special needs school. I tried Kireka Home for Children with Special Educational Needs and the other in Mengo, but I got terrified by the conditions there and changed my mind and retained him in the mainstream school," she says.

However, in 2006, Nakakande was advised by the headmaster of the school to take him home since his condition had worsened.

"He was no longer paying attention in class, tearing books and kept loitering all over the compound. I just broke into tears and went with my child home," she recalls.

But one day, Nakitende says Tamale was found at a school by a woman who identified his condition and advised her.

"She called me informed and even advised me on what to do and also invited me to attend World Down Syndrome day celebrations. I realized there are many children and I was not alone. That is when I gained strength," she notes.

Tamale is now undergoing training at Angel's Centre for Children with Special Needs in Wakiso to learn how to look after children. "They assessed him and realized he loved children and very friendly," she notes.

But for Grace Namubiru, 30, the situation is quite different. She gave birth to her son with a protruding tongue, big face and neck.

"One of the doctors told me it was a curse. But another pediatrician told me it was Down syndrome and I got shocked," she notes.

They also did thyroid and jaundice tests but were all negative, and later recommended her for an eco-scan for the heart but "I did not do it because of fear".

"I stayed home for two months. When I went back to work and I told my boss about the condition of my baby, I lost the job," she notes.

She later took the child to the Uganda Heart Institute (UHI) on February 15, where they confirmed three holes on the heart and a complete Atrioventricular Canal defect.

The child was recommended for heart surgery abroad. "It would have been done at six months but I did not have money. But the doctors say the baby is still stable and we can look for the money. My husband is a teacher. We need $10,000 (about sh36m)," she says

Worrying situations

Unlike Nakakande and Namubiru who managed to know the conditions of their children; many families are stuck with such children with a similar condition thinking it is witchcraft.

The Uganda Down Syndrome Association (UDSA), held a fashion show for children with Down Syndrome at Designers' Hub in industrial area Kampala, to raise public awareness of the condition; and the ability of such children.

This was in commemoration of World Down Syndrome day.

The director of UDSA, Michael Okiro says many children are dying and suffering out there due to ignorance by some parents and communities.

"You find many homes isolating these children, thinking they are a curse. Others think it is witchcraft and keep running to witchdoctors. Some men abandon their homes leaving the burden to women," he adds.

He further points out that, many families where these children are found, are poor and cannot afford to raise the required finances for treatment.

Now the association plans to establish a one-stop center for DS to manage all cases.

Currently, the association looks after over 100 patients, with two children who have already been sent to Barcelona in Spain; for heart surgeries.

"We want a one-stop centre to have a specialized unit with all the required expertise to be able to handle all cases. We want the Government to understand the situation and support this cause. We cannot do it on our own because we do not have the financial muscle," he notes.
Doctor's view

Dr. Daniel Tumwine, a Pediatrician at Naalya Children's Clinic says if these children are identified early, it is very easy to assist them to develop their strength and build their capability.

"These children always have many health conditions including; physical and mental health conditions which turn into behavioral conditions. So; the earlier you identify them and intervene, the more likely they are going to live a fruitful life," he explains.

He stresses that there are severities; where one might have severe mental or intellectual disabilities, while another might not have.

"Although; when it comes to intellectual disability; it is not very severe like other conditions. Some might have a mild intellectual disability and you might fail to tell the difference between one who has Down syndrome and another who does not have," Tumwine explains.

He says others might have a moderate intellectual disability with difficulties like learning how to speak, thinking properly, solving and understanding problems, but as they grow; the condition improves and start acquiring such skills.

Tumwine says it is the reason they always prefer for heart checkups when they identify children with Down syndrome, to ensure every condition is mended early.

Developing skills of DS children

Tumwine says the development of children with Down syndrome into independent and meaningful persons depends on how their conditions are handled.

He notes that parents need to involve other specialists to help them develop other skills of living.

"Like how do you tell a girl with Down syndrome when they start menstruating when she has an understanding of a five-year-old? You need to give them life skills when they reach like 12 years. They can also be trained in doing domestic work and tasks which they can be paid," he says.

Like other normal children, he notes that a child with Down syndrome can easily live properly in the community and become a useful person depending on the training.

If treated early, Tumwine says those with Down syndrome can live up to 60-years.

What kind of skills can DS children acquire?

The supervisor Special Needs Programme at Angel's Center for Children with Special Needs, Sarah Senyondo says they assess a child and look out for their history in terms of treatment, challenges, possibilities, and abilities.

"That is how we can identify what they can ably do and also ask what parents want," she notes.

She explains that such children are good at hands-on skills like tailoring and crafts.

"We also train them as office assistants, security assistants, chef assistants, driver assistants, and office messengers. We already have one who is working as an office messenger at King Newton Primary in Wakiso," she notes.

Senyondo says they get them jobs in various organizations after training.
Who is at risk of produce such a child?

Dr. Judith Namuyonga, a pediatric cardiologist at the UHI, says the trend has changed from what many thought.

She notes that previously, it was common among mothers who gave birth above the age of 35-years but it's now also common among those below 30 years.

"At UHI we see even young girls of 20 years giving birth to children with Down syndrome. A total of 45 to 50% of the children with this condition have congenital diseases with two holes in the heart," she explains.

She says there is a need for a multidisciplinary approach towards treating children with Down syndrome because of the many complications.

While officiating at the World DS day; the former Prime Minister, Amama Mbabazi said the stigma is still a big problem among children with special needs.

"These children must enjoy equal opportunities like other children to give them an opportunity to live their own lives like other people," he notes.

Facts about DS

DS occurs when someone has an extra copy of 21 Chromosome. These chromosomes, scientifically determine if we will be tall or short among other features.

Dr. Tumwine says globally, one in every 1000 children will get DS.

The risk increases if a woman is above 30 years. A woman giving birth at 40 years will have a one in 100 chance of giving birth to a child with DS and one in 10 if the woman is 45 years.

Though it is a genetic condition, in the vast majority cases, DS is not inherited.

Features of DS include; flat back of the head and face, short nose, protruding tongue, small head, short fingers and hands, big ears, upward slanting eyes, and a big gap between the first and second toes, and abnormal pelvis.