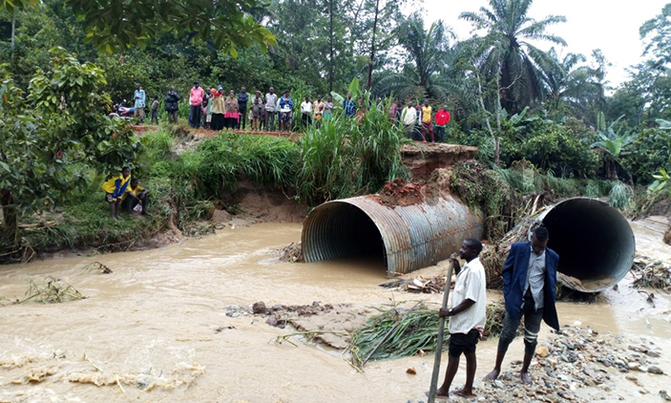 The Bundibugyo-Fort Portal-Lamia road cracked due to landslides in Bubukwanga
Heavy rains that started on July 20 have wreaked havoc in Bundibugo district washing away five bridges, houses and gardens.
Tuesday's downpour saw the bridges connecting Nyahuka town council and Busaru sub-county and another connecting Nyahuka town council to Butogo.
The most affected areas are Kirumya trading centre in Ntotoro sub-county, Bulilehe in Kisuba sub-county, Tokwe, Bukonzo and Mabere sub-counties.
While assessing the damage caused by the floods, the Bundibugyo district chairperson said that the two bridges cost over sh3b.
Julius Magezi a resident of Bundimulinga 4 and Julius Tibamwenda a resident from Chabi village whose houses were washed away, called upon the government for support because they have nowhere to take their families.
The LC3 chairman of Busaru sub-county, Tibs Mugerwa, said that people should always survey the places where they intend to construct houses.
He called upon all the leaders to work together in order to identify persons that have been affected.
Elsewhere, the Bundibugyo-Fort Portal-Lamia road cracked due to landslides in Bubukwanga.
UNRA maintenance engineer Micheal Murungi Natukunda said the authority will extend the road by five meters from the failure point to ease transportation.
The first consignment of the food relief from the Office of the Prime minister has since been distributed to different sub-counties of Ntandi town council, Ntotoro and Kisuba.
The district received 200 bags of maize flour and 100 bags of beans. Each household is receiving 15kg of flour and 7kgs of beans.