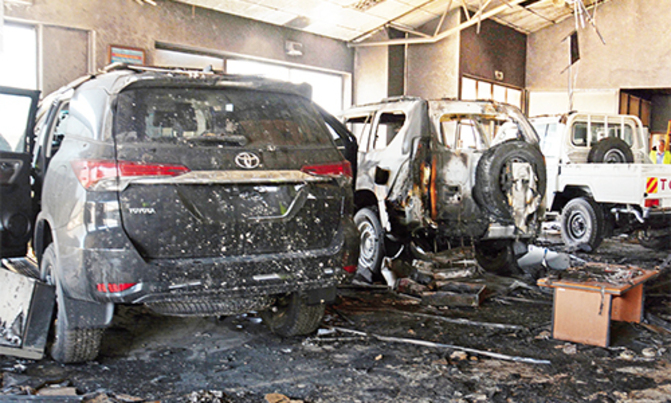 Insurance industry registers gains
By Faridah Kulabako
About six years ago, the insurance industry was underwriting less than sh500b annually, despite having over 20 insurance companies in the market.
This, according to insurance experts, was mainly due to lack of innovation in the industry, which limited the introduction of products that meet people's needs.
However, the introduction of innovative products in the recent years and a conducive environment are working miracles, giving the industry the much-needed push to ride the wave of growth. The industry grew by 17.51% in 2018 compared to 14.75% registered in 2017.
High premium
Products such as microinsurance, agricultural insurance, bancassurance (the selling of insurance through commercial banks) and the use of mobile technologies in the sales and distribution, have bolstered the industry, pushing annual underwritten premiums high.
Insurance premiums, for instance, surged from sh463b in 2013 to sh504.8b in 2014, sh612.1b in 2015 to sh634.8b in 2016. The figure later jumped to sh728.53b in 2017 and then sh855.98b last year.
Information from the Insurance Regulatory Authority (IRA) indicates that bancassurance and mobile micro-insurance products raked in sh31b in 2018, with bancassurance contributing sh26b, while sh5b came from mobile money technologies.
Agricultural insurance, under the consortium, on the other hand, increased by 1%, from sh5.20b in 2017 to sh5.24b in 2018. The industry's gross claims payout has also been increasing over the years, from sh184.3b in 2014 to sh214b in 2015 and sh261b in 2016.
The figure further increased to sh291b in 2017, before jumping to sh326.7b in 2018. IRA's chief executive officer, Ibrahim Kaddunabbi Lubega, said development of customer-centric products and strategic partnerships over time have improved product affordability and accessibility.
Although Uganda's insurance penetration is far below the Sub- Saharan Africa average, it has improved over the years, clocking 0.84% in 2018, up from 0.76% in 2015. Stakeholders are optimistic that the figure will hit at least 2% by 2022.
South Africa has the highest insurance penetration rate in sub-Saharan Africa, estimated at about 16.99%, followed by Namibia at 6.69%, Lesotho at 4.76% and Mauritius at 4.18%. Insurance penetration rate in Kenya is estimated at about 2.83%, while that of Rwanda is at 1.74%. CLICK HERE FOR MORE ON THIS STORY
What you need to know about claims
By Reagan Ssempijja
It is often said that insurers will find every reason not to pay a claim or make the process as tedious as possible to frustrate you.
Coupled with this is the belief that if you have not made any claims the entire year, your money should be refunded because, in effect, you spent money that you did not benefit from. But both views are based on the wrong premises.
According to Faith Ekudu, the public relations and advocacy manager of Uganda Insurers Association, insurance as a service has to be paid for. In other words, you pay for the comfort of knowing that in case the incident you have insured against occurs, your insurance company will compensate you.
"It is much like paying a security company every month to keep your property safe. If your property was not broken into, would you ask for a refund? I think we all know that the answer to that question is no, because what you paid for was peace of mind," Ekudu says.
Consequently, the insurance claims process works on the same principles as many other business processes. For example, if you decided to close your bank account, your bank will probably require that you fill in a form or two and provide some formal identification.
Similarly, the claims process is in place to ensure that the relationship and expectations are managed from the client's side as well as from the business side. CLICK HERE FOR MORE ON THIS STORY
Uganda's insurance industry at a glance
Over the years, the insurance market has seen a steady increase in the number of players.
Between 2013 and 2018, the National Reinsurance Company licensed over five Health Membership Organisations (HMOs), with the number of agents licensed annually averaging 1,540 within this period.
As of January 2019, twenty-one non-life insurance companies, nine life insurance companies, one specialist micro insurer and 17 bancassurance agents had been licensed by the Insurance Regulatory Authority of Uganda (IRA). This demonstrates a good and ideal investment climate for insurance companies to thrive.
Product development
The steady increase in the number of players on the market has also had a ripple effect in the product development space, with 42 products being produced between 2014 and 2017.
These products signify the endless effort by Ugandan insurers to meet the everchanging needs of their clientele.
We have seen a significant shift from the traditional insurance products to those that provide answers to clients' needs around healthcare extending to managing outpatient costs and hospital cash back for the entire family, including teens' school emergency plans, funeral cover, motor, education, freight forwarder risk covers, carriers and warehouse keepers' liability.
Others are cyber edge data protection, business owner's life risks, insurance saver/ investment plans, U-mobile insurance, credit replacement indemnity and crop as well as livestock insurance. CLICK HERE FOR MORE ON THIS STORY
Why Ugandans shun insurance
By Reagan Ssempijja
With Uganda's 0.8% insurance penetration, compared to 6%, 9% and 15% of Kenya, Rwanda and Tanzania, respectively, the country has the lowest insurance penetration rate in the region, according to the Insurance Regulatory Authority.
This is worrying, but true. Bruce Musinguzi, a resident of Kalagi in Mukono district, is the owner of Musi Auto Garage.
He says when his business developed subsidiary units, such as a washing bay and parking lot, people advised him to insure his business. However, he was hesitant.
"I did not see the need to invest in insurance because I was not educated enough about it. Also, I feared losing money in case nothing happened to my business," Musinguzi says.
Why the low penetration
Musinguzi is not the only Ugandan who gets second thoughts when it comes to embracing insurance. According to Joseph Kiwanuka, an insurance specialist, Ugandans shunning insurance dates back to the 1960s and 1970s, when the concept was introduced.
"When Indians started insurance companies here, few Ugandans got educated on how insurance works, so from the beginning, the majority were clueless about the concept. The few who had an idea about insurance were always disgruntled over discrimination when claiming their payments," Kiwanuka says.
He adds that this discouraged many from embracing insurance, but the situation did not get any better. Lately, Kiwanuka says Ugandans shun insurance because the majority cannot afford to buy a premium, let alone sustain it.
Majority look at insurance as a luxury. The situation is too bad to the extent that insurance covers, such as motor 3rd party, which is mandatory, is evaded by many. Maurice Amogola, an insurance expert and consultant, attributes the low insurance penetration in Uganda to misconceptions.
He says the majority of Ugandans think insurance works like banking, where one deposits their money and one is sure of getting it the way it is and when they need it, which is wrong. CLICK HERE FOR MORE ON THIS STORY
How to get a good insurance deal now
By Prossy Nandudu
There is a growing need among Ugandans to invest in long-term projects so that when they retire, they have less stress.
Stress comes in the form of lack of school fees, a decent home and the desire to have a farm, among others. Such needs require long-term investments with genuine institutions, such as insurance companies, especially when one is looking out for their children's education.
Unlike other investments, insurance gives one a peace of mind because one is assured of an option in case of an emergency. For instance, if one stopped working today and has insured the children's education, one will not have to worry about paying school fees because the insurance company will take over.
And since most insurance packages start from a minimum of five years to a maximum of 25 years, where it is assumed that one will have achieved their dreams, this could be an option.
However, before deciding what kind of insurance package to go for, one should first understand the different packages available and one's needs.
Insurance packages
Daniel Otala, an insurance agent, says there are three major insurance packages that one can choose from.
General insurance
This covers fire outbreaks, motor third party and life assurance, among others.
Motor third party is for those who would like to insure their vehicles and motor bikes against accidents. CLICK HERE FOR MORE ON THIS STORY
How far can insurance polices protect clients?
By Faridah Kulabako
Businesses are suffering high rates of fraud. These are committed by consumers through misconduct, asset misappropriation, cybercrime and corruption, according to the 2018 Pricewaterhouse Coopers (PwC) global economic crime and fraud survey report for Uganda.
Although businesses acknowledge the existence of such, not many have paid attention to what would save them from sinking as a result of such acts.
Fidelity insurance
Although it is an important policy that every business must have, fidelity guarantee is less common among many Ugandan businesses.
Fidelity insurance is designed to protect business owners against losses that would have been incurred as a result of infidelity of one's employees through fraud or theft.
Although there are readily available statistics for this class of insurance (it is covered under miscellaneous), the Insurance Regulatory Authority (IRA) Director Planning, Research and Market Development, Protazio Sande, says the uptake is still low.
The Uganda Insurers Association (UIA) public relations and advocacy officer, Faith Ekudu, says fidelity guarantee is a must-have for all businesses as they are increasingly getting exposed to financial losses due to crimes committed by employees. CLICK HERE FOR MORE ON THIS STORY
ADVERTS