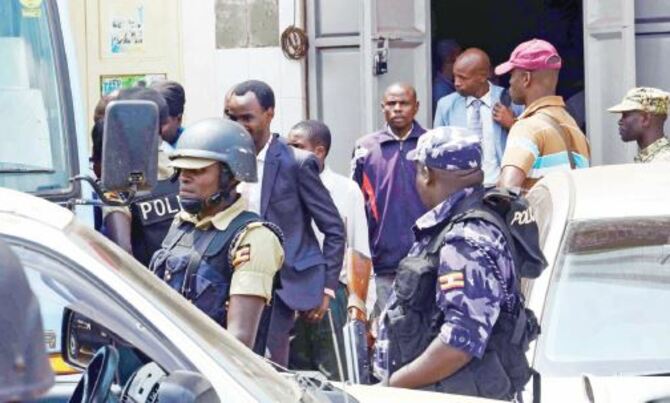 The Rwandan High Commissioner to Uganda, Maj. Gen. Frank Mugambage,said he had received information, but declined to answer more questions when asked if he had been in touch or had offered consular services to the suspect.
In a joint operation, the Chieftaincy of Military Intelligence (CMI) and the Police on Tuesday raided a Pentecostal Church in Kibuye, a Kampala suburb along Entebbe road and arrested over 40 people identified as Rwandans.
According to intelligence, they are being held over security concerns. The operation was conducted at 11:00 am under heavy deployment at ADEPR (Association of Pentecostal Churches of Rwanda), on the first floor of Joint-Us Flat, a former famous discotheque in the busy slum area.
Local council officials said the security raid was the second in three months. During the April operation, several worshippers, including there leader, one Mama Kevin and her husband were picked by the CMI operatives.
While some witnesses said 40 people, including women, were picked on Tuesday, Haji Swaibu Miti, the defence secretary of Kizito village, Najjanankumbi II parish, said about 80 were arrested. "Those nabbed were whisked away in two Police patrol pickup trucks, two Toyota Noahs and two coaster buses," he said.
Brig Richard Karemire, the Uganda People's Defence Forces (UPDF) spokesperson, yesterday confirmed the arrests but declined to give the number of people arrested. Although he did not give details of the holding charges, Karemire disclosed that screening of the group was underway. Without divulging details, Karemire said the suspects were being held in a gazetted place.
The Rwandan High Commissioner to Uganda, Maj. Gen Frank Mugambage, in a telephone interview, said he had received information about the arrest. The envoy declined to answer more questions when asked if he had been in touch or had offered consular services to the suspect.
Intelligence sources revealed that some of the suspects were in possession of forged Uganda National Identity cards. The arrests came one-and-half weeks after Presidents Yoweri Museveni and his Rwandan counterpart, Paul Kagame, met in the Angola capital, Luanda, and agreed to open dialogue in a bid to find a lasting solution to whatever differences that exist between the two countries.
Uganda and Rwanda relations hit a snag after Rwanda closed it's the border and blocked its citizens from entering Uganda on grounds that it did not guarantee their security. Rwanda also accused Uganda of arresting its citizens and supporting dissidents, which Uganda dispelled.
The Church The Church security guard, Anathanaeri Mbabazi, said the Church has it's the main chapter in Kigali, Rwanda, with branches in various countries in East Africa and Sweden. He said most of the members were Rwandan nationals and they pray in Kinyarwanda, although sometimes they engage English and Luganda translators.
In Uganda, membership comprises of people from various places, such as Kampala and Wakiso, who converge on different days, with the biggest number turning up for Sunday prayers. Apart from the lead pastor, Charles Kamanzi, New Vision was unable to confirm the identities of the other suspects.
Mbabazi said he was also arrested, but was later released when he told the operatives that he was a guard. "The heavily armed men, some in Police uniform, ordered everyone inside the Church to sit down and then started searching the place. They took my National ID and phone, but asked me to remain behind to guard the church until they return," he said.
Mbabazi revealed that the armed men confiscated several items from the suspects, including documents and personal effects. "I am stranded because the people who were arrested are my bosses. I have no information about there whereabouts, "he said. Vestina Nyira-Nsabimana, a Rwandan national who lives in Mubende, is one of the members who had yesterday turned up for practice, only to be informed that the leaders had been arrested.
She was found cleaning the Church with the hope that prayers would soon resume. In an exclusive interview with New Vision, she said her husband, one Batista Ndagizimana, a Rwandan national, was a regular at the church. "Thank God he travelled to Mubende on Monday, otherwise he would have been arrested," she said.
Without giving details, Kampala Metropolitan Police spokesperson Patrick Onyango said they joined the operation to support their sister agency.