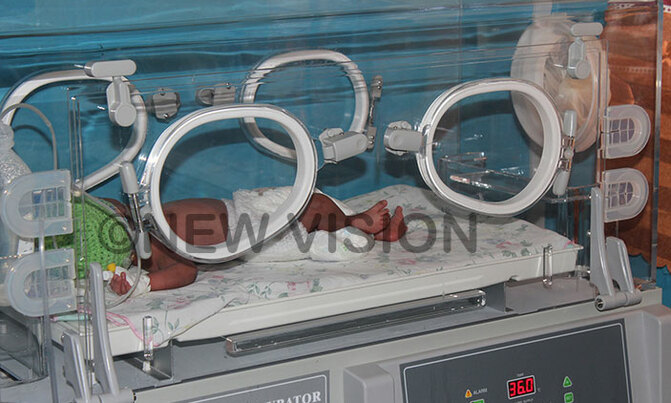 In Uganda, about 123 newborns die every day, over half die in their first week of life.
NEONATAL HEALTH
The initial 24 hours of a child's life are the most dangerous with over one million newborns around the world dying each year on their first and only day of life, according to Ending Newborn Deaths, a report by Save the Children.
The research reveals that of another 1.2 million tragic losses: stillbirths where the heart stopped beating during labour. In total, 2.9 million babies die in their first month making up nearly half (43%) of the world's under-five child mortality rate.
Most of these deaths occur because of premature birth and complications during birth - such as prolonged labour, pre-eclampsia, and infection.
In Uganda, about 123 newborns die every day, over half die in their first week of life. Most of these deaths could be prevented at a modest cost through meaningful interventions.
To support government efforts of child survival in Uganda, Plan International Uganda on Wednesday donated hospital equipment for neonatal Intensive Care units to selected health centres in Kamuli and Buyende districts worth sh121m.
The assistance comes at a time when Kamuli and Buyende districts report escalating neonatal deaths due to lack of appropriate facilities and health service delivery.
The event held at Kamuli General hospital has been presided over by Margaret Nakakeeto, the Newborn Steering Committee Chairperson from the Ministry of Health.
She said the equipment is a great boost to the health ministry and also Buyende and Kamuli health unites as well.
"We thank the partners for this offer because these districts were lacking the machines," he says.
Dr Aggrey Batesaaki, the district health officer, Kamuli said the machines have come at a time when the district was losing many babies. He said they lacked attendant's machines and incubators hence premature babies were surviving at God's mercy.
"This is a great boost to the district and we pledge to use them for the purpose they have been given for," Batesaaki said.
He revealed that in addition to the donation, the organization also built the capacity of the district health workers to effectively run the neonatal units, as well as supporting infrastructure development.
Patrick Emukule, Plan International Uganda Programme Area Manager- Kamuli office said that the donation is to reaffirm the organisation's commitment towards working with the Government of Uganda, local and international partners in strengthening the health service delivery and bringing lasting change in the area of child survival.
"We hope that this contribution will be significant towards Uganda's fulfilment of the health sector's National Development Plan and Sustainable Development Goals".
The health centres that will benefit from the donation include: Kamuli General Hospital, Kidera HC IV, Namwedwa HC IV, NankadhuloHC IV, in Kamuli district and Nkondo HC III, Buyende HC III and Kakooge HC II in Buyende district